School Field Trips and Theatre
Theatre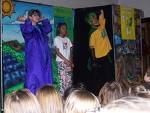 In the US, the National Theatre for Children is a for-profit company that puts on short plays in schools that contain corporate messages. Its vice president of sales and marketing, Tom Harris, notes that schools provide "a captive audience" and "an uncluttered environment".
Its brochure offers corporations a way to incorporate their brands "into a fun, educational setting". However schools often assume that the National Theatre for Children is a non-profit organization with no commercial agenda.
Field Trips

Field Trip Factory, Inc began operating in Chicago in 1998 and organises thousands of business-sponsored field trips for school children to places like Dominos' Pizzas and Toys 'R' Us stores in 43 states. The trips are free for the children but the businesses visited pay Field Trip Factory to organise the field trip, train company personnel and create a curriculum to give the trips an educational feel. For example a class might visit a Petco store where they see the animals and get a coupon for a free goldfish. "By the weekend, at least 10 will be here with their families to show them what they got to see – and to redeem the coupon".

Nike offers poor schools a partnership that includes four free field trips and payment to the schools for each hour the students spend at the Nike Campus, where they are given a tour, shown pre-release Nike commercials and given a bag full of free gifts "all emblazoned, of course, with the Nike swoosh". They get to experience Nike corporate culture, have a pleasant branded experience, but don't see the Nike sweatshops in developing countries.
In the UK school children can visit Tesco stores where they are shown healthy foods, how an electronic till operates, and how to buy flowers for Mother's Day. They are given a chance to ice a buscuit and some freebies to take home.

Links
Contributers' Updates and Examples
If you have any examples or updates you would like to contribute please email them to me and I will add them here. Please give references for where you sourced the information.