Classroom Material Producers
There are many companies that produce material for corporate clients in various parts of the world. Naturally, these companies compete for business on the basis of how well they can help corporations achieve their goals rather than on the basis of the educational merit of their materials. These companies include:
Young Minds Inspired Lifetime Learning Video PlacementEdComs Scholastic
Young Minds Inspired (YMI)

Young Minds Inspired (YMI) produces corporate materials for schools that masquerade as 'educational' but are in reality a "targeted, effective, and cost-efficient marketing vehicle". Its website sells the following service to corporate advertisers:
Each YMI program transforms your brand, service and/or product into the central focus of engaging, motivational and educational materials that are used over a period of weeks or months to generate high student interest, interaction and learning.
YMI claims to be able to reach over 8 million preschool students, 28 million elementary school students, 23 million secondary school students and 15 million college students: "We reach all these audiences in the uncluttered environment where students spend the better part of their day and where lasting attitudes are formed – in the classroom".
YMI, established as Youth Marketing International in 1995, expanded "the concept of in-school marketing" from the US to Western Europe, Mexico, Latin America, Asia and the Pacific Rim. YMI's clients include Toys 'R' Us, Kraft, Pfizer, Lego, McDonald's, Hasbro, and several entertainment conglomerates and television networks.
One of its many projects included designing a middle/junior high school program for Clearasil to promote its skin care products that "wove product information into a comprehensive program addressing basic hygiene, skin care, and self-esteem issues commonly associated with puberty". YMI helped to introduce Care Bears to a preschool audience through a kit that supposedly taught children the importance of caring as well as counting and colour recognition skills. YMI claims its programs will:
Integrate your brand into lessons and activities that students will spend hours interacting with in a positive and meaningful way.
Give your message special credibility and importance to young people as well as their parents, by having teachers they admire and respect present these materials in the classroom.
Extend your message beyond the classroom via take-home activities.
Deliver the message that your company values learning and cares about families.
Lifetime Learning Systems

Lifetime Learning Systems was one of the first companies to compile educational materials on behalf of corporations and trade associations, beginning in 1978. It created some 2000 educational programs, serviced more than 350 corporations in the US alone, including American Express, AT&T, Coca-Cola, General Mills, GM, Hershey, McDonald's, Microsoft, Nabisco, Pepsi, and Walt Disney, as well as associations such as the American Nuclear Society, and claimed to reach almost one hundred percent of US schools – 63 million young people every year. According to Lifetime Learning Systems early promotional literature:
Kids spend 40% of each day in the classroom where traditional advertising can't reach them... Now you can enter the classroom through custom-made learning materials created with your specific marketing objectives in mind. Communicate with young spenders directly and, through them, their teachers and families as well.
During the late 1990s Lifetime Learning Systems was owned by the same company that owned Channel One and was open in its advertising about the way educational materials can influence children who are "forming attitudes that will last a lifetime" and the way the school setting gave it credibility.

In 1999 Lifetime Learning became part of WRC Media, "the largest publisher and distributor of student periodicals and educational materials in the world". WRC claims its materials are used in over 90 percent of US school districts. Its Weekly Reader is a magazine designed for grades Pre-K-6 and is sent to 7 million children at 50,000 elementary schools.
According to its advertising material, WRC's other school magazines, including Read (grades 6-10), Writing (grades 6-10), Current Science (grades 6-10), Current Health 2 (grades 7-12), "reach more than 2.2 million teens who are looking for anything to take their minds off school work! Your message gets their attention". WRC Media merged with the Reader's Digest Association in 2006 and is now called RD School and Education Services.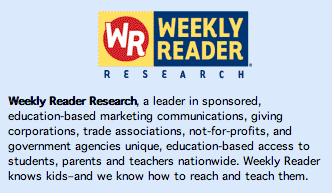 One study, published in the American Journal of Public Health, found that when Weekly Reader was taken over in 1991 by K-III, which is owned by Kohlberg Kravis Roberts, the owner of cigarette manufacturer RJR Nabisco, the "percentage of tobacco articles in which a clear and consistent no-use message was provided dropped from 62% to 24%". The study also found that after the change of ownership Weekly Reader often gave the last word to the tobacco industry.
Weekly Reader Custom Publishing claims to be able to reach 50 million kids and 3.5 million teachers in elementary, middle and high schools in the US. Download their brochure

.
In 1995 Roberta Nusim, who had founded Lifetime Learning Systems, established Youth Marketing International which, as mentioned earlier, became Young Minds Inspired (YMI).
Video Placement Worldwide
Video Placement Worldwide distributes company-sponsored videos, CD-ROMS, teacher guides, posters, and worksheets to 90 percent of US public schools. It claims that it can "successfully create demand for and deliver sponsored messages (print, video or CD-ROM) into the classroom" where they are used over and over, exposing each new class to the messages, and that it has a potential market of 52 million students. It offers companies the opportunity to "help develop loyalties about your industry". The materials it distributes include a Mastercard video on managing personal credit and a Jelly Belly Candy Co. video on manufacturing candy.

EdComs
EdComs is a UK-based educational consultancy that seeks to "communicate our clients' images and values" to school children from pre-school up, through classroom resources, theatre in education, teacher training, videos, CD-Roms, websites, award programmes and ceremonies for schools. Its clients include BP, BT, Weetabix, Nestlé, Wrigleys Gum and BSkyB.

EdComs helped Weetabix "reach pupils and parents through a fun activity that would reinforce the brand's core value as a source of energy" and "support the launch of the new Weetabix advertising and create a buzz around the campaign". The Energy for Everyone pack, which came with the bonus of free sports equipment, was requested by 48 percent of British primary schools, "reaching a potential audience of 2.6 million children" as well as gaining "extensive coverage in the media".
Scholastic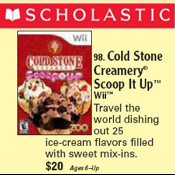 Even traditional suppliers of school materials, such as Scholastic, put together school materials for corporations such as AT&T, Coca-Cola Foods, M&M/Mars, Procter & Gamble, Campbell Soup and Warner Bros. Scholastic InSchool Marketing specialises "in the development and distribution of branded in-school and consumer marketing programs". Scholastic also produces sponsored magazines, videos, contests, posters, teachers guides, software and books for corporate clients.
The case study Scholastic provides on its website is its campaign to "promote the Volkswagen brand to thousands of teenagers" by positioning it "as pro-active and responsive to the safety concerns of its customers" using classroom curriculum materials distributed free to select teachers.

Scholastic's "6 and Under Custom Marketing" targets preschools, childcare centers, and kindergartens. Programs include Ronald McDonald Reading Corners that have "reached over a million children" and Ford's "Clue into Classroom Safety" that has reached "over 3.3 million children and their parents".
Mobile phone manufacturer, Firefly, together with Scholastic, distributes curriculum materials on communications inventions, in an effort to sell its mobile phones to 8-12 year olds.
In 1988 Scholastic senior vice president, Mark Evens, wrote in Advertising Age that "The education system can provide a unique opportunity for companies to support vital social needs while achieving basic marketing and public relations goals... More and more companies see education marketing as the most compelling, memorable and cost-effective way to build share of mind and market into the 21st century."
Links
Contributers' Updates and Examples
If you have any examples or updates you would like to contribute please email them to me and I will add them here. Please give references for where you sourced the information.