School Contests and Competitions
Many firms sponsor and fund competitons and contests as a way of associating their brands with educational endeavours. They often have the additional aim of promoting direct sales of a product, through visits to the store or website.

For example, the American Automobile Association runs a national competition, the AAA Travel High School Challenge, which promotes the idea of travel and at the same time advertises a number of airlines, hotels, and other sponsors.
Paul Kurnit, president and founder of Kidshop, a marketing consultancy, points out that contests are much cheaper than television advertisements but still give children "the brand experience".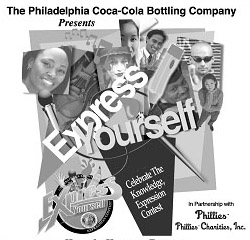 Community Marketing Concepts says of The Coca Cola Bottling Company's "Celebrate The Knowledge" Express Yourself Scholarship Contest:
"A rewards program for high school juniors and seniors. Incorporates brand into an academic recognition program and earns the thanks of their parents."
Examples of Corporate Sponsored Contests and Competitions
US

Nestlé gives a $10,000 prize and five $5,000 prizes for creative art that features their product SweeTarts. In 2003 5,200 schools took part in the contest.

Oscar Mayer gives $10,000 prizes for singing its advertising jingles for its weiners and bologna.

Dunkin' Donuts gives a $6000 prize for students who develop the best commercial about the importance of homework.

BIC Pens runs a writing contest, Quality Comes in Writing, to "reinforce effective writing skills while generating positive brand recognition for BIC".

Download the brochure (2MB pdf)

School children can earn $25 in school library funding and a sweepstakes entry for a trip for four to Universal Studios by persuading their parents to test-drive a Mazda car. "The sales pitch is part of the National Education Association's "Read Across America tour — Driven by Mazda".

Scholastic is promoting Lysol in preschool and elementary school classrooms with branded song-writing competitions, school attendance contests, and a parental pledge.

Australia
Rio Tinto Big Science Competition involves approximately 40,000 students from Years 7-12
Europe

Bayer has organised science competitions.
UK
Science Prize awards programme worth £120,000
Ireland
Real Event Solutions in Ireland specialises in "Creating unique and exciting schools-based events and competitions in the Republic of Ireland and Northern Ireland" that achieve national media coverage and "branding opportunities". Its clients have included Coca-Cola, Hewlett Packard (HP), Wella and Pot Noodle.
Contributers' Updates and Examples
If you have any examples or updates you would like to contribute please email them to me and I will add them here. Please give references for where you sourced the information.