Trade in Services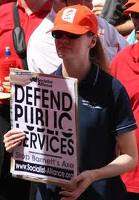 The prominence of business coalitions in UK and the US in promoting free trade in services and creating business networks, global and regional, to augment their efforts, reflects the fact that these are the two largest exporters of services in the world.

Christopher Roberts, formerly UK Director-General of Trade Policy and chair of the Liberalisation of Trade in Services (LOTIS) committee, recognized that 'The greatest pressure for liberalising financial services comes, as one would expect, from the EU and US. The views of both reflect substantial input from the private sector.'

Reference: Pierre Sauvé and Robert M. Stern (eds) GATS 2000: New Directions in Services Trade Liberalization, Washington D.C., Brookings Institution Press, 2000, pp. vii-viii.
Service industry coalitions are supported in their efforts to gain unrestricted access to global markets by think tanks and organizations such as the OECD. For example, in 1999 the American Enterprise Institute (AEI), the Brookings Institution, the Center for Business and Government of Harvard University and the Coalition of Service Industry's Education and Research Foundation organized a conference on the General Agreement on Trade in Services (GATS) in Washington D.C. The papers given at the conference were published as a book, and funding came from the CSI Foundation, the European Commission, the Mark Twain Institute (founded by Harry Freeman of American Express), and government bodies in Canada, France and Japan.
According to the European Commission:

The GATS is not just something that exists between Governments. It is first and foremost an instrument for the benefit of business, and not only for business in general, but for individual services companies wishing to export services or to invest and operate abroad.

Links
---
---
See also: GATS | Early Business Lobbies | Financial Services | Business Coalitions