Public Relations - Modern Times
By 1949 Fortune magazine was moved to observe: "The daily tonnage output of propaganda and publicity... has become an important force in American life. Nearly half of the contents of the best newspapers is derived from publicity releases; nearly all the contents of the lesser papers... are directly or indirectly the work of PR departments."
Today public relations is a multi-billion dollar industry that is truly global in extent. In 2007 public relations firms around the world earned around $8 billion in fees and employed almost 50,000 people. The types of public relations this represented is shown below: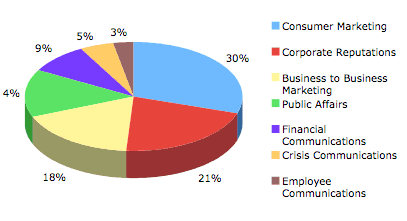 The US Bureau of Labor Statistics estimated that public relations specialists held about 275,200 jobs in 2008 in the US: "They are concentrated in service-providing industries, such as advertising and related services; healthcare and social assistance; educational services; and government. Others work for communications firms, financial institutions, and government agencies." It predicted that public relations employment in the US would grow by 24 percent from 2008 to 2018, faster than average growth of other occupations.
Public relations has also boomed elsewhere in the English speaking world. The public relations industry (including consultancies and inhouse company PR) in the UK (second only to the US) was worth over £6 billion in 2005 and employed more than 47,000 people, most of them based in London, 80 percent of them 'inhouse', that is directly employed by corporations, government departments and other organisations.
The top 150 companies employed more than 7,500 people in 2009 and earned over £800 million in fees, about four times the fee income for the top 150 in 1993. A 2001 survey found that in 2000, 64 per cent of UK CEOs thought PR was more important than five years before, and 67 per cent thought it would be more important in five years time.
The PR industry is also increasingly concentrated with a few transnational communication conglomerate holding companies owning not just PR firms but also marketing firms, advertising firms, media firms and other firms specialising in aspects of communication. The largest of these are Omnicom, WPP, Interpublic and Publicis.