State Policy Network (SPN)
The State Policy Network (SPN) is a network of 63 state-based think tanks allied with business-friendly conservative interests:
State Policy Network is made up of free market think tanks - at least one in every state - fighting to limit government and advance market-friendly public policy at the state and local levels... Our programs advance and defend American liberty and free enterprise by assisting new start-up organizations, growing existing state think tanks, recruiting talent to the think tank industry, developing strategic partnerships, and promoting the free-market state movement.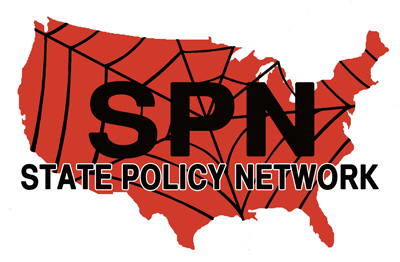 The SPN emerged from the Madison Group, a network of state-based think tanks that met in the up-market Madison Hotel in Washington and was established by the American Legislative Exchange Council (ALEC) and housed in the Heartland Institute.
Despite being registered as educational nonprofits to gain tax-free status, several SPN members "appear to orchestrate extensive lobbying and political operations to peddle their legislative agenda to state legislators".
Although members claim to be independent they use the same slightly differently worded reports, talking points and research sources to push similar issues and often share personnel, scholars and board members. Their campaigns are often coordination by SPN.
SPN executive director Tracie Sharp is reported to have told the audience at SPN's annual conference:
like IKEA, the central organization would provide "the raw materials," along with the "services" needed to assemble the products. Rather than acting like passive customers who buy finished products, she wanted each state group to show the enterprise and creativity needed to assemble the parts in their home states. "Pick what you need," she said, "and customize it for what works best for you."
Agenda
SPN's agenda has included:
privatisation of schools, promoting charter schools and vouchers,
limiting state government taxation and reducing government spending on public services
reducing public service pensions,
eliminating collective bargaining rights and minimum wage rates
opposition to environmental measures including renewable energy and pollution controls,
obstructing the Affordable Care Act
SPN also has more than 100 associate members including:
David Koch's Americans for Prosperity Foundation,
FreedomWorks (successor to David Koch's so-called Citizens for a Sound Economy (CSE),
Americans for Tax Reform (which also has strong Koch ties),
Charles Koch's Cato Institute,
the Heritage Foundation (which has long been fueled by Koch money),
and the Heartland Institute
Funding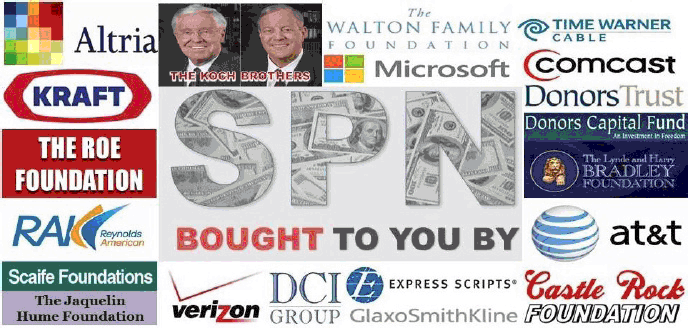 The revenue of SPN and its member think tanks was $83 million in 2011. Funding for SPN and its members has come from:
corporations such as Facebook, Microsoft, AT&T, Verizon, GlaxoSmithKline, Kraft Foods, media companies Comcast, Time Warner, and tobacco companies Reynolds American and Altria (formerly Philip Morris),
right-wing foundations such as the Bradley Foundation, the Roe Foundation, the Richard & Helen DeVos Foundation, and the Coors family
billionaire conservative businesspeople such as the Koch brothers and the Walton family.
At the 2013 SPN annual meeting Director Sharp is reported to have
acknowledged privately to the members that the organization's often anonymous donors frequently shape the agenda. "The grants are driven by donor intent," she told the gathered think-tank heads. She added that, often, "the donors have a very specific idea of what they want to happen." She said that the donors also sometimes determined in which states their money would be spent.
Ties to American Legislative Exchange Council (ALEC)
SPN and about half of its member think tanks are members of ALEC, have sponsored ALEC activities and/or sit on ALEC task forces. All of SPN member think tanks promote the same agenda as ALEC within their own state. For example ALEC's task force on Tax and Fiscal Policy includes SPN members:
The Goldwater Institute
The Pacific Research Institute
The Independence Institute
The IL Policy Institute
The Mackinac Center
The John Lock Foundation
The OK Council of Public Affairs
The Commonwealth Foundation
The Freedom Foundation
The Texas Public Policy Foundation
The Washington Policy Center
In some cases SPN member think tanks write the "model" legislation that ALEC promotes and other SPN think tanks then push the same legislation in their states. ALEC legislation being promoted by SPN members include its "Right to Work Act" aimed at undermining union power and its "State Withdrawal from Regional Climate Initiatives".
In addition SPN and its members pay money from the Koch-funded Donor Capital Fund to ALEC via membership fees and other participation expenses (almost $700,000 between 2008 and 2011).
Media Influence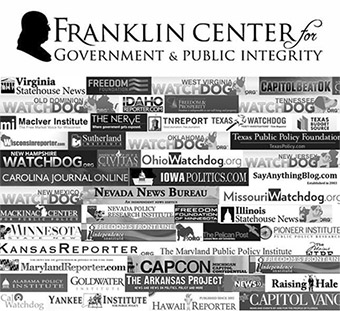 Media conglomerates Comcast and Time Warner fund SPN. In addition 37 SPN members either host reporters or distribute publications from the Franklin Center for Government and Public Integrity, which is funded by the same conservative/business-oriented think-tanks as SPN and its members "including DonorsTrust/Donors Capital Fund, the Lynde and Harry Bradley Foundation, and the Coors family fortune-funded Castle Rock Foundation".
The Franklin Center distributes news free to local newspapers and other media outlets claiming to be the source of 10% of all state news in the US. Its news has been criticised for its ideological bias. Several of its staff have been associated with Koch-funded groups. "In 2011, fully 95 percent of the Franklin Center's revenues came from a charity called Donors Trust, whose top contributors were the Koch brothers."
The group's editors claim that their "professional journalism" work is walled off from the organization's more nakedly political operations and say that their "pro-taxpayer, pro-liberty, free market perspective" doesn't compromise their accuracy or independence.
Links