Media Concentration
The trend in media ownership is not only towards concentration within countries but also towards the creation of 'global media empires' that include newspapers, television stations, magazines, movie studios and publishing houses that span many nations (see diagram below - click to enlarge).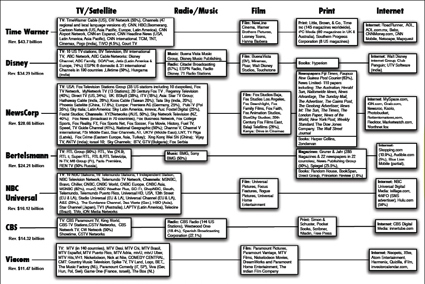 In addition
The leading multi-national media conglomerates and diversified Internet/digital companies (i.e., Google, Yahoo!, Microsoft, and Apple) have developed strategies to ensure that the Web 2.0 Internet environment reinforces rather than undermines existing power configurations.
Britain
Murdoch is just one instance of the highly concentrated media in the UK where ownership is in the hands of a few "proprietors with explicit conservative views." By the 1990s about 80% of the press in Britain was controlled by only four corporations and the situation was similar for broadcast media.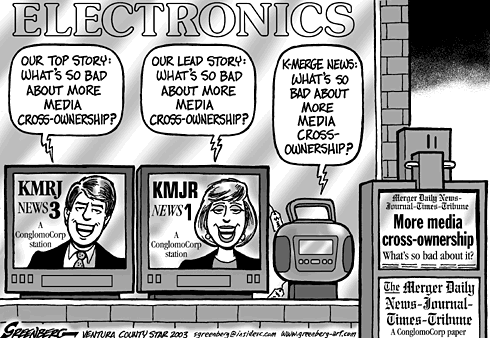 This concentration has been facilitated by the disappearance of local and regional papers: "Between 1986 and 2000, half of Britain's 8,000 or so local journalists lost their jobs; between 1985 and 2005, nearly one quarter of all regional and local papers closed down".
In addition alternative newspapers were starved of advertising revenue as large newspaper "proprietors waged a relentless war against the radical and socialist presses" till they were forced to close down.
Australia
In Australia, in "1926, there were 26 capital city newspapers published on a daily basis and 21 independent owners. In 2005, this had reduced to 12 newspapers predominantly owned by John Fairfax Holdings and News Corporation".
In 2013 Murdoch's News Corporation newspapers account for "59% of the sales of all daily newspapers, with sales of 17.3m papers a week, making it Australia's most influential newspaper publisher by a considerable margin. Among capital city and national daily newspapers, which are by far the most influential in setting the news agenda, News Corporation titles accounted for 65% of circulation in 2011. Fairfax Media, the next biggest publisher, controlled just 25%." This makes Australia one of the most concentrated newspaper markets in the developed world.
In addition, in Australia, "Four metropolitan companies own the majority of metropolitan [radio] stations and each has a radio audience reach of over 50 per cent; one company owns almost 45 per cent of all regional stations. Television is a similar story."
Europe
The pattern of media concentration in Australia and Britain is repeated in Europe. Before his death in 1996, Robert Hersant, imprisoned for collaborating with the Nazis, owned newspapers whose combined circulations included one third of
France's readers of national papers and two fifths of Poland's readers. In Italy, Silvio Berluscon'si (pictured) ownership of three television channels and three pay TV channels as well as newspaper and magazines helped him to win political leadership in Italy. He was forced out of government in controversial circumstances.
In 2004, the Netherlands media commission found that media concentration had been growing throughout Europe for a decade: "The majority of countries in the study, which have set limits on market shares for the media
industry, are witnessing concentration levels that are reaching the established ceilings and there is a lack of effective instruments to deal with the issue of increased market presence."
For example "Germany-based Axel Springer AG, one of the largest newspaper publishers in Europe, owns over 150 newspapers and magazines in 30 countries on the continent".
Regional newspaper market share of top five groups 2002 (includes language markets)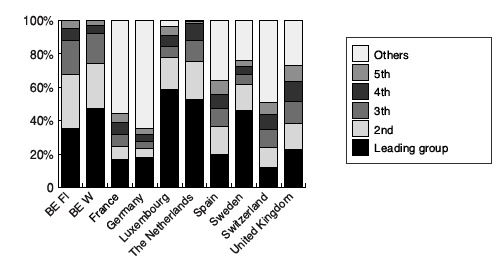 Moreover there is a significant degree of cross-media ownership with media conglomerates owning print and broadcast media across several European nations. "Overall, two-thirds of the major players are active in more than one media segment and nearly one in three has business activities that span four or more sectors." For example the Danish-based company, Bertelsmann AG, owns newspapers, magazines, radio, television, book publishing and film companies.
USA
The majority of US media outlets including newspapers, magazines, radio, cable and broadcast television, books and movies are controlled by half a dozen huge corporations (compared with forty six in 1983). "Five companies Viacom (owner of CBS), Disney (owner of ABC), News Corporation, NBC and AOL (owners of Time Warner), now control 75 per cent of all prime-time viewing in American homes".
In 1983 there were fifty dominant media corporations; today there are five. These five corporations decide what most citizens will—or will not— learn.
According to Fortune 500, the five largest media companies in the US in 2012 were:
The Walt Disney Company, including the ABC television network and various cable television stations
News Corporation, including Fox News, The Wall Street Journal and Twentieth Century Fox
Time Warner, including CNN
Viacom
CBS
According to Robert McChesney:
It used to be a largest media companies 20 or 40 years ago only produced newspapers, they only made movies, they only had a TV network. Now they're dominant players in each of these markets. They're highly non-competitive. They don't have to worry about a newcomer coming in. The barriers to entry, as economists talk about, are so high that basically it's a private club, a gentleman's club of like a half-dozen, seven-eight companies that really rule the thing. And they're closely linked. I mean they know each other. They have deals together, and what they're able to do with this tremendous power between them is hyper-commercialize their content without fear of competitive retribution.

Radio is a classic case in point of how that works and the company Viacom, which owns MTV, is a big player in this... Well, in the 1996 Telecom Act, without a shred of debate in Congress or any hearings discussing it, the ownership restrictions were lifted on radio from 28 stations for one single company to as many as they wanted to own. And you were allowed to own up to eight in the largest markets. Overnight over half these stations in America were sold from small companies to big companies and big to huge... So you have a handful of companies like Viacom that now dominate American radio.
Even cable television, which was supposed to be a means of providing diversity to television content has ended up becoming an interconnected network of channels, "most of them owned by an interlocking set of a half-dozen or so giant corporations" including 90 percent owned by the same companies that own the broadcast networks, in particular, Disney, Time Warner, and Comcast. Those cable stations not connected to the big cable owners, like the small independent TV and radio stations, need to be well funded and often have corporate or wealthy conservative sponsors.
Independent newspapers have also disappeared in the US. By the 1990s not only did 98 percent of US cities have only one newspapers but those almost half the circulation of those newspapers was controlled by ten newspapers chains. "And even the remaining independently owned papers are dependent on the wire services and generally follow the nation's newspapers of record." By 2007 "Less than 275 of America s 1500 daily newspapers are independently owned and more than half the market is dominated by one paper." For example the Garnett Company, which owns USA Today, also owned 85 daily newspapers supplying one in seven daily newspaper readers across the US. It also sells 1000 other publications to another 23 million people in the US and "owns 17 daily newspapers in the United Kingdom and 300 non daily publications".
Links
Graphics