Media Owner Influence
The owners of the media influence the selection, shaping and framing of the news to attract advertisers—"Proprietors determine the target audience and general editorial approach to that audience"—but also to ensure a favourable political climate for their media and other business concerns.
Rupert Murdoch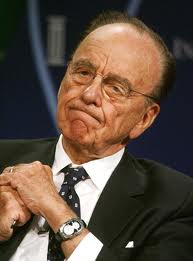 Windschuttle cites several examples of interventions by Australian media owners Keith Murdoch, Rupert Murdoch (pictured), Frank Packer and Warwick Fairfax. Rupert Murdoch is well known for this. As early as the 1980s he controlled two-thirds of the newspaper market in Australia as well as one third of the market in Britain through ownership of three of Britain's largest daily national newspapers and two of its largest circulation Sunday papers. He also controlled extensive satellite broadcasting in dozens of countries. His Star satellite service beamed television to 220 million people in Asia.
Murdoch's Fox network in the US soon became a fourth major commercial television network in the US and moved into cable television with a news service that attempted to rival CNN, which Murdoch was reported to consider "too liberal". In 2010 Fox had 27 stations and was lobbying to increase the national regulated cap on what proportion of local broadcast any one company could control, then at 39 percent.
In 2007, journalist Ken Auletta spent a great deal of time with Rupert Murdoch while writing a magazine profile of him. Auletta observed that Murdoch was frequently on the phone to his editors and this prompted him to ask: "of all the things in your business empire, what gives you the most pleasure?" Murdoch instantly replied: "being involved with the editor of a paper in a day-to-day campaign … trying to influence people".
Murdoch does not hide the fact that he uses his newspapers to make and break governments. In 1992 The Sun newspaper in the UK boasted that it had won the election for the Conservatives with the headline "It Was The Sun Wot Won It".
Hugo Young, former political editor of the Sunday Times notes that "very little space is any longer available for the discussion of poverty, inequality, injustice or anything which might be recognizable as a moral issue. If there is an ethic at work, it is an unvarnished version of the business ethic".
Andrew Neil, who was appointed editor of the Sunday Times by Murdoch, and is said to have cleansed the paper of left-leaning journalists, told ABC Radio that he shared Murdoch's conservative economic agenda.
Harold Evans, editor of The Times before Murdoch sacked him, the same fate that befell Neil in the end, complained in his book Good Times, Bad Times that Murdoch interfered in editorial affairs despite an undertaking to the British government before being able to buy the paper. He says Murdoch told him "I give instructions to editors all around the world, why shouldn't I in London?"
According to journalist Sasha Abramsky, Murdoch "has—and uses—the power to make British politicians, and to break them unless they toe his line." Murdoch papers gave Margaret Thatcher "glowing press" throughout her rule and Murdoch received a knighthood—one of the few non-British citizens to do so. Thatcher received a "lucrative" book contract from Murdoch's book publishing firm HarperCollins (as did Newt Gingrich whose contract was for $4.5 million). His papers, said Abramsky, "have consistently opposed the peace movement, trade unions, progressive social programs... while supporting the death penalty, lower taxes at any cost and hawkish foreign policies."
After the 2010 [Australian] election – which resulted in a minority Labor government – Murdoch summoned his Australian editors and senior journalists to his home in Carmel, California. He made clear that he despised the Gillard government and wanted regime change. In 2011, Murdoch met Abbott and told his editors he liked him. His newspapers (a couple of which had actually supported Gillard in the 2010 election) thereafter campaigned strongly against the Gillard government, particularly on the issues of asylum seekers and climate change.
In the US, Col Allan (pictured), editor-in-chief of Murdoch's New York Po

st campaigned against Barack Obama in 2008 and again in 2012. The New York Post, like The Australian and The Times in London, is unprofitable for Murdoch but is kept for other purposes.
Allan arrived in Australia in time for the 2013 election campaign, to provide advice to News Corp papers in Australia. According to Labor Party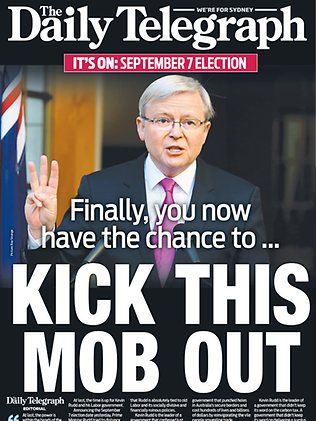 sources, Allan told editors of Murdoch's Australian papers "Go hard on Rudd. Start from Sunday [August 4th] and don't back off." The following day Murdoch's Daily Telegraph front page featured the headline "Kick This Mob Out" (see picture) and inside a harangue against the Labor Rudd Government headlined "Consign Rudd to the bin of history".
Tony Abbott the new prime minister seems to be duely grateful. He called Murdoch "a man who has changed our world" and said that he [Abbott] had once worked for Murdoch's paper, the Australian: "I never went back, but like to think that, in spirit, I'd never left" .
David Frum, who had worked as a speechwriter in the George W. Bush government, wrote in 2010 that "Republicans originally thought that Fox worked for us and now we're discovering we work for Fox".
In the 2012 Leveson Inquiry former British prime minister John Major told how in 1997 Murdoch demanded he change policy on Europe or his newspapers would oppose him at the next election, but he declined. "Mr Murdoch's The Sun tabloid, Britain's best-selling daily newspaper, switched its support to Sir John's Labour rival, Tony Blair, shortly afterwards, and Mr Blair went on to win the 1997 election."
PM David Cameron also admitted to the Leveson Inquiry that the UK government had become "too close" to the media. Whilst in opposition he had an average of 26 meetings with media proprietors and editors per month. Just before the election he was speaking on the phone more often than each week with former News International chief, Rebekah Brooks, and frequently saw her socially on the weekend.
Others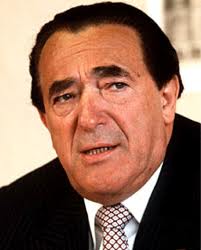 Media owner Robert Maxwell (pictured), until he died, was also an interventionist owner who, according to Brian McNair, "boasted that his ownership of national newspapers gave him the power 'to raise issues effectively. In simple terms, it's a megaphone.'" McNair, author of News and Journalism in the UK, argues that in Britain "the economic interests and political preferences of the proprietor continue to be the most important determinant of a news outlet's editorial line."
In Australia, mining magnate, Gina Rinehart (pictured), one of the richest people in the world,
has bought up shares in Fairfax Media, one of Australasia's dominant newspaper owners, to become the company's largest shareholder. Rinehart was demanding seats on the board, one for herself and one for Hungry Jack founder Jack Cowin, (both of them are already on the Ten television network board) and a third seat (cuurently there are 8 people on the board). Cowin argued "newspapers were a business, not a public service" and therefore the purpose of news content was to attract readers and editorial policy should maximise readers to optimise profits.
Commentators noted that Rinehart is seeking influence over Fairfax newspapers. According to journalist Paul Barry: "As I understand it, it's about having a voice for the mining industry, it's about having a voice for her political views, it's about making it less left-wing as she regards it." Rinehart refused to agree to the board's charter of editorial independence.
It's not as though this and other Fairfax papers were always free from interference by conservative proprietors. Sir Warwick Fairfax loved a good meddle and was keen to stop the Vietnamese commies getting any closer to Fairwater, his home in Double Bay. Coincidentally, that was the line repeatedly taken in Herald editorials. Indeed, Sir Warwick was keen that all his papers take a common line on a great many issues.