Media Sources
While the conservatives have been building their own media machine they have also been honing their skills at influencing the mainstream media, which is also corporate-owned. News is partly shaped by the choice of people journalists interview for research, quotes and on-air appearances. A major focus of corporate activism has been to ensure that corporate-funded people are the ones that the media turn to for comment, be they scientists, think tank 'experts' or front group spokespeople.

Radio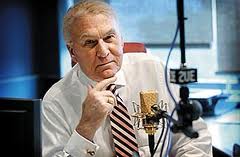 Corporations have become especially adept at making the best use of the talk shows:
In recent years, the dramatic growth of talk radio has been accompanied by an increasingly elaborate and sophisticated apparatus aimed at influencing what is said on the air. Political parties, think tanks, and advocacy groups use so-called burst fax technology to inundate hosts with their talking points. Savvy publicists steer prominent guests to the most sympathetic shows.
In the US the corporate owners of radio shows have tended to appoint hosts with extremely conservative views ensuring that by the turn of the century "American radio has become a powerful organ of right-wing propaganda". Yet a almost a quarter of the population get their news from radio talk shows.
The one clearly liberal talk show performer, Jim Hightower of ABC, was fired in 1995 by the head of Disney, Michael Eisner, the week after Eisner bought the Disney company, which owns ABC.
In Australia, the 1999 'cash for comment' scandal showed how radio talk back show hosts are often paid to give corporate-friendly opinions as their own. Accusations were again made in 2004 and radio presenter John Laws (pictured) was found to have breached laws put in place to prevent the practice. Laws was again found to have breached the laws in 2007.

Cable Television
Cable television in the US often features paid corporate lobbyists as commentators without disclosing their corporate affiliations. Between 2007 and early 2010
at least seventy-five registered lobbyists, public relations representatives and corporate officials—people paid by companies and trade groups to manage their public image and promote their financial and political interests—have appeared on MSNBC, Fox News, CNN, CNBC and Fox Business Network with no disclosure of the corporate interests that had paid them. Many have been regulars on more than one of the cable networks, turning in dozens—and in some cases hundreds—of appearances.