Journalists' Revolving Door
Jeff Cohen and Norman Solomon write in their book Through the Media Looking Glass that before becoming White House counsellor to President Clinton in 1993, "pundit David Gergen dispensed pro-corporate views on PBS's MacNeil/Lehrer NewsHour. Most of Gergen's income came from speeches—$700,000 from 171 talks in 16 months." Gergen is one of many examples of the revolving door between government and the media. Earlier in his career Gergen had written speeches for Nixon, been Director of Communications for Gerald Ford, and helped with the Reagan election campaign.
"The well-oiled revolving door between the news business and the political world enables reporters to become press secretaries and political hacks to be reborn as enlightened pundits" says Kurtz.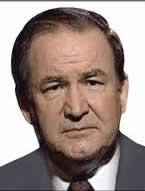 For example Pat Buchanan (pictured) used the US television programme Crossfire as a refuelling stop between his Republican presidential campaigns; Ross Perot became a radio talk show host after his presidential campaign; John Sununu made the transition from being George Bush's chief of staff to being simultaneously a lobbyist and consultant to the multinational chemical company W.R. Grace & Co; and host of CNN's Crossfire program."
Ronald Reagan's White House spokesperson became an editor of US News & World Report and various speech writers and press secretaries for past presidents have moved into the media. George Will, a member of Reagan's campaign team who helped Reagan prepare for his debates with Carter in 1980, went on to praise Reagan's performance in the debates as an ABC News commentator and columnist for Newsweek and the Washington Post.
There is also a revolving door between the media and conservative think tanks and business-funded front groups. For example, Stephen Moore is a Wall Street Journal editorial board member and senior economics writer as well as having ties to the Heritage Foundation and the Cato Institute. Similarly, Michael Barone is a paid Senior Political Analyst for the Washington Examiner, a Fox News commentator, and formerly a senior writer with U.S. News & World Report, as well as being a Resident fellow at the American Enterprise Institute.
In Australia, there is also a long traditions of journalists becoming press secretaries to politicians. And various members of the former Labour government have gone into media jobs including John Button, former Industry Minister and Graham Richardson. Richardson, who once held the posts of Environment Minister and Communications Minister, drawing up the rules for Pay TV, is now a newspaper columnist, Channel 9 executive and top level advisor to media moghul Kerry Packer. Even former Prime Minister Bob Hawke has tried his hand with guest spots on the Australian 60 Minutes programme.
As a result of this revolving door between the media and government and also between the media and public relations firms, the elite journalists and frontpeople in the media are often drawn from the ranks of those whose previous jobs were to present the best possible image of corporations, politicians and past presidents. How critical can we expect them to be of the establishment? However, when the media broadcasts its news it seldom reveals its own interests nor the backgrounds or even the current connections of its journalists, reporters and supposedly objective commentators.