General Electric and NBC
General Electric's ownership of NBC is a good example of the way a corporate owner can influence television content. General Electric purchased NBC in 1986 and between 2009 and 2013 held a 49% share of NBCUniversal, when Comcast Corporation bought GE's remaining share. NBCUniversal includes a television network which broadcasts to over 200 affiliated stations in the US, which reach 99% of homes in the US. Additionally NBCUniversal owns and operates ten television stations and Universal Pictures.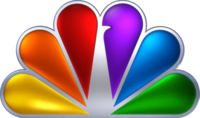 NBC claims that its news programs "represent a primary source of global news for a significant portion of the public." NBC also owns twenty cable stations, including CNBC (Consumer News and Business Channel), MSNBC and USA Network. NBC's Spanish-language broadcast network Telemundo "reaches 94% of U.S. Hispanic viewers in 210 markets through its 14 owned stations, 48 broadcast affiliates, and over 1,000 cable affiliates".
"NBC has moved aggressively to take the NBC brand to new markets around the world". In 1983 it acquired Super Channel, "Europe's largest general-programming service" offering programmes to 70 million homes and 350,000 hotel rooms in 44 countries. It has a Spanish language news service reaching 21 countries in Latin America. Advertising revenue is NBC's primary source of revenue.
General Electric (GE) is itself one of the largest and most diverse corporations in the world with annual revenues over $
140 billion (more than half from outside the US) covering "infrastructure, finance and media ... From aircraft engines and power generation [including nuclear power] to financial services, medical imaging, and television programming". It has over $700 billion in assets, around 300,000 employees worldwide in 100 countries and makes billions of dollars of profits each year ($14.1 billion in 2011).
GE claims to be "one of the largest manufacturers of major appliances in the world", "the world's leading provider of aviation services and the leading producer of jet engines", "a leading provider of credit services", "the leading supplier to the world's railroads", "a leading global supplier of water treatment, wastewater treatment" as well as "providing energy products and services to more than 120 countries".
GE's board is a conservative cross-section of the power elite—corporate executives, bankers, retired cabinet members and generals, an Ivy League president and several Ivy boardmembers. There are multiple ties with the Morgan bank, Citicorp, Manufacturers Hanover. GE boardmembers also serve on several media industry boards—Harper & Row, Reuters, the Washington Post. They are well-represented in the branches of the permanent government, too...
GE is a leading member of the Business Roundtable. It has supported a range of corporate front groups including the American Council on Science & Health, Citizens for a Sound Economy, Council for Energy Awareness (which promotes nuclear power).
GE is by no means a hands off owner of NBC. Lee and Solomon in their book Unreliable Sources have detailed how GE insisted on the removal of references to itself in an NBC programme on substandard products. They also point out that NBC journalists have not been particularly keen to expose GE's environmental record and that TV commercials by a group called INFACT, urging a boycott of GE products, were banned by NBC as well as other television stations. NBC did however briefly report GE's indictment for cheating the Department of Defense which was reported more extensively in other media outlets.
Former NBC News Chief, Lawrence Grossman, claims that the head of GE, Jack Welch made it clear to him that he worked for GE and told him not to use terms such as 'Black Monday' to describe the stock market crash in 1987 because it depressed share prices such as GE's.

Links