GE's Record of Responsibility
Despite its stake in the NBC network and its interlocking board of directors with other media outlets, GE spends millions on commercials and sponsorship of television programmes on other networks including ABC, CNN and the Public Broadcasting Service, PBS to improve its image. It spends tens of million per year on image ads.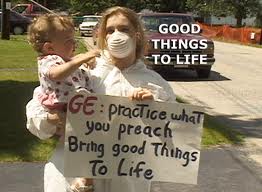 GE likes to portray itself as a good citizen providing 'the good things in life', giving large donations for schools, scholarships for the underprivileged and local community projects. However, it's history reveals its priority remains with corporate profits. During the Depression, GE introduced planned obsolescence into the life of light bulbs so as to boost sales. Then during the War that followed GE was found guilty by the courts of collaborating with a key German company, Krupp.
After the war GE was found guilty of price-fixing and bid-rigging (in 1961 and again in 1978) and recently (1985 and again in 1988, 1990 and 1991) it has also been caught defrauding the US government in defense contracts. According to a 1994 report of the Project on Government Oversight GE was guilty of "16 instances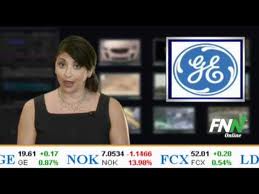 of fraudulent activity" against the government between 1990 and 1994—more than any other company.
In 1981 GE executives went to jail for bribing a Puerto Rican official on a power-plant contract and in 1989 GE was fined for discriminating against low-income consumers. Other complaints against GE such as insider trading and employment discrimination have been settled out of court.
GE has also been sued by three Midwest utility companies for "knowingly installing unsafe systems" after attempts by GE to keep secret an internal report "critical of its faulty nuclear reactor design" were exposed.
In 1992 the Washington Post reported that GE had "pleaded guilty to charges of fraud, money laundering and corrupt business practices in connection with its sale of military jet engines to Israel."
In theory all these convictions and accusations could be cause for the US Federal Communications Commission (FCC) to rule that GE was unfit to hold a broadcasting license. In fact the day before GE announced its intention to buy NBC, the Commission relaxed its character qualifications "declaring that a large corporation could be held responsible for felonies only if the heads of the corporations or those directly involved in the broadcasting aspect were wrongdoers." Under the new rules the Commission decided in 1986 that GE had rehabilitated itself and should be able to hold NBC's broadcasting licenses.

Environmental Record
In 1995 two environment groups, Ozone Action and the Environmental Law Foundation, sued several major refrigerator manufacturers and retailers, including General Electric for advertising refrigerators as 'ozone safe' or CFC free', although they use the ozone-depleting chemical hydrochlorofluorocarbons (HCFCs). Also in 1995 the firm Electric Mutual Liability, whose sole business was insuring General Electric's asbestos and environmental liabilities, filed for bankruptcy.
GE makes pollution control equipment but also creates its own pollution. Four of its factories are "on the EPA's list of the most dangerous industrial sources of toxic air pollution." It has been sued over past contamination of land and groundwater at a bomb-making plant in Washington. Toxic and radioactive wastes were also found in the sewage system and nearby Bay at a plant in Florida where GE manufactured triggers for hydrogen bombs.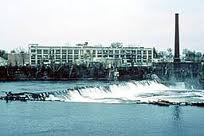 In Alabama the state won an out of court settlement from GE for dumping PCBs in the Coosa River. New York state officials have been less successful in a fight over PCBs in the Hudson River, where fishing had to be banned, although they did get GE to pay for the clean up of ground water contaminated with organochlorines near one of GE's plants.
In 1992 state and federal authorities closed down a GE processing plant in Anaheim, California. The EPA had suspended its PCB-handling license because ongoing operations posed "an unreasonable risk to human health and the environment." The EPA later fined GE $353,000, "one of the highest PCB fines ever levied by the agency." In the meantime, an employee of the plant, Steve Sandberg, is suing GE, claiming he was told that PCBs were harmless by his employers when they knew otherwise. Sandberg was given the job of cleaning out exploded, burned-up PCB transformers and suffered health problems including chloracne, which is associated with dioxin contamination. Sandberg is one of many suing GE and other companies across the US for the effects of PCBs.
Yet despite its environmental record, and perhaps because of its media clout, General Electric managed to be one of the top ten companies in terms of environmental reputation amongst consumers in 1991 according to a Roper Poll. However, it lost its position in 1993 and this may be due to its being identified as one of the most environmentally unsound companies in several magazines.
In 1993 Fortune magazine listed General Electric as one of 10 most 'laggard' companies (out of 130 of America's largest manufacturing companies) in an article Who Scores Best on the Environment for the following reasons:
Admits being a potentially responsible party at more than 70 Superfund sites; a 1992 ruling by 32 state attorneys general forced a change in the efficiency claims for its Energy Choice light bulbs and imposed a hand-slapping $165,000 fine. Its fines for OSHA [Occupational Health and Safety Administration] violations were 150% higher than any other company's in the electronics industry. Though it has made progress in reducing total toxic chemical releases, GE consistently remains on most green groups' worst lists.
The Fortune article also notes General Electric's reluctance to adopt the Coalition for Environmentally Responsible Economies (CERES) principles (otherwise known as the Valdez principles), a voluntary code of conduct for environmental protection, despite shareholders' resolutions.
Similarly General Electric was named one of the worst eight toxic polluters in America by the Council on Economic Priorities in 1992 and 1993. The reasons:
This Fairfield, Connecticut-based giant designed Mexico's only nuclear power plant, which has dumped 2.5 million gallons of radioactive waste water into the Gulf of Mexico. Several American utility companies have charged that GE sold them deficient nuclear-containment vessels. The EPA has named GE as a potentially responsible party at more Superfund sites than any other company. Over a thirty-year period, GE plants dumped 500,000 pounds of polychlorinated biphenyls (PCBs) into the Hudson River....
According to the US Public Interest Research Group (PIRG), "General Electric has been a leader in the effort to roll back the Superfund law and stave off any requirements for full cleanup and restoration of sites they helped create." However in 2011, GE lost its legal fight against the exercise of EPA's Superfund authority.
From 2006 to 2010 GE was listed as one of Fortune magazine's Most Admired Companies in the World and it claims to be recognized as a "sustainability leader" by Dow Jones because it has been included in the North American and World indexes of the Dow Jones Sustainability Index (DJSI) for several years running.
Yet GE regularly features in the top 20 of the Toxic 100 Air Polluters published by the Political Economy Research Institute.

Links