Consultants
Most large companies and business associations use hired guns to translate access into influence... Some hired guns are economic modellers who promote their work to the govenment on behalf of their clients. Others are more actively engaged in the public debate, advancing the interests of their clients, both through direct lobbying and/or through public statements at conferences, in the media or in their own business promotion activity. The vast majority of work done by conultants hired by our biggest polluters never sees the light of day, and goes undocumented — correspondence, meetings, charm and cajoling that goes on behind closed doors.
In 2010 there were an estimated 500,000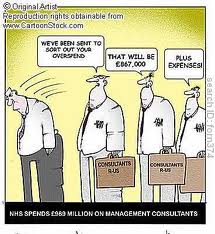 management consultants worldwide. Their main business is to make organisations more efficient.They have traditionally advised the private sector but since the 1980s they have been increasingly used by government (see below).
Historically the core business of these global firms was the provision of compliance based services: accounting, auditing and taxation. These core services remain central to the success of each of the Big 5, but in addition a diverse range of highly profitable corporate consulting services has been developed alongside the core compliance based offering.
The big 5 global consulting firms are:
Accenture (formerly Andersen Consulting)

Deloitte Touche Consulting (Deloitte Consulting)

Ernst & Young

KPMG Consulting

PriceWaterhouseCoopers

Downsizing and Efficiency
During the 1980s and early 1990s consultants advised many corporations to downsize their workforces in search of short-term profits. Behind the wave of downsizings "were consultants advancing a ruthless version of efficiency that rumbled across corporate culture... They pointed to the bottomline as teh key measure of a company's success... Millions upon millions of dollars of investment in employees and their experiences over the years walked out the door in the bid to imporve short-term gains by cutting overhead."
In one contract, revealed in a 11992 court case, Anderson Consulting was paid according to how many jobs it cut from the O'Neal Steel Company. If it cut fewer than 100 jobs it would be penalised by to $550,000 but it could earn up to $709,000 for over 325 jobs cuts.
David Craig in his account of his own experience as a consultant Rip Off! explains what he had to do:
He worked to a simple model, which is common in the industry. He had to watch how a workforce behaved for a week – and then tell the company's bosses, every time, that they had 30 percent too many staff and only his consultancy could figure out who should be culled. If he calculated they actually had the right amount of staff, he was told by his bosses not to be so ridiculous and do his sums again: where was the money for them in a properly-staffed company?
Many consultants, as outsiders, seldom understand the social dynamics and context of an organisation and so base their advice on generic formulas and rules for achieving efficiency rather than tailoring their advice to suit the specific circumstances of that organisation. Their advice has often led to company decline and even bankruptcy.
The Cranfield School of Management studied 170 companies who had used management consultants, and it discovered just 36 per cent of them were happy with the outcome – while two thirds judged them to be useless or harmful. A medicine with that failure-rate would be taken off the shelves.

Government Advice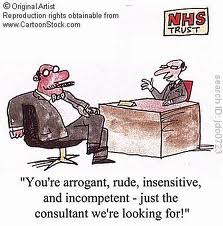 Although businesses were realising by the mid-1990s that dowsizing had costs in terms of future business growth, loss of expertise and experience, and employee morale and therefore long term profitability, consultants went on to give the same advice to governments about government departments and agencies.
By the mid-1990s companies such as KPMG Peat Markwick, Anderson, and Coopers & Lybrand were earning hundreds of millions of dollars from advising governments. In Britain consultants earned large amounts for their studies of government departments such as Health and Social Security as well as the BBC.
According to the Financial Times, 65 percent of cabinet documents in Canada are written by outside consultants. These consultants owe their loyalty to the businesses which employ them not to Canadian voters. In the UK the big consultancy companies, which "make millions from the public sector - are keen to help the parties 'shape' their policies on a pro-bono basis" (see UK consultants: secondments). KPMG, for example, has a couple of people on secondment to the Tories and chaired debates on the credit crunch at all three party conferences".
David Craig, a former consultant himself, in his book Plundering the Public Sector, argued:
Too often, consultants with little or no public-sector experience have caused chaos by unthinkingly trying to transpose private-sector methods into public services. Typically, consultants impose targets and measurements that are too simplistic and lead to behaviors and practices that are counter-productive and often the direct opposite of what was intended.
For example, in the UK, "the introduction of so-called 'competitive markets' into public sector organizations has merely led to an explosion in administration costs as cooperation in administration costs between departments is replaced by everybody trying to invoice each other for their services."
Apart from the inappropriate application of business practices, concerned as they are with profit rather than service, consultants have facilitated the privatisation and outsourcing of government functions in a way that they themselves and other businesses have profited handsomely. For example, according to Craig, KPMG earned around £300m in fees durng the first term of the Labour government from this work. Craig also notes:
the privatization of British Rail seems to have wasted over £6bn of our money and given Britain one of the least modern, most expensive and dangerous railway systems in Europe - though many mangers, accountants, consultants and lawyers became multi-millionaires in the process.
In Australia, the federal Labor government spent $500 million per year on consultants in the first four and a half years of office. Less than 60% of this work was open to tender. "Global firms dominate the list of top earners, KPMG winning more than $100 million of work, followed by PricewaterhouseCoopers ($69 million) and Ernst & Young ($54 million). The Defence Department was the biggest spender, on $299 million, followed by the Health Department's $208 million."

Links