Global Warming - Public Opinion
Public opinion does not reflect the growing scientific consensus on global warming because of successful corporate efforts to caste doubt on the science.
Australia
Perhaps nowhere has the fossil fuel industry been more successful at casting doubt on global warming than in Australia, where the government presented the fossil fuel industry's interests as being synonymous with the national interest. In 1988, when the National Greenhouse 88 Conference was held in Australia, there was unprecedented public interest in the issue. This has been systematically eroded through a well-orchestrated international campaign to portray global warming as little more than a theory that scientists can't agree on. This strategy is aimed at crippling the impetus for government action to solve these problems—action which might adversely affect corporate profits.
A small Morgan poll found the following: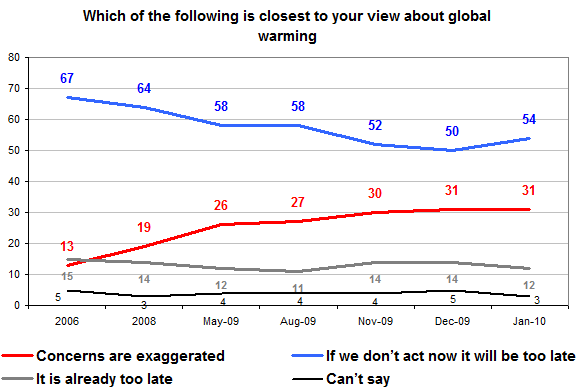 Older (50+) male conservative voters were most likely to believe global warming concerns were exaggerated.
Changing Opinions on Global Warming in the US
The success of this manufactured confusion strategy was evident in US Gallop polls in October and November 1997. They found that 37 percent of those surveyed thought that scientists were unsure of the cause of global warming. The poll also showed a drop in concern about global warming since 1991.
Despite the shifting stance of corporations and think tanks about the veracity of human-induced global warming, the public is still being influenced by the confusion industry.
| Changing Opinions in the US | April 2008 | October 2009 |
| --- | --- | --- |
| Is there solid evidence the earth is warming? | % | % |
| Yes | 71 | 57 |
| Because of human activity | 47 | 36 |
| Because of natural patterns | 18 | 16 |
| Don't know | 6 | 6 |
| No | 21 | 33 |
| Mixed/Don't Know | 8 | 10 |
| How serious a problem? | % | % |
| Very serious | 44 | 35 |
| Somewhat serious | 29 | 30 |
| Not too serious | 13 | 15 |
| Not a problem | 11 | 17 |
Changing Opinions on Global Warming in the UK