Koch Industries and Global Warming
Koch Funding of Global Warming Denial
The Koch foundations have provided more than $60 million to groups that oppose climate change action between 1997 and 2010, almost $38 million of this between 2005 and 2010.
Koch funding of think tanks has included:
Mercatus Center, George Mason University - $10.5 million 1997-2010 (Charles Koch is on the Board of Directors
Institute for Humane Studies (IHS) - $8.5 million 1997-2010 (Charles Koch is chair of the Board)
Heritage Foundation - $4.4 million 1997-2010
Cato Institute - $5.3 million 1997-2008 (Charles Koch was a co-founder)
The Manhattan Institute - $1.7 million 1997-2010
Pacific Research Institute for Public Policy - $1.1 million 1997-2008
American Enterprise Institute - $640,000 1997-2008
Competitive Enterprise Institute - $520,000 1997-2010
Fraser Institute - $500,000 1997-2010
Koch funding of front groups has included:
Americans for Prosperity Foundation (APF) - $5.7 million 1997-2010
American Legislative Exchange Council (ALEC) - $708,858 1997-2010
Center for the Study of Carbon Dioxide and Global Change
Citizens for a Sound Economy (now FreedomWorks) - over $6.5 million 1997-2005
Frontiers of Freedom
Political Lobbying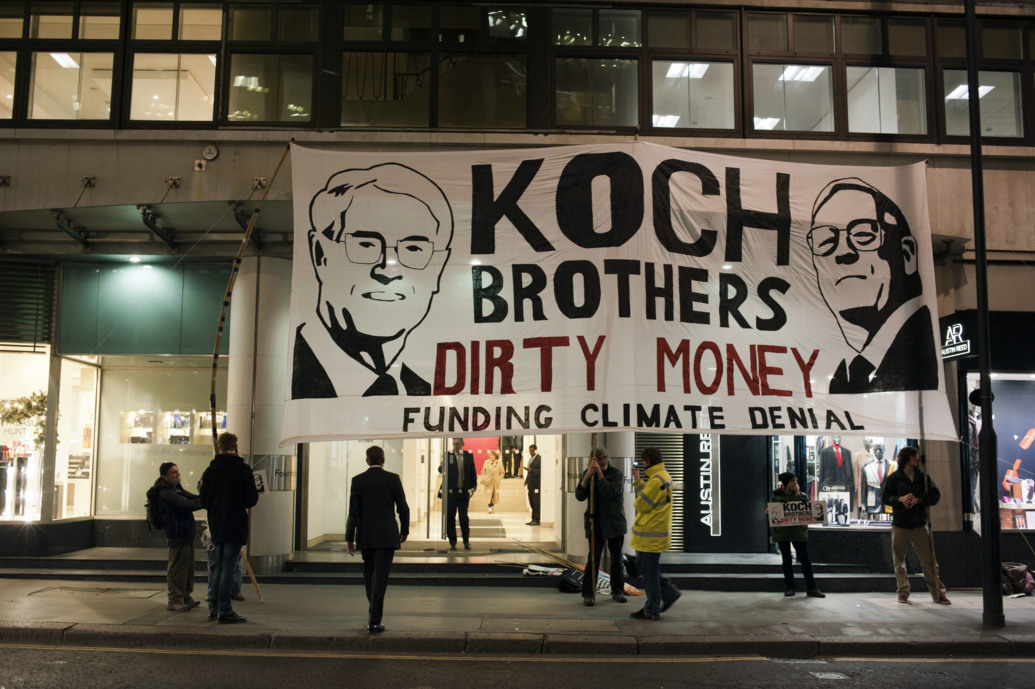 Koch Industries contributed more than $1.8 million during the 2008 elelctions, mostly to Republicans, and has been the largest oil and gas industry donor to electoral campaigns since 2006, spending $7.27 on political donations between 2006 and 2010.
Koch Industries spent $20 million on lobbying in 2008, including almost $18 million on oil and gas issues.
In the 2012 elections, the Charles and David Koch and their companies contributed over $2 million directly, 95% going to Republican candidates, but they channelled much more to the Republican Party through "outside-spending groups that don't have to disclose their donors", particularly Americans for Prosperity (AFP) a non-profit foundation founded by David Koch that funded anti-Obama television ads in the lead up to the election. AFP disclosed that is spent $36.7 million. Charles and David Koch in fact pledged $60 million to defeat Obama.
Links