Oil Industry and Global Warming
In 1993, the American Petroleum Institute (a trade association representing companies such as BP Oil, Shell, Chevron and Exxon) paid PR-firm Burson-Marsteller $US1.8 million. Burson Marsteller helped it defeat a proposed tax on fossil fuels.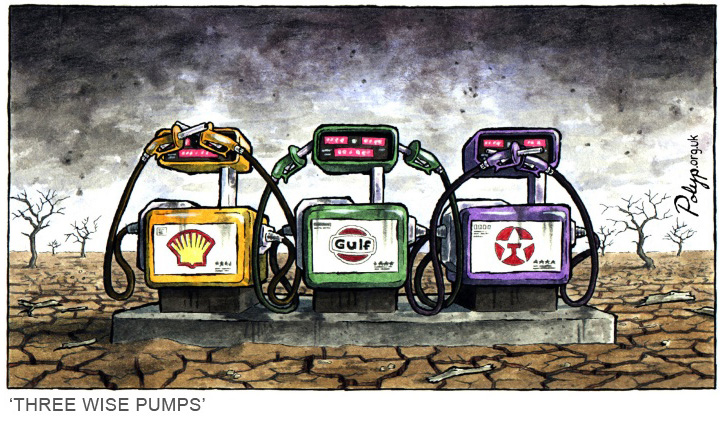 More from Polyp
In 1998 the New York Times reported on internal American Petroleum Institute (API) documents showing that fossil fuel interests intended to raise $US5 million over two years to establish a Global Climate Science Data Center as a non-profit educational foundation to help meet their goal of ensuring that the media and the public recognise the uncertainties in climate science. The documents state:
Victory Will Be Achieved When
Average citizens "understand" (recognize) uncertainties in climate science; recognition of uncertainties becomes part of the "conventional wisdom"
Media "understands" (recognizes) uncertainties in climate science
Media coverage reflects balance on climate science and recognition of the validity of viewpoints that challenge the current "conventional wisdom"
Industry senior leadership understands uncertainties in climate science, making them stronger ambassadors to those who shape climate policy
Those promoting the Kyoto treaty on the basis of extent science appear to be out of touch with reality.
The plan earmarked over $600,000 for advertising, $5 million for a Global Climate Science Data Center, and $300,000 for a direct outreach program. It intended to:
Identify, recruit and train a team of five independent scientists to participate in media outreach. These will be individuals who do not have a long history of visibility and/or participation in the climate change debate. Rather, this team will consist of new faces who will add their voices to those recognized scientists who already are vocal.

Revolving Door

Between 2001 and 2005 the chief of staff for the White House Council on Environmental Quality was Philip Cooney, a lawyer who had spent almost ten years working for the American Petroleum Institute, where he sought to prevent the US government from agreeing to international treaties or implementing domestic legislation to reduce greenhouse gases. According to Rick Piltz who resigned in protest from the US Climate Change Science program, Cooney would alter, censor, edit and distort government scientific reports to emphasise uncertainty about global warming. After Piltz's allegations were published in the New York Times, Cooney resigned and was appointed to a high-level public relations post with ExxonMobil.
Advertisement
In 2009 the following advertisement was broadcast in several states in the US. According to the Guardian newspaper the group CO2 Is Green was co-founded by former oil executive H. Leighton Steward, a former Chairman of the U.S. Oil and Gas Association and the Natural Gas Supply Association and currently director of EOG Resources and an honorary director of the American Petroleum Institute.
The API also set up a front group, Energy Citizens, and engaged in an artificial grassroots or astroturf campaign in 2009 as detailed here. Energy Citizens sponsored advertisements opposing climate change legislation (see example at the top of this page).

Europe
In Europe the oil industry, via the European Petroluem Industry Association (EUROPIA) and the European Round Table of Indsutrialists (ERT), has lobbied against the European Commission's Fuel Quality Directive which would require them to reduce greenhouse gas emissions from their fuels by 10 percent on 2010 levels by 2020. It has also lobbied against an EU proposal to charge oil refineries for their emissions permits, starting with 20 percent in 2013.