Shell Climatewash
Royal Dutch Shell was the largest company in the world in 2009. Shell is also the most carbon intensive oil company in the world, that is, it generates more carbon emissions on average per barrel of oil than any other company

and that carbon intensity is likely to increase rather than decrease because of its reliance on liquefied natural gas, its investment in oil sands and oil shale, and its practice of gas flaring in Nigeria.
Shell's practice of flaring gas from oil wells in Nigeria, which it continues decades after it was banned, contributes needlessly and wastefully to greenhouse gas emissions. Moreover Shell has presented its use of gas to push out inaccessible oil from oilfields in the North Sea as a way of reducing its greenhouse gas emissions by 'burying the gas'.
Shell promotes its token efforts to reduce greenhouse emissions as evidence of its green credentials. Like BP it was originally a member of the Global Climate Coalition. It is also member of the US Climate Action Partnership which has called 'on the federal government to quickly enact strong national legislation to require significant reductions of greenhouse gas emissions'.
However according to Friends of the Earth and other groups, Shell lobbies behind the scenes to weaken US global warming legislation and is an active member of European lobby groups that are doing the same in Europe.
Early Knowledge
A leaked document shows that Shell knew about the greenhouse effect and its contribution to it as early 1988. It states that if the trend of increasing carbon dioxide emissions continued then the concentraton in the atmosphere would double by the third quarter of the twenty first century and "the most sophisticated geophysical models" predict this would result in a warming of 1.3-3.3 degrees Celcius. It noted that this could revive interest in conservation, renewables and nuclear energy as well as "pressure group activity" targeting the energy industry.
The report noted that the consequential changes "may be the greatest in recorded history" and alter the habitability of some regions requiring "adaptation, migration and replacement" all of which would be "costly and uncertain". It also recognised that there would be "changes in ecosystem stability, disturbance of ecosystem structure and funciton and even local disappearance of specific ecosystems or habitat distruction..."
Despite this knowledge, Shell continued to expand its fossil fuel production and focus on its improving its image and reputation. It proposed to do this by using advertisements to emphasise the small environmental actions was taking, such as investments in renewables, rather than defending its central fossil fuel activities.
Advertisements
In an advertisement in the Financial Times in 2000 headlined 'Cloud the Issue or Clean the Air' Shell declared that 'action needs to be taken now' and that it was committed to meeting agreed Kyoto targets for greenhouse emission standards. However this does not mean it will reduce sales of petrol. Rather it is talking about its own use of fossil fuels not

the fossil fuels it sells which 'alone accounts for more carbon dioxin that most countries in the world'. In other ads Shell makes much of its commitment to renewable energy but, according to Kenny Bruno from CorpWatch, 'Shell spends a miniscule 0.6% of its annual investments on renewables'.
In 2007 Shell advertised in European newspapers and magazines that "we use our waste CO2 to grow flowers". In fact it was only doing this at one refinery, amounting to 0.35 percent of its total CO2 emissions. Friends of the Earth successfully complained in the UK and the Netherlands that the advertisment was misleading.
In the lead up to the Copenhagen UN conference on climate change Shell ran advertisements, sponsored print supplements, research and conferences to show how it was onside with climate change action and to portray itself as developing new technologies with reduced greenhouse emissions. However, a study by environmental auditing company Management & Excellence found that Shell's actual environmental performance was the worst amongst the ten largest oil companies, worse even that ExxonMobil.
Investment in Renewables
Shell invested over $1 billion in wind energy compared with $10 billion in Canadian tar sands. In 2008 the UK Advertising Standards Authority (ASA) upheld a WWF complaint against a Shell advertisement in the Financial Times that claimed its investment in Canadian tar sands was a contribution to a 'sustainable' energy future. In fact oil from tar sands contributes far more greenhouse gas emissions than standard oil. That year Shell withdrew from its proposed investment in an offshore wind farm in the UK. Then in 2009 Shell decided it would no longer invest in renewable energy technologies — solar, wind, hydropower — because they were not economic.

2009 Climate Greenwash Awards "for making misleading claims about action to tackle climate change while withdrawing investments from renewable energy supplies, flaring gas in Nigeria and supporting dirty energy supplies like tar sands".
Shell's lobbying to prevent policies to tackle climate change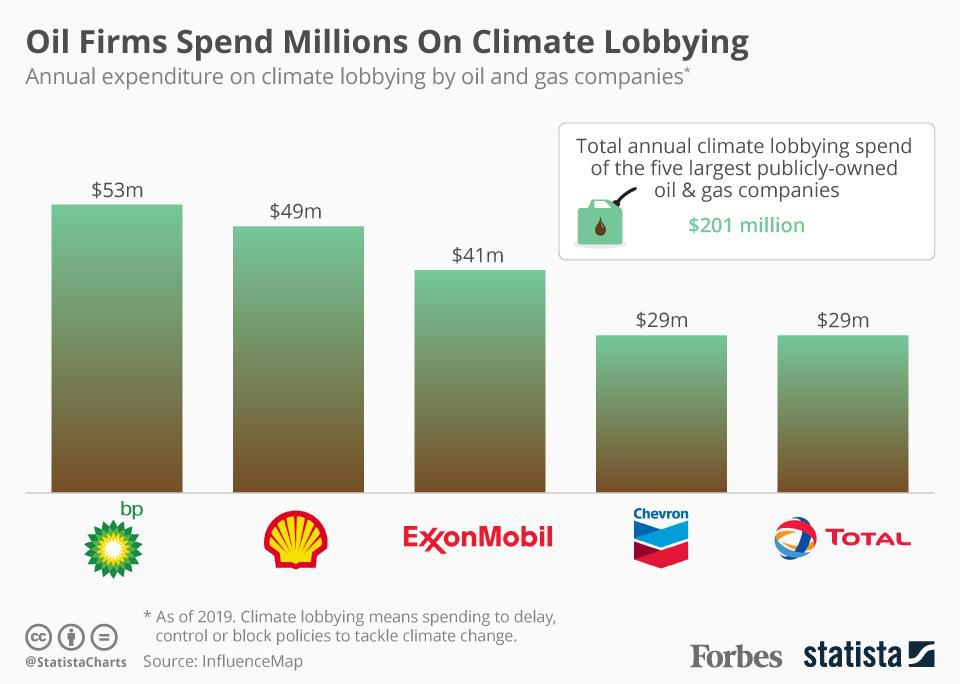 Links