Edison Schools in Practice
Edison's formula for its schools is similar to other charter schools. It involves putting in place the same rigidly structured back-to-basics curriculum across all its schools; a longer school day and longer school year (198 vs 180 days); "a highly structured and disciplined environment"; centralised control over what happens in the schools; performance pay for teachers and principals; and constant testing of students.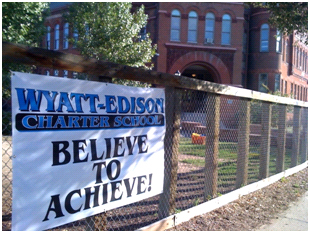 Like many charter schools, discipline is central to Edison schools. In many cases students are required to walk quietly about the corridors in single file with arms folded across their chests. Students who talk out of turn in class tend to be subject to disciplinary hearings. Those who are well behaved get merit points that count towards entry into school extracurricula activities like Friday night dances.
Edison assumes that a major cause of problems in urban schools is lack of discipline rather than lack of funding and resources, neighbourhood and family poverty, or the feelings of hopelessness caused by high levels of unemployment in the area. Discipline is thought to be necessary to make students learn against their natural tendency to play up.
Edison management also assumes that teachers have to be subjected to the discipline of scripted lessons and the accountability of student testing. The reading and mathematics curricula Edison uses are commercially produced (and also used by many public schools). For example, the reading curriculum, Success for All, is scripted, leaving little scope for teacher discretion or diversion or student spontaneity and interaction.

Philadelphia Schools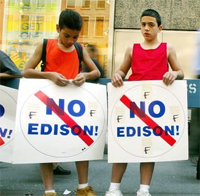 When Philadelphia faced a crisis because poor and highly inequitable funding of schools inevitably led to poor student performance, it paid Edison $2.7 million to recommend changes. A previous report by Judge Doris Smith, which recommended increased school funding, fairer distribution of funding, and smaller class sizes, had been shelved and ignored. Not surprisingly Edison recommended that 60 poorly performing schools be taken over by private companies, 45 of them by Edison. Consequently Philadelphia 'embarked on the nation's largest experiment in private management of public schools' in 2002. However, because of political opposition fewer were privatised than Edison recommended and only 20 were awarded to Edison.
To save money in its Philadelphia schools – where it had asked for $1500 more per student than what the School District provided other public schools, but only received $750 extra – Edison closed school libraries and installed computerised test-taking drills. Despite this exclusive focus on test scores in Edison schools, test scores fell in many of its schools.
In 2006 only 11 out of the 43 privately-run schools in Philadelphia met federal performance standards compared with 15 the year before (a lower percentage than district-run schools). The 20 Edison schools (a substantial proportion of Edison schools nationwide) were amongst the worst performers although its schools received $750 more per student (or $22,000 more per classroom) than public schools.
In 2008 a taskforce recommended that the Philadelphia school district dismiss Edison Schools Inc from managing its schools after they failed to make adequate academic progress for 4 years. The company could reapply for school management.

More Financing Problems
In Dallas the school board terminated its contract with Edison early because Edison schools cost ten percent more than other schools as a result of the longer hours but its students did not perform as well as kids with similar backgrounds from other schools and student performance in two of the schools was declining. In San Francisco Edison was accused of "counselling out" students with learning difficulties and behavioural problems and not providing the required bilingual and special education.
In the Chester Upland District of Pennsylvania, where Edison had taken over all nine schools, Edison demanded that the district almost double its fee after test performance dropped in each school during 2002. Edison threatened to pull out of the schools unless it was paid $4.4 million a year claiming that if the district wanted "better schools, they must pay for them".
Edison cuts costs by hiring new and inexperienced teachers, discouraging handicapped and problem students, and not paying for bussing of students. Teachers in Edison schools tend to have an average of five years' experience compared with 16 years in public schools, and turnover is high at 23 per cent per year.
In San Francisco, Edison was accused of 'counselling out' students with learning difficulties and behavioural problems and not providing the required bilingual and special education.

School Performance
Despite the extra hours of schooling ("almost 50 percent more time in class each year than regular public school students") and higher funding, Edison schools don't perform well. Studies have not found that Edison schools do any better than public schools at educating students. Such findings do not stop Edison boasting of the achievement gains that Edison schools are making. Nor do they stop business leaders from citing Edison and other charter schools as the best way to educate students.
Some studies of Edison Schools Performance:
A major study by the Evaluation Center at the University of Western Michigan in 2000 focused on standardised test results at Edison schools that had a long record of test results: "While our findings do not suggest that Edison did less, they do not suggest that the company did more with these schools in terms of gains on standardised tests."
A 2003 American Federation of Teachers study found that "averaged across all states, the typical Edison school performed below average".
In 2005 Rand Corporation published a report, commissioned by Edison, which was unable to show that Edison Schools performed any better than similar public schools.

If you have any examples or updates you would like to contribute please email them to me and I will add them here. Please give references for where you sourced the information.