Swedish Free Schools
In 1992 a voucher system was introduced in Sweden that allowed private schools to be set up and funded with government money at the same rate per pupil as public schools. These schools were called 'free schools' as they were not able to charge parents fees. By 2007 there were 900 of these schools, covering 10% of lower secondary school and 17% of upper secondary school students.
75% of free schools in Sweden are run for profit. Although introduced to increase diversity, the domination of 'free schools' by large chains of schools owned by big companies has undermined diversity. Morever, Per Thulberg, director general of the Swedish National Agency for Education, claims that free schools have "not led to better results".
According to the Swedish teachers' union, Laraforbundet, company profits come from:
The companies renting their school buildings and so not being responsible for long-term wear and tear.
Buildings such as disused offices and factories being utilised.
Lack of overheads on e.g. sports facilities, dining halls, etc.
A lack of investment in special needs, arts and language facilities and support staffing.
The employment of young and inexperienced staff and larger numbers of unqualified teachers.
Performance Results
Sweden has fallen in OECD rankings for reading and literacy from 9th in 2000 to 17th in 2009.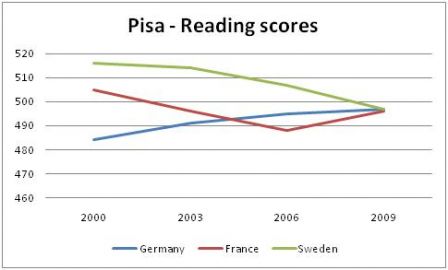 Trends in average scores from 1995 to 2007:
| Science | Maths |
| --- | --- |
| England +8% | England +16% |
| USA +7% | USA +16% |
| Sweden -42% | Sweden -48% |
Equity
Similarly the aim of improving education for deprived children has been undermined by the fact that it is more affluent children who now attend these schools. In 2003 a study by the Swedish National Agency for Education found that free schools increased segregation in Swedish schools in terms of racial and educational background.
Sweden is one of the countries where the association between socio-economic background and reading performance has increased the most over the period [2000-2009]. The difference in achievement between the poorest and the richest kids is rising in Sweden more than in most other European country.
In 2010 the Swedish government set out to ensure the free schools had to follow the same curriculum and teacher assessment system as municipal schools.
Chain schools in Sweden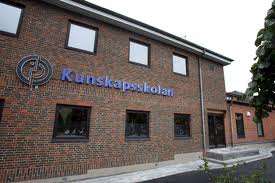 One of the large chain of for-profit schools operating in Sweden is Kunskapsskolan which was founded by Peje Emilsson, a public relations magnate, and began operating in 1999 and runs 32 secondary schools in Sweden catering to 10,000 students.
Kunskapsskolan sponsors the Learning Schools Trust in the UK, which runs 3 academy schools. In 2010 it announced plans to launch a chain of 30 profit-making state schools in England. It is the sponsor of 2 UK academies, with the third scheduled for 2011. It will also begin managing its first US charter school in New York in 2011.
"It is alleged that Kunskapsskolan makes a profit through employing fewer qualified teachers and cutting the costs of facilities." It also achieves economies of scale by having sharing administration costs across its schools, much as a chain of fast food outlets might. It achieves around 4% profit per year.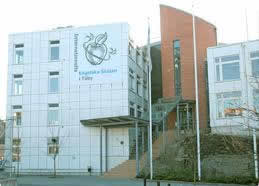 Internationella Engelska Skolan (translated as International English School - IES) was established in 1993 and runs 17 for-profit free schools in Sweden and is looking to expand in the UK.
The Swedish model of free schools is a system that the conservative UK government is seeking to emulate. The Ealing branch of the National Teachers Union (NUT) believes that for-profit schools in the UK run by Swedish chain operators would:
drive down standards of education in the UK just as they have in Sweden;
de-skill the teaching profession, as children sit at computers and rote learn under the supervision of an increasingly unqualified workforce;
result in a lowering of teachers' wages, conditions and morale;
result in the fragmentation of education; and
de-recognise or minimise the role of trade unions.
Links
If you have any examples or updates you would like to contribute please email them to me and I will add them here. Please give references for where you sourced the information.