Charter Schools Finances
Cutting Costs to Make Profits
In order for investors to make profits from charter schools that are funded on the same basis as public schools, running costs have to be cut. Proponents argue that this can be done by eliminating waste, running schools more efficiently and innovating. The evidence suggests it is done by hiring less experienced teachers, paying teachers and non-teaching staff (janitors etc) less, reducing equipment and book budgets, having larger classes, and avoiding high cost special education students.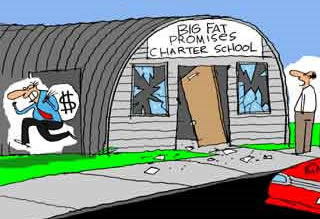 Charter school companies also cut costs by centralising administration costs across a number of schools, and standardising the curriculum across schools so that they can take advantage of economies of scale in their distribution of educational materials and equipment.wi For this reason there is a tendency for franchises to develop.
"We've got brand-name everything else," observed Chester E. Finn Jr., an education analyst at the Manhattan Institute. "Now we have Comer schools and Hirsch schools, and we're going to have KIPP schools and Edison schools – you're going to be able to move into a new city and say, 'Show me the local Hirsch school.' That's not a bad idea for a modern mobile society."
Because the public funding of charter schools does not cover the cost of infrastructure such as school buildings, and many investors are unwilling to pay these large capital costs up front, charter schools are often housed in buildings that are inappropriate, such as disused factories or churches. "Few offer a school-lunch program or bus transportation for students in outlying towns. Expensive extracurricular programs such as sports are limited. And most aren't equipped to handle students with severe special education problems, which public schools are obligated to serve."
Failing Charter Schools in California

There have been several recent examples of charter schools failing on financial grounds and experiencing various financial problems. For example, in 2005 Charter Schools USA, admitted it had lost $1.4 million on its four schools in Lee County, Florida. By 2003, 31 charter schools in California had "had their charters revoked for fiscal improprieties, substandard academic performance or other shortcomings".

In 2004 the California Charter Academy, one of the nation's largest chains of charter schools, went bankrupt forcing the closure of another 60 schools in California so that 6000 students found themselves with no school to attend and teachers found themselves unemployed. The Academy had been started by a former insurance executive, C. Steven Cox, who had no teaching experience. He was paid $5000 each year per student attending his schools. There were a number of management problems in the company so that school districts had begun "laying the groundwork to revoke" the charters of 38 of Academy schools even before the bankruptcy.
There are currently some 800 charter schools in California attended by over 340,000 students.
Cost to Run a Charter School
Whereas once charter schools owners claimed they could manage public schools for less cost, today they are complaining about inadequate funding. The truth is, however, that in many states they get more funding than district-run public schools. They tend to run mainly primary schools, which are cheaper to run than high schools, and they tend not to include as many students with special needs or English as a second language. In some cases, school districts have been so sold on the idea that charter schools will deliver better education that they have been willing to pay more for them.
KIPP schools admit that they are cost $1000-1500 more per student to run than other publicly-funded schools because of the costs of the longer school days and field trips.
Edison also usually manages to negotiate more funding per student than comparable public schools. When Edison's contract in Wichita, Kansas, was revoked in 2002 school board officials believed they would save half a million dollars a year by running two of Edison schools itself. Its contract in Sherman, Texas was not renewed in 1999 because the school district found that it spent $2.6 million more in the first three years than it would have running the schools itself.
A study of New York charter schools using annual reports and tax filings found that the "most well-endowed charters receive additional private funds exceeding $10,000 per pupil more than traditional public schools receive. Other charters receive almost no private donations."
Fraud and Mismanagement
Also there is a temptation for profit-driven companies that are having difficulty making a profit, to exercise fraud in order to increase their government funding. For example, the company Opportunities for Learning was found by a Californian state audit to have overcharged the government over $57 million for its eight charter schools and 40 plus "independent-study satellite centers" between 2002 and 2005, by falsely reporting information such as the number of credentialed teachers they employed and student-teacher ratios.
Many charter schools have suffered from mismanagement and in some states, lack of oversight has also led to educational problems.
It was once thought that EMOs would have to be more accountable because their contracts could be cancelled. This is no longer the case. It is actually quite difficult for authorisers to revoke a charter school's contract when they don't perform well: "Where charters have clearly failed, the states often lack the political will – or even the process – for closing them down."
If you have any examples or updates you would like to contribute please email them to me and I will add them here. Please give references for where you sourced the information.