Other Publishing Companies

McGraw-Hill is not the only company with its finger in various related pies. In fact four companies dominate the school instructional materials and testing market, McGraw-Hill, Pearson, Houghton Mifflin and Harcourt (see diagram below). Harcourt marketed its textbooks in states where it designs the standardised tests by sending out a flyer to school districts saying: "Why choose Harcourt Brace for your math program? … [It is the] only program to have texts written by the same company that helps to write the TAAS tests…" It was later persuaded that this kind of promotion was not wise.
Publishers Share of K-12 Market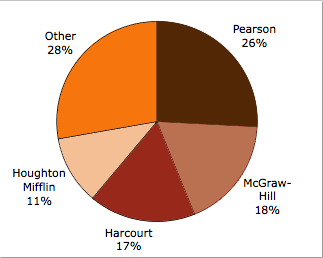 Pearson

Pearson is a London-based corporation, which also owns Penguin and the Financial Times, and turns over US$7 billion a year. It includes various text book and learning program brands including Prentice Hall, Addison Wesley, Waterford Early Learning Program, PowerSchool and Chancery student information systems.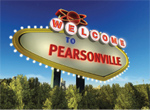 Pearson claims to be "the leading pre K-12 curriculum, testing, and software company in the US, reaching every student and teacher in that country with one or more of our products and services". It also marks the SAT exam and the National Assessment of Educational Progress (NAEP) exam in the US aswell as school examinations in thousands of UK schools. It claims to educate 100 million people worldwide.

In 2005 Pearson's sales of school products worldwide increased from the previous year by 16 percent (to over US2 billion) and its profits from these increased by 29 percent with the help of the NCLB legislation, which boosted school testing sales by more than 20%. The company claims:

Through acquisitions, strategic alliances, and organic growth, we have put in place all the pieces necessary to create the world's leading learning company. These pieces include the most comprehensive range of educational programmes; leadership in testing, assessment, and enterprise software; and the very best in online consumer and professional learning. We are engaged in these activities for every age and level of student – from pre-school through kindergarten, primary and secondary school, college and university and on into professional life. Pearson Education's international business has been growing rapidly in recent years, and we now have a presence in over 110 countries.
In 2011 the New York Times reported:

Since 2008, the Pearson Foundation, the nonprofit arm of one of the nation's largest educational publishers, has financed free international trips — some have called them junkets — for education commissioners whose states do business with the company. When the state commissioners are asked about these trips — to Rio de Janeiro; London; Singapore; and Helsinki, Finland — they emphasize the time they spend with educators from around the world to get ideas for improving American public schools. Rarely do they mention that they also meet with top executives of the Pearson company...
Illinois is paying Pearson $138 million to administer the state's standardized testing program; Virginia is paying $110 million and Kentucky $57 million. All three of their commissioners have attended the conferences.
Neil Bush and Ignite!

Even the Bush family is profiting from the NCLB Act. At least 13 school districts used NCLB funds to purchase learning materials from Neil Bush's company, Ignite! Learning. The company investors include his parents George and Barbara, the head of a Kuwaiti company, as well as "fugitive business tycoon" Boris A. Berezovsaky and his partner. "Most of Ignite's business has been obtained through sole-source contracts without competitive bidding. Neil Bush has been directly involved in marketing the product." Barbara Bush gave a donation to a Hurricane Katrina relief foundation on the condition that the money be used to buy Ignite's materials for local schools.
Links