Dick and Betsy DeVos Foundation
The DeVos Foundation is the main funder of the Education Freedom Fund (EFF), which funds low-income children to attend private schools. The Foundation has also provided funds for various groups advocating vouchers, running demonstration private voucher programmes, and promoting school choice, charter schools, and school privatisation including:
American Education Reform Council
Choices for Children
Children First America
Children's Scholarship Fund, a private voucher programme
Greater Educational Opportunities Foundation
Black Alliance for Educational Options - Detroit
Friedman Foundation
For a full list from 1999 to 2007 see MediaMatters Action Network and MediaMouse.org. It is also one of the largest contributers of soft money to the Republican Party.
The Foundation also funds free-market think tanks such as the Heritage Foundation, the American Enterprise Institute, the Competitive Enterprise Institute and the Hudson Institute. Many of these groups and think tanks are also funded by the the Richard and Helen DeVos Foundation.
Dick DeVos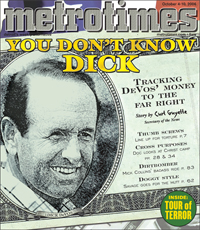 Dick DeVos is the son of Richard DeVos, billionaire co-founder of Amway, where Dick was CEO from 1993 to 2002. He ran as a republican candidate for governor of Michigan in 2006 but despite spending record amounts of money was unsuccessful.
According to People for the American Way (PFAW):
Dick Devos has used his family's fortune and status to create an intricate national network of non-profits, political action committees and federal groups known as 527's that effectively fund the political arm of the school voucher movement... Nowhere is the impact of the DeVos family fortune greater, though, than in the movement to privatize public education. After 69 percent of Michigan voters rejected a DeVos-led drive for vouchers in 2000, he and his family turned their attention in recent years to building an organizational infrastructure that pumps huge amounts of money into ballot initiatives and political races at the local, state and federal level.... In 2006, the funding network he has built is putting more money into pro-voucher candidates and legislation than ever before.
The Dick and Betsy DeVos founded All Children Matter (AMC) in 2003, funded by the the DeVoses and John Walton. It recruits, trains, and funds candidates for election throughout America who are committed to school choice and publicly-funded vouchers to attend private schools. According to Clint Bolick, president of the Phoenix-based Alliance for School Choice: "They have almost single-handedly made the school choice movement a significant factor in state legislative races around the country."
Advocacy Groups Dick and Betsy Have Been Involved in
Dick DeVos has been:
Co-chair and member of board of directors, Education Freedom Fund (EFF), which funds children to attend private schools
Co-chair of Kids First! Yes! which sponsored a voucher/tax credit ballot measure in Michigan in 2000
Co-chair, Education Freedom FundBoard of the Children's Scholarship Fund
Founder and donor of All Children Matter (AMC).
Board member, Children's Scholarhip Fund, a private voucher programme.
Michigan Board of Education, 1990-92
Member Michigan Business Roundtable (co-chair, 1997, chair 1998)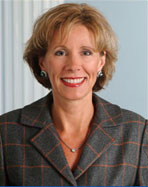 Betsy DeVos was appointed US Secretary of Education in 2017 by President Donald Trump. She has been:
Co-chair, Education Freedom Fund (EFF).
Co-chair, Of the People
Chair, Choices for Children
CEO and Board of Children First America
Founder and director of All Children Matter (AMC).
Founder, chair, Great Lakes Education Project, which promotes publicly-funded vouchers to attend private schools.
Director, James Madison Institute
Chair of Michigan Republican Party
Director and board member, Alliance for School Choice
Links
Articles
Contributers' Updates and Examples
If you have any examples or updates you would like to contribute please email them to me and I will add them here. Please give references for where you sourced the information.