Bill and Melinda Gates Foundation
The Bill and Melinda Gates Foundation promotes the standard business agenda of 'rigorous' curriculum and instruction, assessments and accountability, as well as market competition between schools and the establishment of charter schools.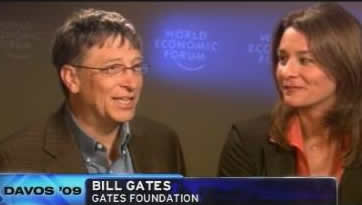 The Bill and Melinda Gates Foundation is worth some $30 billion and gives away over a billion dollars each year, mainly in education, so it is particularly influential in education policy. It accounts for a quarter of all philanthropic donations in the school education sector. It distributes much of this money to schools but increasingly it is funding groups promoting particular types of school reform, what the Foundation calls "advocacy work".
Since 1999, the Gates Foundation has spent approximately $3.4 billion on an array of measures to try to improve K-12 public education, with mixed results.
For example it spent $650 million replacing large urban high schools with smaller schools but abandoned that project when the results were disapppointing.
Education Advocacy vs Philanthropy
In 2009 the Gates Foundation devoted $78 million to education advocacy out of its total donations for education of $373 (see annotated tax return), four times as much as four years earlier:
"We've learned that school-level investments aren't enough to drive systemic changes," said Allan C. Golston, the president of the foundation's United States program. "The importance of advocacy has gotten clearer and clearer."
In 2006 Gates Foundation Tom Vander Ark, head of the education section of the Bill and Melinda Gates Foundation, "envisions a system in which public authorities oversee schools but do not run them, and Gates Foundation money is directed towards projects that fit that vision… Schools would receive public support only if they performed and parents chose them."
The Gates Foundation funds front groups, such as Teach Plus, to oppose unions on issues such as seniority and the evaluation of teachers according to standardised test results of their students. It also funds the major teachers unions.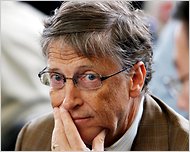 In some cases, Mr. Gates is creating entirely new advocacy groups. The foundation is also paying Harvard-trained data specialists to work inside school districts, not only to crunch numbers but also to change practices. It is bankrolling many of the Washington analysts who interpret education issues for journalists and giving grants to some media organizations...
The foundation paid a New York philanthropic advisory firm $3.5 million "to mount and support public education and advocacy campaigns." It also paid a string of universities to support pieces of the Gates agenda. Harvard, for instance, got $3.5 million to place "strategic data fellows" who could act as "entrepreneurial change agents" in school districts in Boston, Los Angeles and elsewhere.
Sue Peters, a parent and co-founder of the local chapter of Parents Across America pointed out that "Nobody elected Bill Gates to run our schools, and yet his money is driving so many policies and so many of these reforms," so that parents voices "are drowned out because we don't have the dollars behind us."
Examples
The Foundation donated $125 million to New York schools, to reform schools so as to bring "a CEO mentality to education… We're converting the role of the principal into a CEO role…"
The Gates Foundation is a major funder of the National Centre on Education and the Economy (NCEE) which set up the New Commission on the Skills of the American Workforce. It funded a report by the Commission that called for schools to be run by independent private contractors rather than school districts. School districts would write and oversee performance contracts for the schools that the contractors would have to meet.
The Gates Foundation gave $135 million to promote and fund charter schools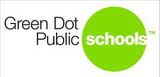 between 2000 and 2004. It has provided funds for the expansion of KIPP schools to high school level. It gave $1.8 million to Green Dot Public Schools in Los Angeles in 2006 for five new charter schools. The Foundation has also given $30 million to NewSchools Venture Fund for developing charter schools.
Now, he has thrown his support behind the idea that America has too many bad teachers, and he is pouring billions into the hunt for bad teachers... he has bought the support of a wide range of organizations, from conservative to liberal. He has even thrown a few million to the teachers' unions to gain their assent... Gates has gotten the federal government to join him in his current belief that what matters most is creating teacher evaluation systems tied to student test scores.
Gates seems not to know or care that the leading testing experts in the nation agree that this is a fruitless and wrongheaded way to identify either good teachers or bad teachers.

In addition the Foundation and the Broad Foundation teamed up in 2007 for a $60 million "Strong American Schools" campaign to ensure that education was a strong election issue and to promote strong curriculum standards, standardised testing and merit-based pay for teachers.
The Gates Foundation funded the development in 2007 of The Turnaround Challenge: Why America's best opportunity to dramatically improve student achievement lies in our worst performing schools, and its subsequent implementation efforts. The Foundation spent $90 million on implementing the Turnaround strategy in Chicago — Chicago's Renaissance 2010 (Ren10), giving Arne Duncan a high profile that helped get him his subsequent position as Secretary of Education.
However the results of Ren10 have been disappointing. The Chicago Tribune reported:
The moribund test scores follow other less than enthusiastic findings about Renaissance 2010—that displaced students ended up mostly in other low performing schools and that mass closings led to youth violence as rival gang members ended up in the same classrooms. Together, they suggest the initiative hasn't lived up to its promise by this, its target year.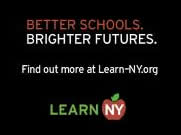 In New York Bill Gates personally funded ($4 milllion) Learn-NY, a group which campaigned to enable mayor Michael Bloomberg to be elected for a third term, so that he could continue to push the Gates educational reforms in New York city schools. Eli Broad also donated millions of dollars to Learn-NY.
In 2009 the Gates Foundation teamed up with Viacom (one of the world's largest media conglomerates) to form Get Schooled, which enables Gates personnel to have input into television programmes such as ER, Law & Order: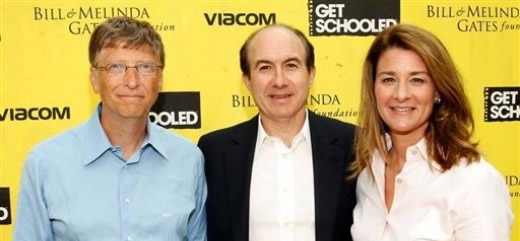 SVU and Private Practice and also the creation of new programmes to advance the cause of business-directed educational and health reform. 'It could be called "message placement": the social or philanthropic corollary to product placement deals in which marketers pay to feature products in shows and movies.' In return the Gates Foundation is subsidising programmes that Viacom broadcasts.
One of Get Schooled initiatives is the movie, Waiting for Superman, which was sponsored by the Gates and Broad Foundations. It is, according to Nation magazine, a "documentary that celebrates the charter school movement while blaming teachers unions for much of what ails American education"
Obama Administration
After the election of the Obama administration in 2008 the Broad Foundation boasted:
With an agenda that echoes our decade of investments—charter schools, performance pay for teachers, accountability, expanded learning time, and national standards—the Obama administration is poised to cultivate and bring to fruition the seeds we and other reformers have planted.
Secretary of Education Arne Duncan incorporated the prescriptions of the Gates-funded Turnaround Challenge into federal policy and referred to it as "the bible" for school restructuring.
The Gates Foundation also funded the New Teacher Project which produced an influential report in 2009, repeatedly cited by US Secretary of Education Arne Duncan, that was critical of teacher evaluations that consistently gave teachers high evaluations. Other Gates funded non-profit groups then advocated new systems of teacher evaluation resulting in their redesign in some 20 states.
New appointments in the Department of Education, following the revolving door principle, included:
Duncan's first chief of staff, Margot Rogers, from the Gates Foundation;
Duncan's second chief of staff, Joanne Weiss, came from a major Gates grantee, the New Schools Venture Fund;
Assistant Secretary for Civil Rights Russlynn Ali had worked at the Broad Foundation, LA Unified School District and the Gates-funded Education Trust;
General counsel Charles P. Rose was a founding board member of major Gates grantee, Advance Illinois;
Assistant Deputy Secretary for Innovation and Improvement James Shelton had worked at both the Gates Foundation and the New Schools Venture Fund.
Arne Duncan, Secretary of Education, served on the board of directors of Broad's education division until February 2009.
Common Core Standards
The Gates Foundation played a key role in the introduction of Common Core standards in the US.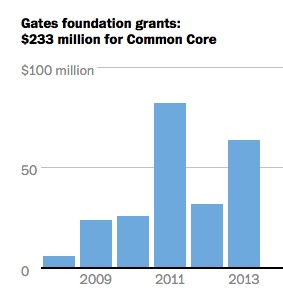 Not only did it fund the development of the standards but it campaigned for their adoption across the US using a $200 million budget to buy political and other support. It has been described as "was one of the swiftest and most remarkable shifts in education policy in U.S.history".
The Gates Foundation spread money across the political spectrum, to entities including the big teachers unions, the American Federation of Teachers and the National Education Association, and business organizations such as the U.S. Chamber of Commerce — groups that have clashed in the past but became vocal backers of the standards.
Money flowed to policy groups on the right and left, funding research by scholars of varying political persuasions who promoted the idea of common standards.
A Thomas B Fordham Institute study of the standards, funded with almost a million dollars of Gates Foundation money, endorsed the standards as "very, very strong" and superior to most existing state standards.
The Obama administration, populated as it was with Gates personnel, wholeheartedly embraced the common standards and within two years of the initiation of the Gates campaign 45 states had adopted them. "The movement grew so quickly and with so little public notice that opposition was initially almost nonexistent" and even as opposition grew it was overwhelmed by Gates-funded advocates.
Critics accused Gates of self-interest because common standards make it easier for educational publishers and software distributors to cater for a uniform market. A charge Gates denies.
Gates has said that one of the benefits of common standards would be to open the classroom to digital learning, making it easier for software developers — including Microsoft — to develop new products for the country's 15,000 school districts.
In February, Microsoft announced that it was joining Pearson, the world's largest educational publisher, to load Pearson's Common Core classroom materials on Microsoft's tablet, the Surface. That product allows Microsoft to compete for school district spending with Apple, whose iPad is the dominant tablet in classrooms.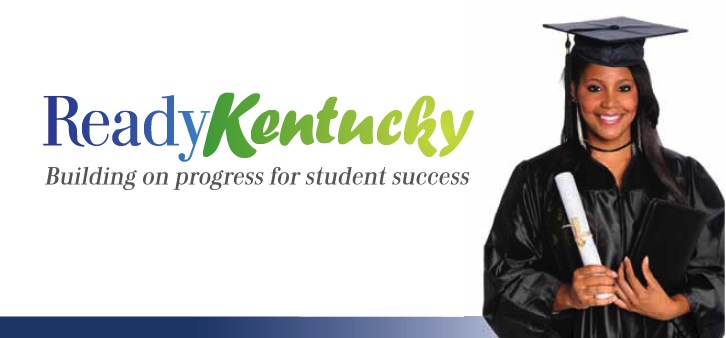 In Kentucky, the first state to adopt the Common Core Standards, the Kentucky Chamber of Commerce's foundation received just under half a million dollars from the Gates Foundation. With this grant it "produced a seven-minute video about the value and impact of the Common Core, a tool kit to guide employers in how to talk about its benefits with their employees, a list of key facts that could be stuffed into paycheck envelopes, and other promotional materials written by consultants".
The chamber also recruited a prominent Louisville stockbroker to head a coalition of 75 company executives across the state who lent their names to ads placed in business publications that supported the Common Core.
The Hunt Institute at the University of North Carolina, headed by former governor Jim Hunt, received $5 million from the Gates Foundation and coordinated the campaigning of several organisations and teachers unions as well as the National Governors Association. The Institute also distributed a tool kit with sample letters to the editor and customisable opinion pieces. It hired a PR firm GMMB:
GMMB conducted polling around standards, developed fact sheets, identified language that would be effective in winning support and prepared talking points, among other efforts.
Some Funding Figures
The Gates Foundation funds many advocacy groups and think tanks including:
Links
Contributers' Updates and Examples
If you have any examples or updates you would like to contribute please email them to me and I will add them here. Please give references for where you sourced the information.