Kidfluence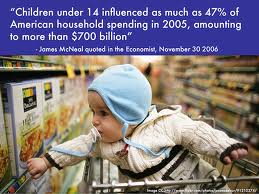 Children influence family spending decisions worth hundreds of billions on food, household items like furniture, electrical appliances and computers, vacations, the family car and other spending.
In many cases children are virtually primary decision makers for family products so that "Increasingly, companies are using tweens to communicate with their parents, thereby securing a positive place within the family." Juliet Schor in her book Born to Buy says of the US scene:
Children have become the conduits from the consumer marketplace into the household, the link between advertisers and the family purse… They are the household members with the most passionate consumer desires, and are most closely tethered to products, brands, and the latest trends.
In Australia alone, children influence around $50 billion of family purchases each year. In towns and cities in the US, children between 8 and 14 influence 60 percent of the car purchases and 45 percent of the mobile phone purchases made by their parents.

Motorcars
One car dealer explains: "Sometimes, the child literally is our customer. I have watched the child pick out the car. And I've seen people go from a Taurus to an Explorer in the blink of an eye because the kid didn't want to be seen in a station wagon."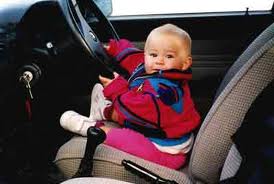 Companies such as Nissan sponsor the American Youth Soccer Organisation and a travelling geography exhibit in order to get exposure for their brand name and logo in 'child-friendly' settings.
Ford has used cartoons in their minivan ads and produced a Ford Fairy Tale colouring book. GM's Chevrolet Venture Warner Bros. Edition minivan had a built-in television and Bugs Bunny numberplates. GM and Ford also get kids input into their future car designs. Toyota commissioned a comic book distributed in Australia and several Asian nations in 2005.
Chrysler distributes 100s of thousands of glossy cardboard pop-up promotional books by direct mail that will appeal to children who love pop-up books. Some car dealers have added children's play areas and arcade games to their facilities.