Offsets
Environmental groups have played a key role in validating the concept of offsets. The most common offsets are carbon offsets which are bought by companies emitting greenhouse gases to compensate for their own emissions by reducing emissions elsewhere.
One of the earliest carbon offset projects occurred in 1988 when a proposal to build a coal-fired power plant in Virginia, USA, was justified by a $2 million project to pay farmers in Guatemala to plant pine and eucalyptus trees and manage them, to offset the power plant's CO2 emissions.
Ten years later American Electric Power, which uses coal to generate electricity, pledged it would preserve 2.7 million acres of a tropical rainforest in Bolivia in the hope that this will exempt it from having to reduce its greenhouse gas emissions which would be far more expensive. By that time there were around a hundred such projects worldwide including projects in Costa Rica, Uganda, Mexico and Australia.
Carbon offset projects can include renewable energy projects, energy efficiency projects, projects that capture non-CO2 gases like methane, and biosequestration projects that absorb CO2 such as tree plantations. In 2012, 34% of the global voluntary offset market was for renewable energy projects and 32% was for biosequestration projects.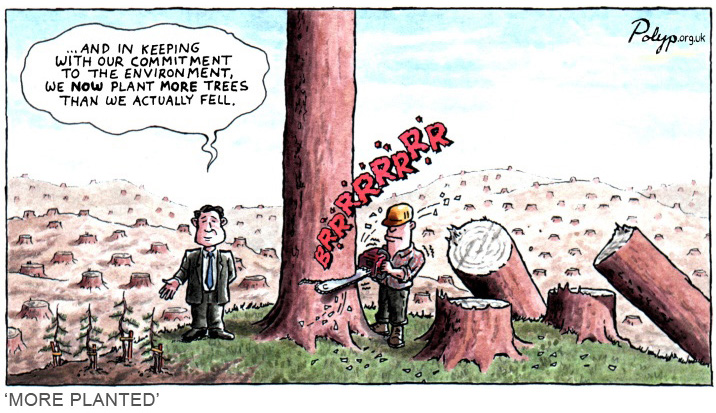 More From Polyp
Offsets are often of dubious value in terms of genuine greenhouse gas reductions. Buying up cheap offsets in developing nations (at US$3.50 per tonne in 2013) is a short-term solution that only postpones the necessary phasing out of fossil-fuel dependence in wealthy nations, at a time when such action is becoming urgent. Cutting greenhouse gas emissions in poor countries will not be enough to prevent further global warming.

EDF and Cash for Clunkers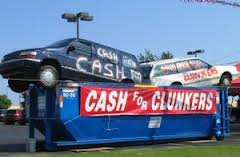 EDF, in partnership with General Motors, also pioneered a market-based scheme whereby "businesses that buy and destroy pollutant-belching older cars would get credit for meeting their own pollution-reduction requirements under the Clean Air Act". They jointly set out to persuade states to introduce such a scheme.
The scheme came into force in Los Angeles in 1993. Some twenty thousand cars were scrapped under this scheme in the first five years. It was assumed that these cars would otherwise would have continued to be driven for three more years for 4000-5000 miles per year. Companies wanting to increase their allowable emissions paid around $600 for each car scrapped.
In fact, cars that were at the end of their lives and would not or could not have been driven any longer were included in the scheme although no environmental benefit was gained from their inclusion. Between 100,000 and 200,000 old vehicles are scrapped or abandoned each year anyway and it was by no means clear that the cars scrapped under Rule 1610 weren't part of this group.
…market forces encourage people who were planning to scrap an old car for its $50 value as scrap metal to obtain $600 for it through the Rule 1610 program instead. This practice is encouraged in Los Angeles because many licensed scrappers are operated jointly with junkyards, where people bring their old cars to be destroyed. While this is rational economic behavior for the car owner, it creates false emission credits.
Auditors also found that the engines of cars that were supposed to have been scrapped to earn emissions credits were in actual fact being sold for re-use and only the car bodies crushed. This of course defeated the purpose of the exercise.

TNC and Carbon Offsets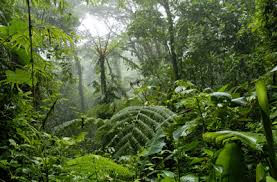 Companies have used TNC as an intermediary in their carbon dioxide offsets. For example in 1991 AES Corp., a Virginia-based corporation, gave TNC $2 million to buy a 225 square mile area of rain forest in Paraguay to offset cabon emissions from its Hawaiian cogen plant over a 35 year period. Given that the rain forest may well have continued to exist and soak up carbon dioxide over that period without TNC buying it, it seems that this activity, which is becoming increasingly common, also falls substantially into the category of public relations.
When General Motors funds TNC to research climate change, GM hopes to get carbon offset credits for the effort to compensate for its greenhouse gas emissions.
In the mid 1990s the TNC teamed up with BP and American Electric Power (AEP) to develop the Noel Kempff Climate Action Project, which aimed to protect 800,000 hectares of forest in Bolivia by doubling the size of an existing national park in return for carbon offsets for BP and AEP.
The problem, however, is summed up in one word: leakage. That is jargon for what happens when the loggers put their chainsaws in the back of a pickup, drive down the road to the next forest, and resume activities. In other words, can protecting one place prevent the forces of forest destruction from simply moving elsewhere?
Greenpeace subsequently labelled the project a "carbon scam". Deforestation in Bolivia has increased despite the project. It is because of carbon leakage that experts argue that carbon reductions only make sense at the national level and no offsets should be awarded for sub-national forestry projects.
Both BP and AEP claimed in 2010 that they had not used the project to claim carbon offsets although that was the original intention. However AEP does use the project to portray itself as an environmentally-friendly company.

Links