Foundation Funding
Most of the large national environmental groups in the US rely on foundation funding. Foundations prefer to fund these groups because they are the ones that get the most media attention and they tend to "avoid challenging the power structures and relationships that have the most profound environmental impacts".
Although foundations provide only about 7 percent of the total budgets of nonprofit environmental organizations, they exercise considerable influence over their activities and strategies. Not surprisingly, groups that rely more heavily on foundation support tend to be more centrist, more inclined to follow the "soft path" of environmental reform.
The "soft path" means gradual reform, lobbying for regulatory change, suing individual companies but not challenging corporate power or the capitalist system in general.
Foundations have been accused of quelling environmental activism and militancy by only supporting the negotiators and compromisers, those "polite, respectful organizations quick to join industry in the search for market-based solutions and to tout incremental improvements as triumphs". Groups such as the National Resource Defense Council (NRDC) and the Environmental Defense Fund (EDF) get a lion's share of foundation money.

Agenda Setting
Increasingly, foundations are setting the agenda for environmental groups and engaging in "proactive grantmaking". Rather than passively accepting or rejecting ideas and proposals for funding from applicants, foundations are devising environmental strategies, tactics and projects using their own personnel, experts and consultants and offering funds for groups to carry them out.
Foundations are able to leverage their influence by tying their grants to specific projects, whilst environmental group membership fees are used to pay more general operational expenses. For example, in 1990 the Sierra club received a grant for $275,000 to work on population issues making it one of the club's major campaigns. "When foundations lost interest in Alaska, so did many of their grantees. Some became passionate about forests" because that was where foundation money was moving to.
Foundations officers concerned about "accountability" seek specific quantifiable results and impose constant oversight, often insisting on detailed reports, on-site visits, and detailed audits. In some cases, foundations officers place themselves or their representatives directly on the boards of organizations they support.

The Ford Foundation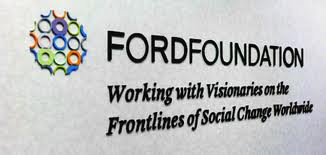 The Ford Foundation was one of the earliest to fund environmental groups and has played a major role in both creating and funding environmental groups. It was established by Edsel and Henry Ford in 1936 based on wealth created from the manufacture of automobiles.
The Ford Foundation founded Resources for the Future in the 1950s, which pioneered the incorporation of market economics into conservation: "Their work reassured corporate moderates that most environmental initiatives were completely compatible with corporate capitalism".
The Ford foundation also funded land aquisition for conservation purposes by granting large sums of money to The Nature Conservancy (TNC) and the National Audubon Society. And in the 1970s it began funding environmental law firms such as the Environmental Defense Fund (EDF) and created the Natural Resources Defense Council (NRDC).

Pew Charitable Trusts
Since the 1990s the Pew Charitable Trusts have been amongst the most proactive of the foundations funding environmental groups. The Pew family derive their wealth from oil and gas companies. Pew became a major donor to the environment movement in the 1990s, investing $20 million a year, even though it continued to invest its own endowment in polluting and environmentally damaging corporations including mining, oil, chemical, and timber companies aswell as arms manufacturers.
It is alleged that $1.5 million of Pew money was used in 1995/6 "to buy off vigorous defenders of the Endangered Species Act and ensure a revised and neutered law" that better suited the companies Pew's money was invested in.
During the 1990s the involvement of Pew funding in forest issues moved the battle from one of confrontation and non-compromise opposition to logging on the part of grassroots groups to one where the major environmental groups urged incremental change including controlled logging and "ecosystem management". A forest coalition was formed and led by the NRDC. Managing Director of the Pew Environmental Group, Josh Reichart, made it clear that any group advocating zero cut or criticizing corporations by name would lose funding and expelled from the coalition.
When Pew failed to get national unity on forest issues it moved to regional initiatives including the Northern Forest Alliance in New England. According to Reichart, Pew's team of lawyers, scientists and consultants would
play a key role integrating many of the ideas behind the programs we support, participating with colleagues fromt he environmental community in defining the goals and objectives of these programs, designing thier operating structurees, hiring key staff and, in some cases being directly involved in program execution.

Environmental Grantmakers Association (EGA)
Pew personnel allocate money to selected environmental groups as well as having large influence over the allocations of the Environmental Grantmakers Association (EGA) which coordinates the grants of more than 200 foundations totallying hundreds of millions of dollars each year (but less than 1 percent of their total wealth). This coordination means there is little chance of radical environmental groups, or those that oppose the policies of the wealthy business-oriented foundations, receiving foundation grant money.
The EGA has several corporate members including WMX, a large waste management company which created controversy when it first joined because of its history of law infringements.
EGA's money has traditionally mostly gone to "natural resource protection" and in particular to land trusts an conservation easements such as those managed by The Nature Conservancy (TNC). Such grants do not tackle the cause of environmental degradation such as industrial practices and consumer culture and little money goes to policy advocacy.

Links