Activism
Protest action such as demonstrations, blockades, pickets, protest marches and meetings are the traditional method for groups of people to get their message across to the wider public. It is used as "a method for involving people in a meaningful experience in challenging unjust laws or actions; a way of demonstrating to others the depth of commitment felt by a group about an issue; a means to obtain publicity and apply pressure on politicians."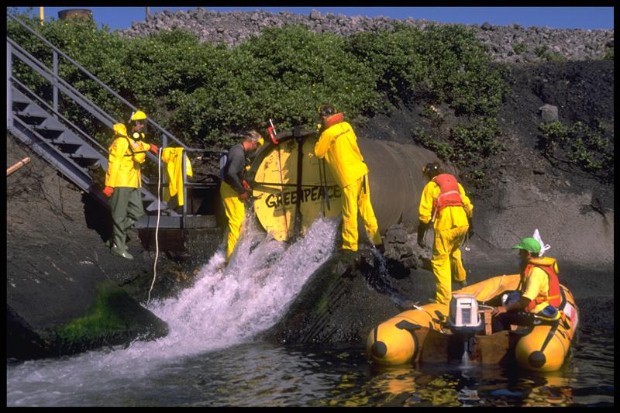 Greenpeace uses actions or stunts such as blocking pipes as a means of gaining publicity. Such actions tend to be symbolic and theatrical, aiming at the television cameras rather than any real disruption. The aim is to raise public awareness about a particular environmental issue by focussing on the worst examples of it.
Because of the nature of the media, it does little more than this. The details and information that accompany the reporting of such an action tend to be simplified and scarce. The message that television viewers get is something like "this company is polluting the environment illegally and the government is doing nothing about it." It doesn't require any depth of understanding of issues to perform an action or to get the message from the television set but it is highly effective at drawing attention to an environmental problem and promoting public discussion of it.

Civil Disobedience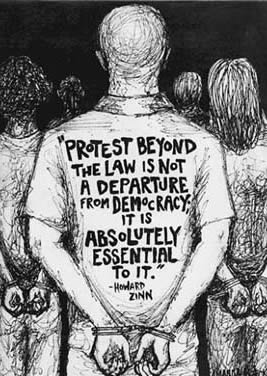 There is a long history of people using civil disobedience to protest unfair laws or to promote a just cause. Civil Disobedience is generally non-violent and those undertaking it are willing to accept legal penalties in order to make their case. It is undertaken by those who believe that legal channels for change are either too slow, or unlikely to achieve change.
Civil disobedience can be used for several purposes. It can be: a method for involving people in a meaningful experience in challenging unjust laws or actions; a way of demonstrating to others the depth of commitment felt by a group about an issue; a means to obtain publicity and apply pressure on politicians.

Extreme Activism
In its extreme form activism includes "ecotage" and "monkey wrenching" which involves the destruction or disabling of machinery an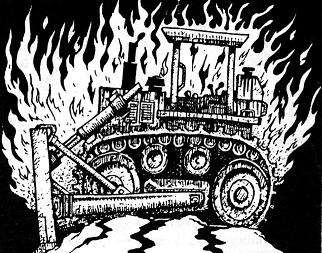 d property. Such actions are generally condemned by mainstream environmental groups but have been used by groups such as Earth First! in the United States to hinder and disrupt environmentally destructive activities and to make them expensive. Christopher Manes, a member of that group, believes "property damage in defence of the environment is a justifiable, even potentially heroic action." He argues such actions follow from a deep ecologist viewpoint.
If our selves belong to a larger self that encompasses the whole biological community in which we dwell, then an attack on the trees, the wolves, the rivers, is an attack upon all of us. Defense of place becomes a form of self-defense, which in most ethical and legal systems would be ample grounds for spiking a tree or ruining a tire.
For most environmental groups non-violent civil disobedience is preferred. Such disobedience is used by a range of groups from the most conservative resident action groups who are protesting about a development in their neighbourhood and for a range of purposes. 

Direct Action vs Mobilisation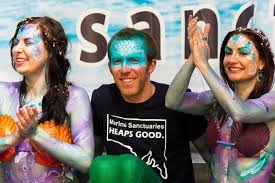 Brian Martin points out that the blockades by The Wilderness Society (TWS) in Tasmania were mainly used to gain publicity and apply pressure on national politicians rather than a "grassroots" approach aimed at mobilising 'ordinary people' to promote social change by changing their behaviour.
Similarly Greenpeace actions such as pipe blocking have been viewed as being aimed at raising funds rather than changing behaviours.  Hazel Notion writes of Greenpeace:
To put the activities of Greenpeace into perspective one has to see them as becoming increasingly a lighter shade of green but with dark green roots. The shift has occurred with the maturing of the small upper echelon of original leaders who still hold power. As a light  green organisation integrated into the new environment industry one can see them as packagers and marketers of a new product; environmental theatre. This product is sold by subscription to suburban householders who use it as a palliative for environmental anxiety. Regular doses appear to allow suburbanites to continue normal producer/consumer lifestyles.
Nevertheless, even activists of the lightest green complexion are by their actions being confrontational and for a person or group to choose such a strategy, it generally demonstrates a lack of faith in the society's decision-making structures and/or a lack of access to formal communication channels with decision-makers. 
Protest action is the resort of the weak. It is the action of those outside of the power structure and as such protestors are unable to influence the way governments will respond to the pressures that they help to heap on them. For example, when Greenpeace blocked pipes at BHP, Port Kembla in 1990 and drew attention to the fact that BHP was exceeding its licence, the State Pollution Control Commission loosened the BHP licence.

Links