Prison and Security Conglomerates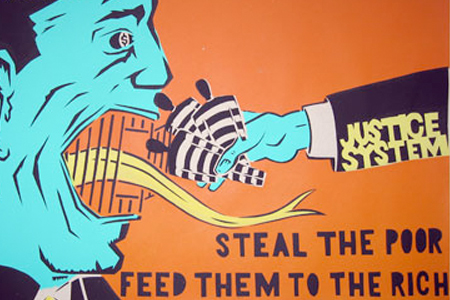 G4S and Serco "are the major private players in criminal justice privatisation" in the UK including prisons, immigration facilities and policing. They are also leading transnational companies in the area of prisons and security.
In the US, Corrections Corporation of America (CCA) and the GEO group own 75% of the private prison industry and had revenues of $1.7 billion and $1.7 billion respectively in 2012. They are exempt from federal taxes even though 40% of their revenue is from the federal government.
G4S
G4S (formerly Group 4 Securicor) calls itself the "world's leading international security solutions group". It is a British-based transnational company that operates in over 120 countries and employs 620,000 people, making it the "largest employer on the London Stock Exchange" and the third largest in the world.
G4S's turnover in 2012 was £7.3 billion of which 23% was for governments, 28% for major corporations and industrial companies, and 19% for financial institutions (particularly transporting cash). In that same year G4S paid no tax in the UK or Australia, receiving a tax refund of $2.2 million in Australia. "G4S Australia is just one of a network of group subsidiaries that includes companies in tax havens the British Virgin Islands, the Cayman Islands, Jersey, Luxembourg and Guernsey."
Turnover by Region 2012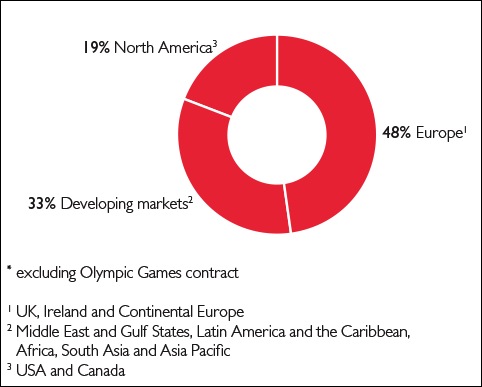 G4S government work includes:
running prisons (6 in the UK),
running immigration detention centres including two in the UK and Manus Island detention centre in PNG for Australia.
housing asylum seekers in the UK
border control,
policing including "running custody suites in three forces, providing forensic medical services, including rape reporting centres in 11 forces, and a flagship £229m deal with Lincolnshire police to run its 999 response service, its control room, civilian staff and a police station".
electronic tagging of individuals as part of curfew orders (14,000 in the UK),
welfare-to-work programmes.
According to Corporate Watch:
The company has earned intense criticism for numerous examples of cost-cutting, negligence and brutality. The latter has come from beatings and abuse of refugees in G4S-run detention centres and deportation flights, as well as deaths of people in G4S custody.
G4S is a signatory to the UN Global Compact supposedly demonstrating its commitment to ten principles including human rights and labour principles.
G4S Shortcomings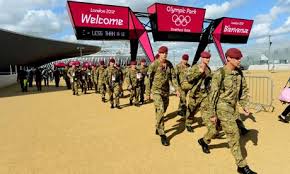 G4S was contracted to provide security for the 2012 Olympic Games in London but failed to supply the required trained security personnel in time. Consequently 3,500 British troops had to be deployed to make up the shortfall.
In 2010 there were more than 700 complaints made by detainees against G4S including 48 for assault. 130 of these "were logged as fully or partially substantiated" including three for assault.
There have also been deaths of prisoners being transported by G4S including Jimmy Mubenga, a 46-year-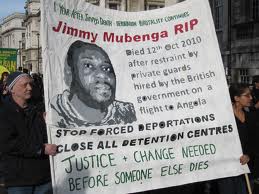 old Angolan refugee, in 2010 who "collapsed and died after three G4S guards used force to 'restrain' him during his forcible deportation, leading to his suffocation and subsequent death." Witnesses disagreed about whether excessive force had been used. However a Home Affairs Committee found evidence of "inappropriate use of physical restraint, and the possible use of unauthorised and potentially dangerous restraint techniques".
Only a few days before the death of Mubenga, the UK Border Agency was investigating allegations of mistreatment by G4S guards of a man being forcibly deported to Colombia. José Gutiérrez, 37, needed hospital attention and was removed from the plane before take-off. In April 2010, a Kenyan man also died in G4S detention centre. He was reported to have been refused medical help and had been crawling on the floor in pain crying out for help before he died.
G4S contracts for detention centres in Australia were not renewed in 2009: "Then head of the Immigration Department Andrew Metcalfe said new contracts with Serco would provide ''stronger focus on the rights and wellbeing of people in detention''. It lost the contract for the detention centre on Manus Island in 2014.
G4S is currently being investigated in the UK, along with Serco, for overcharging for its electronic tagging services and prison escort contracts.
In 2012, G4S, Serco and Reliance took over the management of all asylum accommodation in the UK. However this led to those previously being housed by local councils being put into substandard housing or without housing due to the inability of the private companies to find sufficient housing.
Serco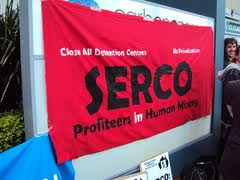 Serco is another British-based multinational company that operates prisons and other security services as well as a variety of privatised government services. It has over 100,000 employees in more than 30 countries, sixty percent of it in the UK. Its 2012 revenue was £4.832 billion.
Serco government work includes:
running prisons including six in England and Wales, one in Germany and two in Australia and two in New Zealand
immigration detention centres, including Christmas Island and Villawood in Sydney
electronic tagging of offenders and asylum seekers
prison probation and welfare-to-work contracts
defence - "supports the armed forces of a number of countries around the world, including the United Kingdom, United States and Australia"
military and nuclear weapons, including management of the UK Atomic Weapons Establishment (AWE), the UK Ballistic Missile Early Warning System, and the UK National Nuclear Laboratory
air traffic control in United Arab Emirates, UK, US, Canada and Iraq
transport including London's Docklands Light Railway and Woolwich Ferry, the NorthLink Ferries in Scotland, Dubai Metro and Great Southern Railways in Australia
health care services
manage Local Education Authorities in the UK
school inspections on behalf of Ofsted (UK's Office for Standards in Education, Children's Services and Skills)
environmental services including waste management, collection, treatment and processing
In 2008 the Chief Inspector of Prisons reported that in a Serco-run UK prison, Doncaster, "two-person cells had been turned into three-person cells by placing a bed in the shared toilet". Inspectors also found a "worrying" deterioration in healthcare, increasing incidents of violence and self-harm and serious overcrowding. The prison had previously been criticised for its "institutional meanness", including failing to provide all prisoners with pillows and toilet seats.
In 2013 Serco's Thameside prison "was the subject of critical report by the chief inspector of prisons, found to be in 'lockdown' after failing to cope with a violent, internal gang culture".
Links