Water Quality
Water quality has also declined in some parts of the world after privatisation and pollution incidents have often increased as well.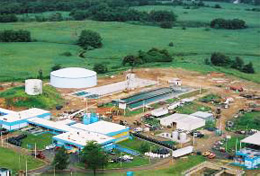 For example, Compañia de Aguas, a subsidiary of Vivendi (now Veolia), was fined $6.2 million for environmental violations in Puerto Rico that occurred between 1995 and 2000. A Puerto Rican government report found in 1999 that it had not maintained the aqueducts and sewers adequately. Customers were without water for months at a time but nevertheless got charged for the water.
In the Argentinian city of Tucumán, city officials took action against Vivendi for poor performance because their water was often brown. In response Vivendi unsuccessfully sued the Government of Argentina in a World Bank court for violating its contract by not preventing the action being taken. In Buenos Aires, Suez raised rates by 20% but failed to fix the sewerage system as it had been contracted to do and 95% of the sewage of the city of 10 million people went into the river.
There is little incentive to spend money on the sewage end of the water cycle. In the UK, the private water companies are among the most polluting companies in the country and although they have been successfully prosecuted many times, the fines do not deter their polluting behaviour.
In Atlanta, Georgia city authorities terminated a 20 year contract with Suez owned United Water in 2003 (after only four years) because of problems in service quality including failure to properly maintain the system. Similarly, in Camden, New Jersey a 20 year contract with United Water was terminated halfway through in 2009 because of poor maintenance, loss of water through leaks and overflows and unapproved payments. United Water's contract in Milwaukee, Wisconsin was not renewed in 2008 because of problems such as sewage overflows and in Gloucester, Massachusetts, its sewerage contract was terminated in 2009 due to bacterial contamination of drinking water. Its sewerage contract in Gary, Indiana was also cancelled in 2010 after a series of broken sewer lines led to over 80 cave-ins between 2003 and 2007 and violations, by United Water, of dicharge limits on more than 80 ocasions between 2005 and 2007. However the cited reason for contract cancellation was that thelocal authorities thought they could do the job for half the cost.
In Guayaquil, Ecuador, Bechtel subsidiary, Interagua, put 95% of the sewage, untreated, into the river which caused many health problems. The contamination of drinking water caused 150 children to get hepatitis A in 2005. In addition water supply was repeatedly shut down for up to 36 hours.
Examples of Suez/United Water's Operations in the US
Location

System

Poor Upkeep

Inadequate Service, Staffing

Water Quality Violations

High Costs

Atlanta, Georgia
Drinking Water

X

X

Camden, New Jersey
Drinking Water, Sewer

X

X

X

Fairfield-Suisun Sewer District, Calif
Sewer

X

X

Gary, Indiana
Sewer

X

X

X

X

Gloucester,
Massachusetts
Drinking Water, Sewer

X

X

X

Houston, Texas
Drinking Water

X

Laredo, Texas
Drinking Water

X

Milwaukee,
Wisconsin
Sewer

X

X

X

North Brunswick,
New Jersey
Drinking Water, Sewer

X
Veolia
In 2003 Veolia dominated the US market with 26 water contracts and 42 sewerage contracts. However its performance was no better than United Water's. Its contract was terminated in Angleton, Texas its contract was terminated for non-performance nd it was taken to court for not having adequate staff and other breaches of contract. In Lynn, Massachusets its wastewater overflow plant contract was terminated. Its misdemeanours there included cutting costs by inadequately treating wastewater with chemicals.
In Puerto Rico, a Vivendi (now Veolia) subsidiary was found, by the Office of the Comptroller to have been guilty of poor maintenace and repair and deficient operation of aqueducts and sewers causing some rate-payers to go without water.