Stocks and Shares
School materials on share ownership and the stock market are a form of enterprise education. They enable children to practice the identity of being 'owners' and appreciate some of the goals and requirements of free enterprise.
Proshare - UK
In the UK ifsProshare plays a major role in bringing ideals of share investment to schools through its Student Investor Programme, originally sponsored by the London School of Economics, the Department of Trade and Industry, the HSBC Bank and Foreign & Colonial — "one of the largest investment specialists in Europe". It provides all schools in the UK with a Resource Pack on investing and at one time ran four national school competitions, including an essay competition.
Proshare was founded by HM Treasury, the London Stock Exchange and a consortium of major companies and received funding from over 140 companies. Its aims were to promote wider share ownership and provide financial education. It was taken over by ifs School of Finance in 2005, and still receives corporate sponsorship for its student investor programme.
The Proshare Forecast Challenge for children in the 13-15 year age group ran three times a year till 2004. In it students competed for a cash prize by "guestimating" which shares will perform the best and which will perform the worst during the weeks of the competition.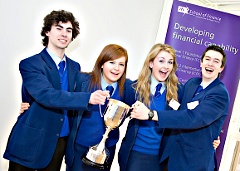 It is designed to help teachers "introduce the concepts of the business and financial worlds to younger students".
For older students there is still the Portfolio Challenge, "designed to increase young people's understanding of investment, business and the stock market." It is a simulation game in which teams of students invest a notional £100,000 in the share market and the team with the greatest value share portfolio at the end wins. In 2008/9, 40,000 students from over 1000 schools participated, the winning team receiving a trip to New York as part of their prize.
The Business Academy, Bexley, devotes a whole day to business studies and "has its own mini stock exchange and trading floor".

Australia
In Australia more than 80,000 students in years 7 to 12 take part in the ASX Schools Sharemarket Games sponsored by Citigroup and Bond University. They begin with a hypothetical $50,000 and the team or individual that gains the most 'investing' their money for ten weeks on the stock market wins.
The Australian Securities Exchange (ASX) also produces teacher resources, including audiovisual presentations, online classes and lesson plans for teachers on the sharemarket and investing.

USA
Share market school materials are also widely available in the US: "Every year more than a million U.S. primary, middle, and high school students play the stock market at school." The experience is simulated but the numbers are taken from real stock exchanges. The games come with lesson plans, worksheets and teachers guides as well as expert stock broking advice and there are often prizes for those that 'win'. Teams of students begin the game with an initial stake, usually $100,000, which they use to invest in shares and trade them. They research the stock market and company performance, and seek to maximise their portfolio.

Such games are often free and financed by website advertisements for a company's actual stock broking activities. One of the best known US stock market game for schools is The Stock Market Game. "Since its inception in 1977, nearly 12 million students in elementary, middle and high school have taken part in this real-world learning experience". It is distributed with curriculum activities, lesson plans and teachers newsletters and workshops developed by the Council for Economic Education. It is designed to be used in "a variety of subjects, including social studies, mathematics, business, and language arts, as well as for economics".
The Stock Market Game is a project of the SIFMA, Foundation for Investor Education. SIFMA also runs a national essay competition, InvestWrite, to accompany The Stock Market Game. Members of SIFMA include doznes of banks and companies in the financial sector.

Lessons Learned
These materials suggest that winning on the stock market is a matter of intelligence and ingenuity and willingness to take risks and therefore, by extension, wealth in the wider society is deserved by those who acquire it. The fact that many people don't have enough money to invest in the stock market to start with is not discussed, nor is the reality that most of the shares are owned by very few people (10% of shareholders own 90% of stock and 1% of shareholders own more than half).
In the games "the stock market is portrayed as a wise judge, rewarding those who make the right choices" and providing companies with much needed capital at the same time. The fact that the stock market actually provides only a very small percentage of business capital is not examined, nor are problems caused by stock market speculation. Instead students are taught to regard gambling in shares as company ownership, despite the lack of influence individual shareholders have.
Most importantly, students learn to interpret world events and government policy from the point of view of an investor. One stock market game producer boasts:
Students find that economic concepts such as supply and demand, inflation and recession, and competition come alive for them as they manage their hypothetical investments. They gain understanding of the benefits and tradeoffs of different financial instruments and strategies. They start to see the impact of world events on their investments.

Contributers' Updates and Examples
If you have any examples or updates you would like to contribute please email them to me and I will add them here. Please give references for where you sourced the information.