Enterprise Education
Enterprise education has been proliferating in schools around the world. It aims to give students an understanding of economics and business, as well as to encourage them to be "enterprising" and to view business enterprise as "positive and worthwhile". In many cases enterprise education involves the students running a very small business, often a virtual business but sometimes a real one.
Enterprising Characteristics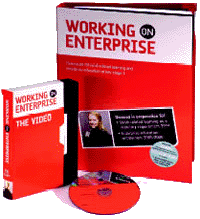 However enterprise education is not only aimed at turning students into entrepreneurs, it is also aimed at producing employees with the skills and characteristics that many employers are now looking for in their employees. In the name of personal development and improving their life chances, students are being given the values, motivations and skills that are good for business.
The characteristics of an enterprising graduate are spelled out in various educational policy documents and generally include characteristics (see table below) that include being task-oriented, materialistic and personally ambitious. Enterprise-minded students are expected to seek self-advancement through making the most of opportunities, solving business problems creatively, taking risks, adapting to – rather than fighting – changed circumstances, and using others to achieve their goals. Such characteristics contrast with those expected of citizenship (see table below) which tend to be more community-oriented, with citizens cooperating to help each other and achieve a better future for all. Citizen education promotes critical thinking and gives students an ability to politically oppose things that undermine their rights or are contrary to their values.
Enterprise vs Citizen Education
Enterprise Education
Citizen Education

Contract-based
Self-motivation
Acquisitiveness, materialism
Taking responsibility for one's own actions and future

Ethics-based
Self-motivation
Concern with social justice
Socially responsible

Creative, innovative
Flexible, adaptable
Ability to take advantage of opportunities
Willingness to take risks

Critical thinking
Challenging the status quo
Ability to see what the problem is
Analytical and creative skills
Avoiding unnecessary risks

Task-oriented, outcomes focused
'can-do' attitude
Pro-active, taking initiative

Community-oriented
Politically active

Skills in negotiating
Ability to manage and use a network

Skills in cooperating and collaborating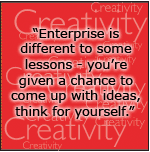 Ironically, advocates of enterprise education stressed the need for more progressive approaches to enterprise education including problem-based, student-centred learning; collaborative and cooperative activities; cross-curriculum; teachers as coaches or facilitators rather than instructors; and hands on experience-based learning: "The best way to teach enterprise is through experiential learning and not didactically as most other subjects are taught."
UK Enterprise Education
In the UK, over 200 specialist schools have a business and enterprise specialism and as a result are expected to "Develop strong curriculum business links and teaching strengths in business education, financial capability, work-related learning and enterprise-related vocational programmes." It is expected that these schools will teach students about enterprise culture and enhance their understanding and appreciation of business.

The government has allocated £60 million per year for three years from 2005 to provide enterprise education in English schools. The aim is to provide enterprise learning for all 14 to 16 year olds as part of the mandatory work-related learning in schools that was introduced in 2004. The Office for Standards in Education (Ofsted) noted that "businesses need employees with a 'can do' attitude, a willingness to take on responsibility, a creative and innovative approach to solving problems, and the ability to cope with uncertainty and change and make reasonable risk/reward assessments".
Enterprise education in the UK, as elsewhere, has been driven by business. In a paper on Creating an Enterprise Culture, Enterprise Insight (see below) and the Small Business Service argue that it is good for the business environment if school graduates have an "entrepreneurial mindset" and "positive attitudes towards enterprise.
Although surveys showed that people admired those who ran their own business, most corporate executives felt that people in the UK didn't regard entrepreneurs and entrepreneurial behaviour as highly as people in other nations and a significant percentage associated business success with low morals or ethics.
Scotland – Determined to Succeed

Scotland has a school programme, Determined to Succeed (DtS), which aims to bring Enterprise education to all Scottish schools. The aim is to change young people's attitudes and produce young people with positive attitudes towards business who understand entreprenuership. It is supported by funds from businesses, £2m from the Hunter Foundation and over £86 million from the Scotish government between 2003 and 2008.
By 2007 it had trained 22,000 teachers in enterprise education and claimed 7000 school/business partnerships. The Director of the Confederation of British Industry (CBI) Scotland said the programme had"made significant in-roads in creating the long-term cultural change needed to ensure our young people are best equipped with the skill-set and mind-set required to make the successful transition from school to the workplace."
Australia
Australian education ministers decided in 1999 as part of The Adelaide Declaration on National Goals for Schooling in the Twenty-First Century that every school student should have "participated in programs and activities which foster and develop enterprise skills, including those skills which will allow them maximum flexibility and adaptability in the future."
The Australian Commonwealth Government actively promotes enterprise education. It initiated an Enterprise in Schools programme in 1995 aimed at "the inculcation of enterprising cultures, mindsets and qualities in young people" and allocated $3.2 million for the 1997-99 triennium.
In 1999 the Ministerial Council on Education, Employment and Youth Affairs (MCEETYA) included enterprise education as "a priority area within the National Goals for Schooling in the Twenty-First Century". The Department of Education, Science and Training (DEST) also allocated $10 million to the Enterprise Learning for the 21st Century Initiative between 2004 and 2007 in the hope of "fostering an entrepreneurial spirit among young Australians."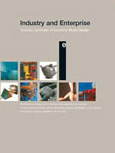 The state education departments also embraced enterprise education during the 1990s. In Victoria, the Curriculum and Standards Framework incorporated enterprise education at various stages and subjects from kindergarten to year 10. A dedicated subject Industry and Enterprise Studies was introduced for senior students. Enterprise education has also been integrated throughout the curriculum in South Australia and a program called Ready Set Go was implemented there at a cost of $9 million over three years from 1997.
Contributers' Updates and Examples
If you have any examples or updates you would like to contribute please email them to me and I will add them here. Please give references for where you sourced the information.