Funding Private Schools
Australia
In Australia, successive Federal governments have been increasing subsidies to private schools "building them as a market-based alternative to the state school system". Between 1975-76 and 1982-83 federal funding of public schools fell by 12 percent, while it increased for private schools by 94 percent and continued to rise in the 1980s despite a recession.
The state and territory governments also increased the funding of private schools between 1988-89 and 1993-94 by 42% whilst only increasing the funding of state schools by 7%.
Originally government funding of private schools was to ensure that all schools received an adequate level of funding and poorer Catholic schools could be brought up to the level of public schools. Schools that were funded above a certain level from private sources had their government funding reduced. The funding formula was changed in 2000 to reflect the changed purpose of government funding. The new formula ensured government funding of private schools was not dependent on their income or expenditure.
Large, and ever increasing, government subsidies brought down fees in many private schools to be within reach of the middle classes. Catholic schools received around 80% of their operating costs from federal and state governments and are therefore able to charge relatively low fees compared with other private schools. The Anglican church also introduced new low-fee schools to augment its high-fee elite schools.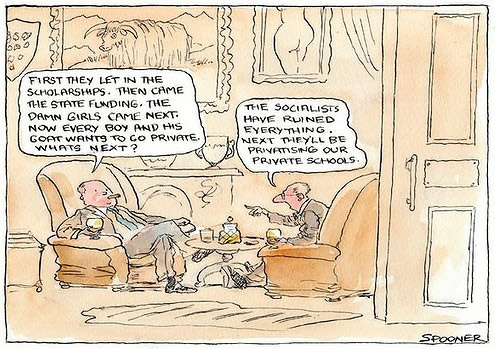 Consequently there has been a major shift in enrolments from public to private schools. "An ideology of parental 'choice' has been vigorously promoted, with the corollary that parents who care about their kids will always choose private schools."
Between 1996 and 2006 the numbers of children attending public schools increased by 1.2 percent whilst the numbers attending private schools increased by 21.5 percent.
In 2012 65 percent of children attended public schools compared with 76 percent in 1982 and that is expected to decline further with most of those moving to private schools going to independent rather than Catholic private schools.
This has fed the media-led public perception that private schools are superior and public schools are deteriorating. In Australia, 35% of children attend private schools compared to 7% in Britain and 10% in the US.

Canada
In British Columbia privatisation was promoted, as in Australia, by diverting public funding to private schools. Private schools now receive 50 percent of the funding per pupil that public schools receive. As in Australia, these private schools are mainly religious schools with some non-religious, elite schools. The proportion of students attending private schools is increasing with the government funding.
In Québec, where private schools get 43 percent of their income from the government (60 percent of the cost of a public school student for each private school student), this trend is most pronounced at secondary school level where over 20 per cent of French speaking students in urban areas go to private schools; 30 percent in Montréal.

Contributers' Updates and Examples
If you have any examples or updates you would like to contribute please email them to me and I will add them here. Please give references for where you sourced the information.