School Funding Equity
Instead of taxes funding every school adequately, government funding cuts exacerbate inequities, forcing schools to be more reliant on parental spending which enables wealthy parents to provide a better funded education to their kids so they have an advantage.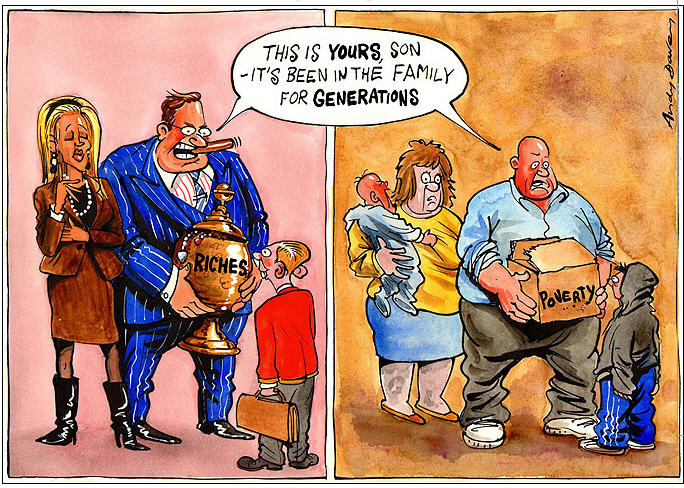 Even in countries where government funding of schools is more equitable, the ability of schools to charge fees and raise funds differs dramatically depending on the affluence of the parents of their students. Affluent parents are also able to spend more money "on all aspects of schooling, including out of school tuition". Wealthy parents can raise money for "everything from extra-teacher salaries to field trips, to make sure the differential between their kids' schools and other schools is maintained". They fund libraries, art and music lessons.
For example, funds raised by parents and citizens (P&C) groups in NSW, Australia, vary between schools from $500 to $100,000 per year. In a submission to a 1997 Australian Senate Inquiry, one school council stated: "We find it frustrating when schools in the eastern suburbs can raise up to $60 000 from one event whilst our school struggles to raise $1000 for one major event."
In Canada, also, the ability of individual schools to raise funds varies with the socio-economic status of the parents and the neighbourhood. "In Vancouver alone, some elementary schools raise hundreds of thousands of dollars, while others can only manage a few thousand".

Funding Inequities in the UK
Secondary schools in deprived areas get less government funding per pupil according to the Association of School and College Leaders, the difference amount to some £270,000 for an average sized school.

20 percent of public primary schools and 5 percent of public secondary schools could not even raise £1000 per year whereas 1 percent of primary schools could raise more than £25,0000 and 3 percent of secondary schools could raise more than £250,000 in a year.

More than one third of private schools were able to raise £250,000 in a year, and 22 percent could raise over half a million pounds.

Government Funding of Disadvantaged Schools
In the past governments concerned with educational equity tried to make up for that difference with extra funds to disadvantaged schools. That is no longer the case and instead there is a move towards providing funds to individual students at disadvantaged schools to move to better resourced schools (see School Choice). A few children are given a leg up in the name of equity whilst the rest are left behind in poorly resourced schools.
Governments once sought to provide the same comprehensive education to all students, whatever their socio-economic background, and this often led to a system of fairly uniform public schools, run by centralised government bureaucracies, that all students in a school neighbourhood were able to attend for little or no cost. There was a widespread public belief that people from all walks of life and backgrounds should have equal opportunity in education and that education was "an important means to achieve social equality".
Education is now viewed, in policy circles around the world, as a "private consumption item", a commodity that is purchased by parents to give their child a competitive advantage in the career market and by the state to build human capital for economic productivity and competitiveness.
Children are no longer viewed as future citizens whose potential should be nurtured and developed but rather as consumers of the educational product, human resources for the economic growth machine, and "the problem that schools have to solve".

Contributers' Updates and Examples
If you have any examples or updates you would like to contribute please email them to me and I will add them here. Please give references for where you sourced the information.