Anti-Environmentalist
Wise use leaders have easily translated opposition to environmental regulations into an opposition to environmentalists who promote the regulations. In their book, Trashing the Economy: How Runaway Environmentalism is Wrecking America, Ron Arnold and Alan Gottlieb argue: "Behind each one of these laws stands an environmental group that lobbied it into existence and made sure the costs were pushed onto private budgets..." And in the Preface to The Wise Use Agenda, Gottlieb argues that environmentalists have promoted environmental legislation which he says is pervaded with the attitude that "man has no right to be here" and "people are no damn good."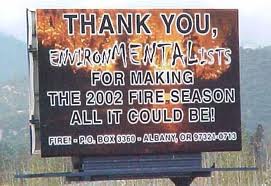 We have more than twenty years worth of 'command and control', 'do it this way or else' legislation enshrined in court test case decisions that uphold these stupidities. The result is a gigantic morass of regulations that virtually stifle human intellectual and economic progress while doing little to solve actual environmental problems.

United Against a Common Enemy
Opposition to environmentalists is the glue that holds the Wise Use Movement together. Before the wise use movement was established Gottlieb said "Right now the environmental movement is a perfect bogeyman for us. In order to get people to join and donate money we need opposition." Arnold has been reported as saying "fear, hate and revenge are the oldest tricks in the direct mail book."
The designation and ridicule of environmentalists as the enemy unites people who might not have much else in common. For example fishing people can identify with loggers or with mining workers or with free-market ideologues because they all feel environmentalism is threatening their goals. "For people in desperate circumstances whose needs are not being met by the system, Wise Use has provided an identifiable enemy, 'the preservationist', on which to focus their anger and vent their rage."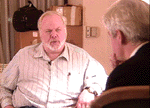 The theme that environmentalists put nature ahead of people is an often repeated one. Charles Cushman (pictured), one of the Wise Use Leaders, is reported to have said, "The preservationists are like a new pagan religion, worshipping trees and animals and sacrificing people." Arnold and Gottlieb argue, "We see that every place where people want to make a living is suddenly recognized as the habitat of The Last Big Old Tree or The Last Cute Little Animal or even The Last Ugly Bug...".
Wise Use Leaders feed the distrust of environmentalists by highlighting and exaggerating the most radical and extreme elements of the environment movement and focusing on those elements that rural people would be most hostile to; animal rights, anti-hunting and gun control campaigns. In a speech in 1992 Ron Arnold stated his intention to destroy the environment movement: "there is no compromising with the environmental movement, there is no redemption for it. It cannot be reformed. It must be dismantled entirely and replaced... "

Attacking Environmentalists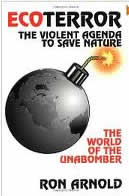 Some Wise Use groups actively sabotage environmentalists. One group in Southern California, the Sahara Club, it's name a parody of the Sierra Club, says it is "dedicated to fighting eco-freaks and keeping public lands free." In its newsletter it boasts about how it has managed to disrupt public meetings organised by environmentalists by showing up, dispersing themselves through the audience and shouting. Another tactic the group claims is to write inflammatory letters to the local papers pretending they are from environmentalists so that people will "get really pissed off at the eco-freaks." "We do not condone or encourage any illegal activities of any sort", their newsletter says, "However, we get a real kick out of legitimate irritation of the ecofreak community."
Wise use leaders encourage their members to see environmentalists as 'freaks' and as being different from themselves. Whilst anti-environmental groups in some other countries such as Australia tend to characterise environmentalists as welfare dependent no hopers, in the US they characterise environmentalists as elitist, 'overwhelmingly white', 'overeducated', urban people. They label them as 'preservationists' and 'pointy-headed' or 'communists'. Another favourite is to compare an environmentalist to a watermelon: green on the outside and red on the inside.
The Wise Use Movement likes to portray itself as a poorly financed, grassroots movement representing the average American, the 'little guy', and the environmental movement as a series of well funded, professional lobby groups representing sectional and elite interests. Arnold and Gottlieb describe the environment movement as "the most powerful superlobby on Capitol Hill." They depict environmentalists as affluent city dwellers who want "to preserve western public lands as their summer playgrounds." For example in his 1992 speech Arnold claimed;
When you're talking about environmentalists, you have people who, in my experience, are divided into two classes, the upper class and the upper class. One of the upper class is academics. There are an awful lot of people in either academia, or from academia and nice posts such as mathematicians in large aerospace companies who have tenure and therefore the ability to say or think anything they want, are comfortably off, but not particularly wealthy. And then there's the coupon-clippers that are living on daddy's money. I've had any number of those on the hiking trails. But there's a predominance of those people in the environmental movement, and that second bunch is the ones who tend to show up in the actual power structures. The academics tend to show up in the volunteer structures.
Arnold uses such rhetoric to tap into the anti-intellectual tradition of the West of America where 'common sense' is considered to be far superior to book learning and where farmers and landowners believe they know better than any outside professional how best to manage their land.

Wise Use are True Environmentalists
The Wise Use Movement argues that the true environmentalists are those who work in the environment rather than those environmentalists whom they characterise as living in the cities and divorced from nature's realities. Such rhetoric also finds a place in Australia where a spokesperson for an emerging local version of the Wise Use Movement argued that his members were the real greenies; "the people who actually use the bush rather than just talk about it."
In the Preface to The Wise Use Agenda, Gottlieb states that "Wise Use will be the environmentalism of the 21st Century." Gottlieb and Arnold describe the Wise Use Movement:
They are the true guardians of the environment, the farmers and ranchers who have been stewards of the land for generations, the miners and loggers and oil drillers who have built our civilisation by working in the environment every day, the property owners, workers and technicians and professionals who provide all the material basis of our existence.
Nevertheless, the Wise Use Movement's claims to be the true environmentalists are belied by their crass attempts to deny environmental problems exist. They deny problems from acid rain to ozone depletion whilst they exaggerate and distort the arguments of environmentalists. In Trashing the Planet, Arnold and Gottlieb claim:
We are beginning to notice that the big mainstream environmental organisations have lost their way, no longer just identifying crises, but fabricating them, so there will be something to do with all their huge fund-raising infrastructure...
We are told that man-made chemicals are depleting the ozone in the upper atmosphere, creating an ozone hole which will let in more ultraviolet radiation and kill all life on earth except for a few resistant creatures such as cockroaches and spiders. Do scientists who disagree get quoted in the daily newspapers or network television news programs? No. Because they would point out that the ozone hole over Antarctica has always been there, and that we only became able to detect it in the recent past...The ozone hole is a manufactured doom.