Corporate Sponsorship
Corporate sponsoship of 'green' events, such as Earth Day and 'Green Olympics' is another means of showing that a company cares.
'Green' Olympics
Some of the major sponsors for the 2012 Olympics in London have poor environmental records. They include BP, Rio Tinto and Dow Chemical. BP, an official Olympics 'oil and gas partner' and one of six 'sustainability partners', has been criticised not only for the Deepwater Horizon oil spill in the Gulf of Mexico in 2010 but also for its continuing acquisition of oil reserves and extraction of oil from tar sands.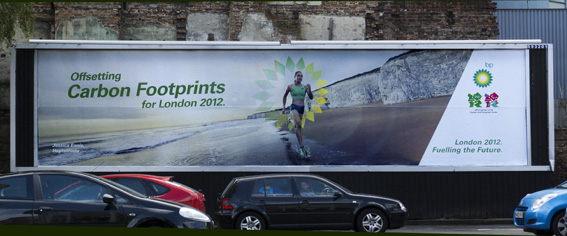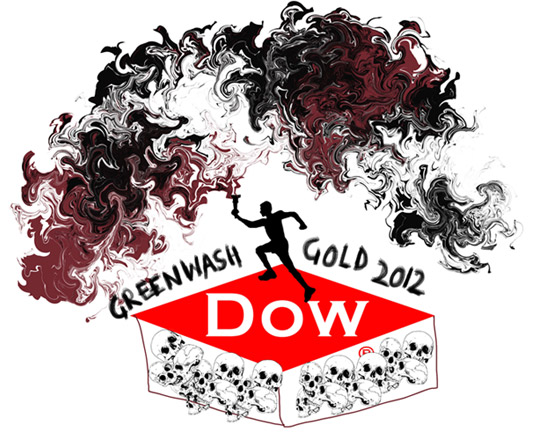 Dow Chemical is a major manufacturer of chlorine, producing millions of tons of chlorine each year, much of which is used to make plastics, solvents, pesticides and other chemicals. It has also opposed many environmental regulations and supported anti-environmental front groups.
Rio Tinto will exclusively provide the metal for the London's medals from their mines, including the Bingham mine in Utah, US. The area around the mine suffers from chronic air pollution which has been linked to premature deaths of residents, according to campaigners. According to Cherise Udell, founder of Utah Moms for Clean Air, 'In Utah, Rio Tinto are the number one emitter of toxins known to cause harm to human health. Every year, between 1,000 and 2,000 Utahans die prematurely due to chronic air pollution and Rio Tinto's Bingham mine is responsible for about 30 per cent of this.'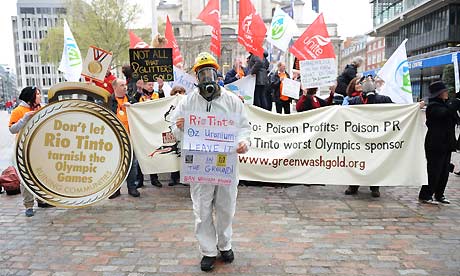 In the lead up to the Sydney Olympic Games in 2000 Greenpeace wrote to Olympic sponsors, including BHP, Coca Cola, General Motors-Holden, McDonalds, and others, offering to help them earn 'green' credentials through association with the Olympics: 'As sponsors, you have the opportunity to play a key role in this success. One of the many benefits of being part of the Green Games is the chance to demonstrate your company's commitment to the environment and to future generations.'
Yet BHP was named one of the worst 10 corporations in 1995 by Multinational Monitor for polluting the Ok Tedi River in Papua New Guinea with a 'daily dose of more than 80,000 tons of toxic mining waste' and 'helping to draft legislation for the PNG parliament that would make it a criminal offense to sue BHP'.

Earth Day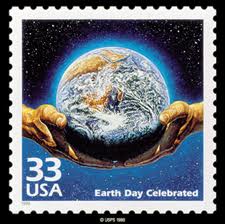 Earth Day each year provides another opportunity for firms to get environmental credentials, deserved or otherwise. One US PR consultant observed: "There's a virtual feeding frenzy among corporations about what roles they will play on Earth Day." On the same topic the public affairs director for the Monsanto Chemical Company has said: "There's a mad scramble for many companies to project an 'I am greener than thou' attitude." The Chemical Manufacturers Association encourages its members to get involved and public relations firms help their clients to "shape and publicise their pro-environment messages."
Corporate funding and sponsorship has turned Earth Day into a multimillion dollar event that is marketed with slick glossy brochures and Earth Day merchandise. It provides corporations with a means to green their image and, according to Public Relations Journal, play "a key role in defining the future direction of the environmental movement." Associated events such as fairs, where firms can showcase their 'green' credentials and Clean Up campaigns are common in the mid-nineties. These clean-ups "offer a chance to 'bond' with the community over an environmental cause and to foster 'camaraderie among employees' who are often compensated for their time."

Links