The Work Test
The work test generally involves the person being offered a job. If they do not take the job they are deemed to be unwilling to work and taken off benefits. The work test is often, in effect, "really a form of conscription into poorly paid and unpleasant occupations." In fact, in some places resigning from a job because of low pay, long hours, dangerous work can cause someone to fail the work test and this can delay the payment of benefits.
The work test was conceived of as a means of distinguishing deserving claimants from the undeserving, who were destitute through their own fault. ... there was fairly clearly a basic assumption that the claimant for relief was a probable malingerer, and that the onus of proving he was not a malingerer was on him. There was no presumptive right to support. Behind it all was a lurking fear that if people could live without work, even on a miserably low level, many would choose to do so.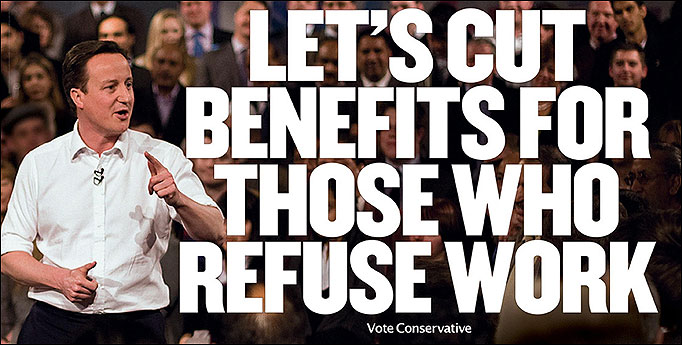 It is for the same reason, fear of encouraging idleness, that governments have generally avoided giving benefits above the poverty line. Attempts to relax the work test and make unemployment benefits livable have been opposed strongly by the establishment in both Britain and Australia.
Lydia Morris notes in her 1994 book Dangerous Classes that requiring unemployed people to continually search for work when they were unlikely to find it merely caused "unnecessary demoralisation.... the right to benefit is increasingly dependent upon a discouraging, demoralising and humiliating procedure in which claimants are called upon to prove their worth."
However the work test was not only demoralising to welfare recipients but also served the purpose of ensuring a steady workforce for employers. Graeme Brewer noted in his book Rough Justice: "The work test acts as an intimidatory device in locking vulnerable workers into unsatisfying (and perhaps dangerous and noxious) jobs." In particular the assumption that those who resigned from a job were not 'deserving' of immediate benefits and the requirement that unemployed people took any job offered ensured such jobs were filled.

Australia - 1970s
An attempt to relax the work test was made in Australia after the Labour Government came to power in Australia at the end of 1972. It was effectively countered by the strong opposition of employers, a barrage of political comment and a media campaign to portray a paradise for bludgers.
In 1973 the Whitlam government raised unemployment benefits and relaxed the work test to be more compassionate. In response the media reported employers' claims that they couldn't fill job vacancies because welfare was too easy to get and enabled those who did not want to work to be too comfortable. The Sydney Morning Herald told the story of a clothing factory that was offering 30 jobs and had no takers and a farm manager who couldn't get enough asparagus pickers at harvest time.
The Herald also ran a story implying that hundreds of people who had registered as unemployed on the sunny Gold Coast of southern Queensland "simply do not want to work." It quoted a small businessmen who claimed the wages he could offer could not "compete with Government handouts to teenage girls." At the time there were over a fifteen hundred registered unemployed people in the region whilst there were only 136 jobs on offer.
There was "a perfect blizzard of denunciations of 'loafers' (Leader of the Opposition), 'bludgers' (Victorian Premier), 'drop-outs, no hopers and hippies' (Victorian Labor Minister), 'slackers' and 'work-dodgers'." The Sydney Morning Herald concurred with these sentiments: "The general, and eminently justified, view is that people have a right not to work, but no right to taxpayers' support in choosing idleness."
In 1974 at the height of a media campaign against unemployed welfare recipients a government survey found that very few unemployed people had anti-work attitudes yet this survey was not published. (Similar studies in the UK and the US in the early 1970s came to the same conclusion.) Instead the media portrayed the unemployed as lounging on the beach and having a good time at tax payers expense.
The media campaign was very influential. A Morgan Gallup Poll found that the percentage of people who thought a main cause of unemployment was "people not wanting to work" in 1975 was 48% compared with 30% the previous year. The new level remained fairly steady for the following decade.
As a result of business-inspired, media-led public opinion the government was forced in 1974 to announce its intention to take a tougher approach with the unemployed and to tighten the work test. The Minister of Labor, Clyde Cameron stated:
I have no sympathy for people who can be described as professionally unemployed, who treat the benefits as a satisfactory alternative to working.
We are looking at whether the formula or the criteria attached to the test can be tightened.
I am not satisfied that there are not some who are just remaining on unemployment benefits rather than accepting work — especially young people. I want to get rid of slackers who are on unemployment benefits and who just won't work.
The work test was tightened to ensure that unemployed people had to accept job offers anywhere in Australia and that leaving a job voluntarily or moving to an area of high unemployment could constitute a failure of the work test. After the Liberal/National Government came to power at the end of 1975 it moved to further tighten conditions for receiving the dole.
Between 1976 and 1979 as unemployment levels rose the work test was tightened. People could be forced to move their place of residence so as to find a job. If the government officials thought the person's dress and appearance were unsuitable they could fail the work test. People had to accept short-term, part-time and temporary work as part of the work test.
The work test remained stringent in the following years. In both Australia and Britain people were required to prove they had been looking for work, giving full details of employers approached. In Australia it led to one of the "most tightly targeted welfare systems in the OECD — and one of the stingiest", spending a significantly lower proportion of GDP on welfare than the average OECD country.

US
A work test has also been incorporated into US welfare schemes. In 1967 the Social Security Act was amended to incorporate a Work Incentive Program (WIN). In her book on Enforcing the Work Ethic, Gale Miller explains: "One purpose of WIN is to identify and eliminate clients who have chosen welfare dependence as a way of life"
Welfare recipients who are identified as being unwilling to look for jobs or undertake assignments or training, which are supposed to make them more employable, can have their welfare payments withheld or reduced. In the WIN office which Miller studied, some clients had to report their job-seeking efforts (eg names of employers approached) every day and were expected to make a certain number of job inquiries or applications each day. Others were required to do volunteer work for local non-profit organisations.
The aim of welfare workers, according to Miller, was to force a work ethic onto recipients through threat of discontinued payments and through making welfare an unpleasant experience. One welfare worker in Miller's study stated: "Well, I think we should make it tough on 'em. People don't change if they don't have to, why should they? I think we should make them uncomfortable and this should be an unpleasant experience."

Other Nations
During the 1990s work tests were tightened and extended in many countries. The New Zealand work test has recently been tightened to include widows and sole parents whose children are school age. They are also looking for ways to get invalid beneficiaries into the work force by "testing their capacity to do tasks rather than their incapacity". The Social Welfare Minister, Roger Sowry, stated "I think we're in a national mood that says Look, you know, these people, we shouldn't allow people to malinger on a benefit."
Similarly, in Britain the Blair government introduced a bill supposed to challenge the "something for nothing culture" of the old welfare state. The bill provided for welfare beneficiaries, including sole mothers and disabled people, to be cut off benefits if they fail to turn up to job interviews.
Whereas once only single mothers with children over five were required to go for job assessment (back-to-work) interviews, all single mothers, no matter how young their children, were required to attend such interviews regularly or lose their benefits. In announcing these welfare 'reforms', the Secretary of State for Social Security, Alistair Darling, stated "There is no unconditional right to benefit".
In 2011, David Cameron promised in his election campaign that Jobseeker's Allowance would be cut for unemployed people who refused reasonable job offers, in the first instance for a month, then three months and then up to three years.
Similar reforms are being carried out in Canada where single mothers are having to look for a job when there children are as young as 6 months old.