Company Identity
Earlier this century corporations actively promoted the identification of the worker with their work, particularly their place of work. They sought to raise what Elizabeth Foner-Wolf refers to as 'company consciousness':
This involved convincing workers to identify their social, economic, and political well being with that of their specific employer and more broadly with the free enterprise system. A company conscious worker, rather like the idealized boy scout, was not only productive but took pride in his job and demonstrated loyalty and allegiance to the firm."
Many of the public relations programmes, including corporate advertising, that the large corporations ran in the early part of the century, were not only targeted at the wider public but also at employees, particularly when it was noted that such PR boosted morale of employees and made them proud. Corporate advertising featuring employees was found to be particularly effective for this and the advertisements were made into posters and put up around the factories. However, it was probably the managerial staff that got the biggest morale boost from corporate advertising: "By presenting an idealized portrait of a cohesive, powerful, benevolent corporation to the public", said Roland Marchand in his book Creating the Corporate Soul, "the crucial managerial cadres" were offered "an energizing vision of the corporation".
Advertisements that sought to humanise the corporation through the metaphor of the family also served to claim the loyalty of workers as members of the corporate family. The theme of family often featured in the titles of the magazines (RCA Family Circle, American Sugar Family etc) as well as the text. The idea was, according to the president of Standard Oil, that a person would work harder if he is a partner—part of the family—than if he is a servant. The employee magazine Ford Man stated in 1917 that the factory belonged to workers as well as managers, and as members of the corporate family workers should devote "every ounce of loyalty we possess".
Similar strategies were used after the second world war. In the US a Human Relations approach was combined with a conscious communications strategy aimed at creating a sense of belonging. This involved a barrage of literature: pamphlets, letters, comic books, posters and magazines as well as bulletin boards, films, and posters.
The aim of all this literature was to promote a sense of purpose in the worker's job, a feeling of pride in the company they worked for, a feeling of participation in the whole enterprise, a closer relationship with management and a sense of having shared goals with management.
An American Management Association (AMA) report of 1954 noted that company information programmes were undertaken because employers believed "that the better informed an employee is about his company... the more understanding, cooperative, and productive he will be." It went on:
They want to integrate the employee with his work group, to develop his 'sense of belonging,' to get him to identify his own welfare with the company's. Some employers view this kind of program as a sort of 'battle of loyalties' with the unions. Other believe strongly that morale (and productivity) improves when the worker is sufficiently well motivated to want to expend personally the effort to achieve higher performance.
Today there is also a vast public relations effort targetted at getting employees to take management's point of view. Edelman Public Relations Worldwide has an area of practice "dedicated to employee communication", earning $1 million per year, which it calls Employee Engagement. The aim is to "align employee behaviour with organizational goals and objectives" and "evoke a strong, positive connection with employees through unique and innovative tactics involving a variety of media, including print, broadcast, Internet, Intranet and face-to-face communication."

Company Magazines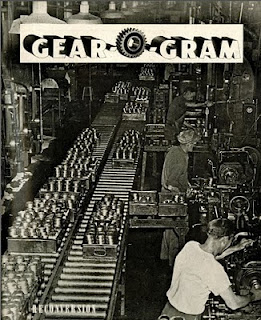 Ford Man was one of many employee magazines put out during the first world war and afterwards "to bind employees more closely to the corporation." As early as 1905 the Colorado Fuel and Iron Company, under the management of the Rockefeller family, distributed an employee magazine to "help develop a strong espirit de corps among employees". Such magazines used 'human interest' stories about employees and a folksy prose style to get workers to read them. However the magazines tended to moralize, emphasising the value of loyalty and hard work and good attendance and the benefits of free enterprise.
The idea of employee magazines was to give the worker a feel for the overall enterprise and where s/he fitted in. They tried to replace the personal communication between the owner and the workers that the growing size of the corporation had made impossible. Employee magazines blossomed and by 1925 the majority of manufacturing companies published them. Marchand claimed:
Even more self-consciously than they cultivated family imagery, the employee magazines sought to enhance workers' morale by bolstering their sense of place within their own extensive factory and with the corporation as a whole.
By 1950 there were 6,500 company magazines being published in the US, distributed to some 80 million workers at a cost of over $100 million/year. By 1955 82 percent of firms were writing letters to individual employees compared to 28 percent in 1947.
Employee magazines still aim to engender employee identification with the firm. Examples from the 1990s included:
SunAmerica's Employee Newsletter Ray, which answers "the need to maintain a strong corporate culture";
Foodmaker's Speaker Box, which is used to instill "in employees a greater sense of connection to, and understanding of, the company" and foster employee pride; and
Georgia Pacific's New Opportunity.

Corporate Welfare Programmes
Welfare programmes, even as early as the turn of the century, also aimed to promote "a feeling of unity and identity with the corporation" as a 'social secretary' for International Harvester noted of his employee athletic associations in 1903. Sports teams and activities, theatre groups, hobby clubs, singing choruses, summer camps all aimed to create a sense of community in the workplace.
Company-sponsored Sunday schools, churches, housing, recreation facilities and employee representation plans were supposed to show the worker that the manager cared for him as an individual as well as an employee. They would fend off unionism and also develop an improved worker: thrifty, clean, temperate, industrious and Americanized.
Welfare capitalism was revived after the second world war to enhance the image of the beneficent corporation, to reinforce company consciousness and loyalty and to head off moves toward a welfare state. Firms offered employees pensions, vacations, educational assistance and health insurance to show how employers cared for their employees. Working conditions were improved, loans were made available for home purchase, recreational facilities were provided, paid coffee breaks introduced. "Employers tried to convince workers that their security depended not on union organization or the state, but on acceptance of a managerial-dominated social and political order."
Welfare capitalism, with its company recreational activities, clubs, parties and picnics facilitated work-based friendships and drew families into a friendly company-based social setting. It was also hoped that such social occasions would improve relations with management and break down the 'class' barriers between workers and management that unions tended to exploit.
Open days and plant tours were also aimed at families to help them identify more with their bread-earner's occupation and his employer. Summer camps were run for employee's children. One journal noted in 1954 that corporate-sponsored children's activities would not only ensure that those children would "look upon the industry which has given them some of the best sports and recreational years of their life with a warmth and respect no company can buy" but that these children were potential future employees and it was a good investment "to tie them to the company at an early age".
Providing recreational facilities for workers helped build teamwork on the job and provided "alienated workers the individual recognition and sense of achievement lacking on the job". It was also believed that such recreational activities would raise worker morale, thus ensuring less absenteeism, worker turnover and greater productivity. Worker education programmes also sought to achieve a degree of company consciousness.

Allocating Stock
After the first world war the "leaders of giant corporations sought more systematic methods for achieving the tacit consent from employees necessary for teamwork." As well as promoting better interpersonal relations with employees they used employee stock ownership and personnel counselling to get workers to identify with the corporation.
According to one trade association: "The employee must not be made to feel that he is merely a cog in the machine, but that he is part of a team that is working together for victory; that the success of his employer is his own success."
Giving stock to employees helped the employee to identify with and feel they shared in corporate success and, as Firestone Tire and Rubber Company claimed in an ad, take "more than a wage interest" in the company.
Profit sharing was also promoted by employers and politicians in Australia during and after the first world war. It continued to be rigorously promoted in Australia in the 1920s as a way of ensuring that workers on a fixed wage under the industrial regulation system in Australia, would be motivated to work harder.
Various employers attested to the value of profit sharing in the US in the 1950s. It aimed at not only ensuring employee loyalty but also enhancing the idea that the worker and the employer were in partnership to produce profits. In this way, workers would be in favour of any measures aimed at increasing productivity and would identify more closely with employers.
Profit sharing is still promoted today as a way of ensuring that workers have a stake in ensuring company profitability. Between five and ten percent of US companies offer stock options to all employees, even manual workers. Many more offer stock options to executives. Stock options are used to align the interests of employees with those of share holders and to motivate employees to work hard for company success. HR Magazine argued that stock options "help to create a company-wide 'ownership culture by focusing employees' attention on the employers' financial performance".

Corporate Universities
Corporate universities have become the modern way of instilling company consciousness and shared identity. Jeanne Meister, author of Corporate Universities: Lessons in Building a World-Class Work Force, suggests that the corporate citizenship taught in corporate universities is modelled after successful Japanese companies where production workers are given motivational courses to "build employee pride and bonding between the employee and the company". Corporate universities in the US and other parts of the world now also aim to promote a "strong identification with one's company and its central values" and to inculcate "all levels of employees to the culture, values, traditions, and vision of the company."

Links