Cato Institute
The Cato Institute is a Washington-based libertarian think tank that campaigns for reduced government and deregulation of the economy.
Most of the Cato Institute's annual budget of around $24 million (2007) comes from private grants and gifts from foundations, individuals, and corporations, including Philip Morris, American Express, the American Petroleum Institute, ExxonMobil, Shell Oil, Eli Lilli and Pfizer.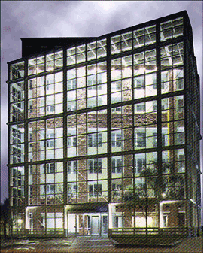 In the 1990s the Cato Institute was one of the key climate change denial organisations (see Global Warming section of this website). Today it admits that global warming is real but that it has been small and Congress should "pass no legislation restricting emissions of carbon dioxide". The Institute's greenhouse policy is written by well-known denier, Patrick Michaels, a Senior Fellow in Environmental Studies at the Institute.
In its 2009 edition of the Cato Handbook for Policymakers (chapter 44 - pdf), the Institute argues that the environment is best protected by consumers exercising their preferences. It argues that the Federal Insecticide, Fungicide, and Rodenticide Act and the Toxic Substances Control Act should be replaced with "a consumer products labeling program" so that consumers can choose whether or not to use potentially hazardous chemicals. It argues that states should have the flexibility to try alternative approaches to enviornmental protection rather than be subject to federal Environmental Protection Agency (EPA) rules.

The Cato Handbook (chapter 44 - pdf), also argues that the endangered species act should be repealed aswell as the Superfund legislation (CERCLA), which is aimed at cleaning up contaminated land.
In reality, CERCLA is an extremely expensive land reclamation project, dedicated to turning contaminated land, which at present poses little danger of harm to nearby residents, into land as pure and clean as the driven snow. Congress should acknowledge that some sites are simply not worth reclaiming; containment and isolation should be permitted as an alternative... Abandoned Superfund sites should be privatized in a reverse Dutch auction in which government offers to pay potential bidders for assuming ownership of and responsibility for the land. The amount offered escalates until some private party is willing to accept the deal.
Doug Bandow, Senior Fellow with the Institute, testified before a Senate Committee that the Law of the Sea Treaty was "inconsistent with American interests".
Cato Institute Books
Cato Institute books include:
Climate of Extremes: Global Warming Science They Don't Want You to Know by Patrick J. Michaels and Robert C. Balling, Jr. (2010), which argues that "that global warming is likely to be modest, and there is no apocalypse on the horizon".
The Improving State of the World: Why We're Living Longer, Healthier, More Comfortable Lives on a Cleaner Planet by Indur M. Goklany (2007), which defends globalisation by claiming that it promotes "innovation, increased affluence and key institutions" that "have combined to address environmental degradation".
Saving our Environment from Washington: How Congress Grabs Power, Shirks Responsibility, and Shortchanges the People by David Schoenbrod (2005), which is an attack on the power of the Environmental Protection Agency (EPA) and federal government environment protection.
Meltdown: The Predictable Distortion of Global Warming by Scientists, Politicians, and the Media by Patrick J. Michaels (2005)
Bountiful Harvest: Technology, Food Safety, and the Environment by Thomas R. DeGregori (2002), which defends genetically modified food.
Out of Bounds, Out of Control: Regulatory Enforcement at the EPA by James V. DeLong (2002), which attacks the Environmental Protection Agency.
The Precautionary Principle: A Critical Appraisal of Environmental Risk Assessment by Indur M. Goklany (2001), which attacks the precautionary principle.
Junk Science Judo: Self-Defense Against Health Scares and Scams by Steven Milloy (2001), which labels the science identifying health risks as junk science
Chemicals, Cancer, and Choices: Risk Reduction through Markets by Peter VanDoren (1999), which argues that "the market affords individualized responses to chemical risk as an alternative to government-imposed rules for everyone".
Clearing the Air: The Real Story of the War on Air Pollution by Indur M. Goklany (1999), which argues that American air quality is improving despite not because of environmental regulation.
Haunted Housing: How Toxic Scare Stories Are Spooking the Public Out of House and Home by Cassandra Chrones Moore (1997), which "outlines the government-created misperceptions of risk affecting buyers and sellers of homes, tenants and landlords, brokers and agents".
Apocalypse Not: Science, Economics, and Environmentalism by Ben Bolch and Harold Lyons (1993), which argues that "much of the environmental movement is a broad-based assault on reason" and freedom;
Eco-scam: The False Prophets of Ecological Apocalypse by Ronald Bailey (1993), which criticises environmentalists for "their faulty analyses, their wildly inaccurate predictions, their heedless politicization of science, their opportunism, and their courtship of the media".
Links