Gunns 20 SLAPP Case
In 2004 forestry corporation Gunns sued a variety of environmental groups and individuals who had opposed their opperations in Tasmania Australia. This was Australia's largest SLAPP suit. The targets (referred to as the Gunns 20) included:

The Wilderness Society (TWS)
5 TWS employees
Doctors for Native Forests Inc.
the Huon Valley Environment Centre
Green MPs Bob Brown and Peg Putt
two filmakers
two university students

The Allegations

Gunns Limited v Marr and Others, was filed in the Supreme Court of Victoria and alleged that these groups and people had conspired to harm Gunns and interfered with Gunns trade, business and contractual relations by:
disrupting logging operations
defamatory media statements
unlawful lobbying of shareholders, customers and business contacts — for example "Bob Brown was being sued for writing to Japanese paper companies ... and disputing Gunns claims that their woodchips predominantly come from plantations rather than native forest"

The Outcome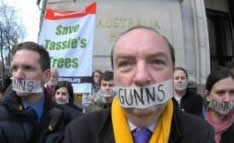 During the five years that followed Gunns revised its claim several times (most notably after Justice Bongiorno described it as "embarrassing" and full of defects and threatened to throw the case out) and 16 defendants were dropped from the suit. It finally dropped the case against the remaining defendants days before the trial in 2010 after spending $2.8 million in its own legal costs and $1.3 million for defendants' legal costs. Its reputation was damaged by the case as McDonalds had been with the McLibel case.
However, the case had a chilling effect. Three days after serving the writs, Gunns announced its plans to build a controversial pulp mill in Tasmania. According to Greg Ogle, author of Gagged: The Gunns 20 and Other Law Suits, "There were certainly examples of people pulling out of activity protesting Gunns' pulp mill, and of others being afraid even to put submissions into government assessment processes …" The Victorian Sommeliers Association (VSA) decided against a boycott it was planning of Gunns wine industry interests as a result of the SLAPP and the Tasmanian student newspaper, Togatus, refused to publish an article on Gunns pulp mill for fear of litigation.
Nevertheless many others continued to campaign against Gunns and its pulp mill.

Triabunna 13
In a separate case Gunns is suing 13 activists who managed to shut down Gunns woodchip mill in Triabunna, Tasmania, in December 2008 by locking themselves to parts of the mill. The activists, who have few assets between them and have little to lose, are counter-suing Gunns. (See Gunns Ltd Triabunna Chip Mill Shutdown with short video).
Links