Doha Round Lobbying
The US Council for International Business (USCIB) claims to have 'helped secure the launch of the new round of WTO trade negotiations' using the networks of the International Chamber of Commerce (ICC) and the Business and Industry Advisory Council of the OECD (BIAC) 'to build overseas support for U.S. business objectives' in the new round. It states:
American business stands to be a major winner from the new round of trade liberalization talks, launched in November 2001 under the World Trade Organisation. USCIB worked diligently to help set the table for a new round, laying out benchmarks for U.S. negotiators in a variety of areas and exploring the possible inclusion of new issues like competition policy, environment and investment.
The Europeans have also played an active role in promoting the new round. The European Round Table of Industrialists established a working group on Foreign Economic Relations in 1998, chaired by Peter Sutherland, now an ERT member but formerly Director-General of GATT. It led a delegation to meet with the Director-General of the WTO, Renato Ruggiero, to discuss the launch of a new round of negotiations and continued to make the case when Mike Moore took over from Ruggiero. The ERT continues to work with the US Business Roundtable (BRT) to assure the success of this Millennium round of negotiations.
Similarly the European employers association, UNICE, has seven working groups and more than 20 lobbyists on WTO issues. It worked with the EC to gather support for a new, comprehensive round that would include issues such as investment and government procurement. It was 'by far the most visible European lobby group' at the 1999 Seattle WTO Ministerial meeting.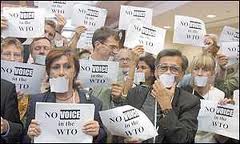 The BRT claimed that any delay in the Millennium Round negotiations would 'result in slower world economic growth… Trade liberalization of goods and services could create annual global income gains of up to $2.8 trillion by 2015'; gains that would be made primarily by BRT members. For BRT the Round offered 'unrivalled opportunities' to 'increase U.S. access to international markets throughout the world.' The BRT joined with ERT, the ICC and the Canadian Council of Chief Executives in 2003 to launch a multimillion dollar advertising campaign to support the Millennium Round. The aim was to persuade thepublic that further free trade will create billions of dollars worth of wealth for all concerned.
The business community continues to press for a successful conclusion of the Round, now referred to as the Doha Round. In April 2009 the G8 Business Leaders, a group representing business coalitions in G8 nations, declared the need for G8 governments to "strengthen and publicly renew their full commitment to an open global economy… The successful conclusion of the Doha Round lies at the very heart" of this commitment and would provide "the strongest possible stimulus for the recovery of the global economy".