Map of Damage to Peat

Photos of Floating Peat

Photos of Cracked and Dried Out Swamp

Million dollar Water Treatment Plant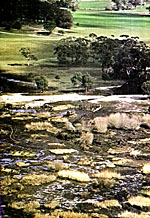 As a result of the collapse, the water is draining out of the swamp and the peat is drying out. Vegetation and animals are dying including those that are endangered.
The remaining swamp area is fissured with cracks that are four or five metres deep. The remnant peatland is still unstable and "continuing sliding, slumping and erosion of the formerly stable peatland" could be seen daily after the collapse (O'Loughlin 1998, p.1)
The ability for the swamp to act as a water filter for the Wingecarribee Reservoir has been destroyed. The large volume of peat that was washed into the Reservoir impacted on water quality and necessitated the placement of a barrier to prevent it moving towards the dam.
The Minister for Mineral Resources, Bob Martin, announced that the mining leases would not be renewed. (News Release 19/8/98)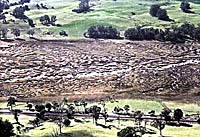 ---
References:
David Tranter, 'Case Study: Wingecarribee Swamp', Water: Wet or Dry?: The Proceedings of the Water and Wetlands Management Conference, November 1998, Nature Conservation council of NSW, August 1999, pp.90-97.
Emmett M. O'Loughlin, Mass Movement in Wingecarribee Swamp on 8-9 August 1998: Likely Causes and Rehabilitation, 25 August 1998.