Wealthy Foundations
Corporate influence is bolstered by that of foundations whose wealth largely originates from corporate activity. Some foundations are funded and directed by corporations. Others are used by wealthy families, whose prosperity is often derived from very successful business enterprises, to manage their money without incurring taxes.
The most far-sighted fo that top 1 percent [who owned more than 90 percent of the population] obviously realized that without some sort of redistribution, this gaping Grand Canyon between them and the rest could be a formula for 'civil unrest.' Besides, they were going to have to give some of it up, either in taxes or in the relative shelter of charitable trusts, which enable them to use that otherwise taxable income to wield influence and shape public life while amassing public goodwill.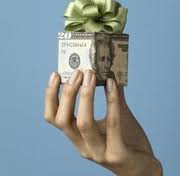 Foundations give millions of dollars each year to conservative organisations, ranging from "national think tanks to state policy centers, universities, conservative journals, magazines and student publications, right-wing television networks and radio programs, and community projects".
The grants, which can can be over a million dollars, are often for political ends such as propagating free market ideology. The foundations also have extensive overlap of directors and trustees with free market policy groups and think tanks. Foundations, like corporations, initiate policy projects and programmes: '[t]hey are extensions of the corporate community in their origins, leadership, and goals'.
They fund national conservative "think tanks" to package and repackage conservative issue positions; state think tanks to lend a local flair to these issues; national political groups to lobby in Washington and shape national media coverage; state-based groups to do the same in the states; grassroots organizations to stir up local activism; national and state media to report, interpret and amplify these activities; scholars to record the history of such activities and push the intellectual boundaries of the issues; graduate students to form the next wave of scholarship and movement leadership; and college newspapers to shape the milieu in which America's next generation of political leaders comes to their political awakening.
Seeking Policy Change
Increasingly foundations are actively seeking policy change more directly. According to Christine T. Tebben, the executive director of Grantmakers for Education, "the discussion has shifted from whether philanthropies should engage in the policy realm to how to do so effectively, what roles to serve, and how to evaluate their impact." They can do this through PR campaigns, coalition building, community organising, supporting selective research and building the advocacy capacity of existing groups with similar aims.
This type of policy-oriented giving has been named "venture philanthropy". According to James Horn, an associate professor of education policy at Cambridge College in Massachusetts, "Venture philanthropists typically emphasize the imperative of getting measurable results for their investment and maintain close ties to the organizations they fund. 'What venture philanthropy is doing seems to me to be wielding influence not to help public institutions, but to destroy public institutions, or take control of them,'".
Grantmakers for Education surveyed 164 organisations that give grants and found that "engaging with public policy" was an increasingly important part of their agendas:
Grants to influence public policy or build public will for policy changes were identified as part of the portfolio of 70 percent of survey respondents in 2010, up from 60 percent in a survey from 2009, the report finds. In addition, 35 percent of the 2010 respondents said they planned to increase their engagement in the policy arena over the next two years.
The most popular strategy identified by grantmakers was policy research and analysis, followed closely by advocacy and coalition-building.
Media Influence
Foundations also "actively support conservative newspapers, journals, student papers, television networks and radio programs that disseminate their message"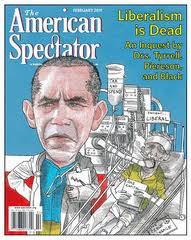 with the aim of shaping public debate. "For example, The American Spectator, an influential conservative news source, is heavily supported by the Bradley, Olin, and Scaife Foundations, among others." Other examples include The New Criterion, National Interest and Public Interest.
In addition to sponsoring conservative magazines, television operations such as NET TV, "Firing Line" and a host of conservative public television commentators, as well as providing funds to student papers through organizations such as the Madison Center for Educational Affairs, right-wing foundations underwrite attacks on public television and do much to perpetuate the myth of a "liberal bias" in mainstream media reportage. One journalist observed that "conservative foundations and corporations use their financial clout to buy access to public TV, while simultaneously funding mediawatch groups that work to deny PBS access to those with opposing views."
University Funding
Foundations have also played a key role in fostering future generations of "conservative scholars, journalists, government employees, legislators and activists" by pouring millions of dollars into universities in a selective way that supports conservative students and their publications, faculty, programmes and research. According to David Callahan, writing in the Nation: "by strategically leveraging their resources" foundations have "engineered the rise of a right-wing intelligentsia that has come to wield enormous influence in national policy debates."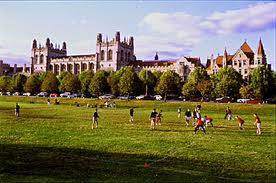 For example the John M. Olin Foundation has focussed on university funding, including a 'seat at the University of Chicago in the 1960s for the purpose of teaching "free market economics" as it applies to law' and $3.7 million to the University between 1992 and 1995. Other recipients of Olin Foundation largess during the 1990s were Yale's law and economics program, Harvard University for the John M. Olin Center for Law, Economics and Business as well as the University of Virginia, Johns Hopkins, New York University, Georgetown, Princeton, Stanford and the Massachusetts Institute of Technology.
According to an Alliance for Justice report, Olin Foundation funding of law and economics programmes in universities was part of
a significant and long-standing movement to reshape the American legal system on the part of "a powerful coalition of business groups and ideologically compatible foundations [who are] engaged in a multi-faceted, comprehensive and integrated campaign to elevate corporate profits and private wealth over social justice and individual rights."
Think Tank Funding
Since the 1970s in the US, oil industry money was invested in conservative think tanks through business people like billionaire Republican Richard Mellon Scaife and Mobil Oil. Chemical industry money was invested through foundations such as the Olin Foundation. Lynde and Harry Bradley invested manufacturing money, Smith Richardson invested pharmaceutical money, and the Koch family invested energy money (founding the Cato Institute in the process).
This influx of money meant not only that conservative think tanks proliferated but that other think tanks moved towards the right. As Jerome Himmelstein points out in his book To the Right: 'The political mobilization of big business in the mid 1970s gave conservatives greater access to money and channels of political influence. These helped turn conservative personnel into political leaders and advisers, and conservative ideas, especially economic ones, into public policy.'
A dozen or so foundations provide most of the funding for most conservative think tanks including the AEI, the Heritage Foundation, the Cato Institute and the Hoover Institution (see table below).
Donations by Selected Foundations to Selected Think Tanks 1985-2002
Hoover Institution
AEI
Heritage Foundation
Cato Institute
Sarah Scaife Foundations
$7.6 million
$4.4 million
$17 million
$1.8 million
Lynde and Harry Bailey Foundations
$1.7 million
$15 million
$13 million
$560,000
John M. Olin Foundation
$5 million
$7 million
$8 million
$800,000
Koch Family Foundations
$5000
--
$1 million
$12.5 million
Smith Richardson Foundation
$1.3 million
$4 million
--
--
1999 only
Selected Corporate Foundations
$128,000
$1.6 million
$341,000
$241,000
Links