WWF and Business
WWF works with and/or accepts donations from many companies including Coca-Cola, Alcoa, Philip Morris, Waste Management, DuPont, Procter & Gamble (P&G), Unilever, HSBC Bank, Bank of America, Canon, Samsung, H&M and Avon. "They even offer an annual conservation award funded by and named after the late oil baron J. Paul Getty."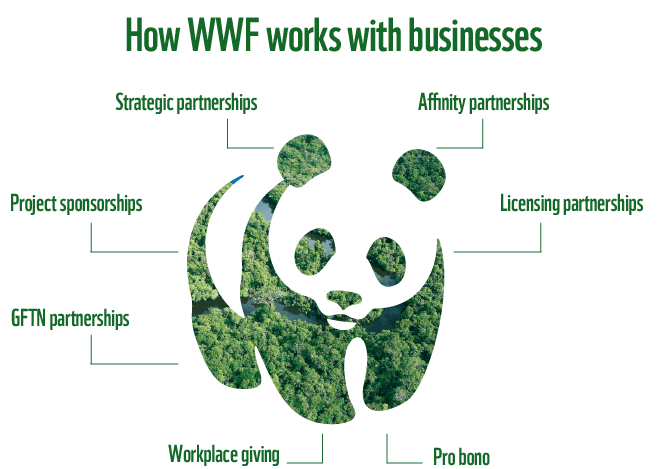 WWF is the perfect business adviser. We have the brand, the environmental insights, the political clout and the campaigning power to help companies pursue their sustainable agenda.
WWF helps businesses manage their environmental footprint while building sustainability into their brand, their customer and investor communications, and their engagement with government... We work with business to help align economic growth with conservation to serve the interests of business, society and the planet...
In 1993, after it received large donations from Chevron and Exxon, World Wildlife Fund (US) appointed executives from these companies to its own board affording them both green credentials and influence over WWF policies and directions.
WWF International's current 12 person board of trustees includes the Vice President of Roche Holdings Ltd, a corporate lawyer, a board member of BP, the Executive Chair of Peotona Group Holdings (Pty) Ltd, the Board Chairman of GOL Airlines, the CEO of Alternergy Partners, a former chairman and CEO of The Coca-Cola Company and a former vice president of the Africa Region of the World Bank.
Detractors say it has more partnerships than it can manage effectively; that some ties conflict with WWF's own programmes; that WWF spends too much time and money signing up companies; that WWF has been corrupted by the ethos of business – from the people it hires, to the managerial processes it has adopted; and that WWF is conflicted between being a campaigning group and, in effect, a business consultancy.
Chevron
Chevron donated money to WWF at the same time it donated money to a number of corporate front groups opposing environmental measures including the Global Climate Coalition, Citizens for the Environment, the National Wetlands Coalition and the Pacific Legal Foundation.
In a massive ad campaign throughout the 1990s, they [Chevron] exploited their partnership with the WWF and other mainstream environmentalist groups...
In the 1990s Chevron gave WWF a $3 million contract to undertake an "Integrated Conservation and Development Proje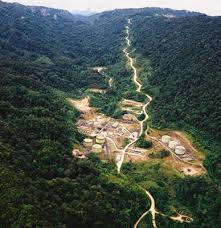 ct" of one of its oil project areas in Papua New Guinea (PNG).
A leaked 1993 confidential evaluation of the potential impacts of a Kutubu oil spill and the clean-up capacity of the joint venture, written after a practice exercise conducted by the joint-venture partners, expressed concern 'as to whether a policy exists to control media and interest groups (Greenpeace) at Kopi area should a spill of this magnitude occur.' Other documents concluded that the joint venture partners could rest easy, however, because 'WWF will act as a buffer for the joint venture against environmentally damaging activities in the region, and against international environmental criticism.'
WWF and Coca-Cola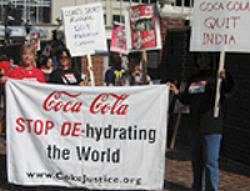 WWF's partnership with Coca-Cola has been particularly controversial, coming as it did after Coca-Cola has been the subject of worldwide protests over its alleged depletion and pollution of ground water in India.
Because water is fundamental to both of our organizations, WWF and The Coca-Cola Company have worked together for more than five years to conserve the planet's freshwater resources, improve water and energy efficiency within Coca-Cola's manufacturing operations, and promote sustainable agriculture.
When it announced its commitment to the conservation of the world's water basins, those in India, "where the company's plant at Plachimada in Kerala was forced to shut down due to protests from locals over depleting ground water level", were not included. The loss of groundwater destroyed the livelihoods of thousands of local farmers.
In India, Coke is accused of many serious rights violations, including the destruction of the environment and local agriculture by privatizing scarce water resources, severe pollution of the groundwater and land around its bottling plants, and having high levels of pesticides in some of its products.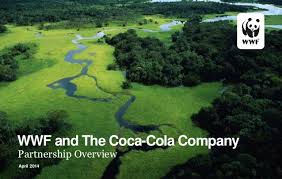 Coca-Cola pledged $23 million to WWF for river protection and although WWF International works on water issues in India, it avoids mentioning Coca-Cola as a contributor to water problems.
Borrowing from the term "carbon neutral", Coca-Cola claimed it would become "water neutral", even though it uses 300 billion litres of water each year. To do this it is paying WWF to help "replenish" water in parts of the world far away from where it is using the water, that is it will "offset" its water usage. But the concept of offsetting, problematic enough when referring to carbon, is ridiculous when applied to water.
I could, for instance, claim to be water neutral if I pumped dry a village aquifer or a vital oasis in a desert – and then put the same amount of water back into a rainforest river. Like, say, the Mekong, one of the rivers included under Coca Cola's watershed programme with WWF.
Those Indian villagers are unlikely to be appeased by an offset in the Cambodia rainforest. Their wells will still be dry.
Richard Holland from WWF and Greg Koch, Coke's managing director of global water stewardship, admitted the PR value of the term "water neutral" in a paper they co-authored that stated in a footnote: "Water neutral was chosen as an inspirational phrase that resonates with the public".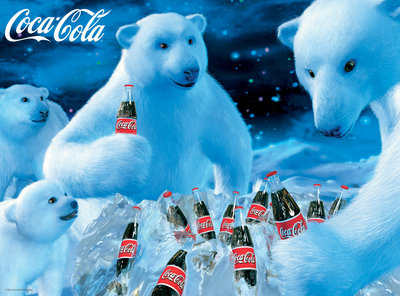 Coca-Cola has also associated itself with the conservation of the polar bear with the help of WWF. In return for donating a tax deductible $2 million to WWF over five years Coca-Cola is able to advertise its environmental credentials on television and put a polar bear on its drink containers, thereby distracting attention from its environmentally unfriendly practices.
WWF Australia
WWF Australia has more national managers for fundraising and partnerships than for environmental protection:
Markets, Sustainability and Business Partnerships
Climate Change
Communications
Species, Terrestrial and Indigenous Partnerships
Freshwater
Marine Conservation and Sustainable Development
Fundraising
Brand, Marketing & Innovation
Science, Policy and Government Partnerships
Corporate Partnerships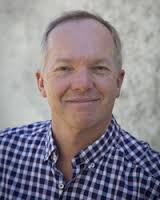 WWF Australia's president is Robert Purves (pictured), former chair of a multinational health company which was bought out by Citigroup. Purves used some of his fortune from nursing homes and radiology equipment to set up the the Purves Environmental Fund that funds groups like the Total Environment Center in Sydney, Sustainable Business Australia and WWF New Zealand. "The Purves Environmental Fund is a Leading Supporter (member and donor) of the Australian Environmental Grantmakers Network (AEGN)." Purves also co-administers a foundation set up by his father with money he made on railways.
The 8 person board of WWF Australia also includes a former corporate partner of law firm Allens, a former corporate partner of accounting firm KPMG, a former managing director of marketing/PR company Ogilvy & Mather, Australia, and the Head of Global Environmental Markets Practice at law firm Baker and McKenzie.
Tim Doyle wrote in 2000:
There is some debate as to whether WWF is still actually part of the [environment] movement, or whether it has simply become a high-level, wise use-style front group for industry.
Links