Other Publishing Companies
McGraw-Hill and Pearson are not the only companies with fingers in various related pies. In fact four companies dominate the school instructional materials and testing market, McGraw-Hill, Pearson, Houghton Mifflin and Harcourt (see diagram below). Harcourt marketed its textbooks in states where it designs the standardised tests by sending out a flyer to school districts saying: "Why choose Harcourt Brace for your math program? … [It is the] only program to have texts written by the same company that helps to write the TAAS tests…" It was later persuaded that this kind of promotion was not wise.
Publishers Share of K-12 Market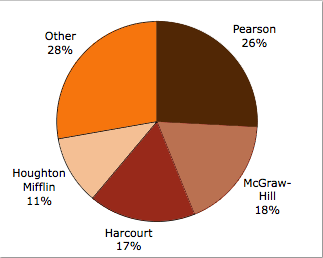 Neil Bush and Ignite!
Even the Bush family is profiting from the NCLB Act. At least 13 school districts used NCLB funds to purchase learning materials from Neil Bush's company, Ignite! Learning. The company investors include his parents George and Barbara, the head of a Kuwaiti company, as well as "fugitive business tycoon" Boris A. Berezovsaky and his partner. "Most of Ignite's business has been obtained through sole-source contracts without competitive bidding. Neil Bush has been directly involved in marketing the product." Barbara Bush gave a donation to a Hurricane Katrina relief foundation on the condition that the money be used to buy Ignite's materials for local schools.
Links
Contributers' Updates and Examples
If you have any examples or updates you would like to contribute please email them to me and I will add them here. Please give references for where you sourced the information.