Regulations
Pindone was declared ineligible for registration in the US and has never been registered in the UK. It is not used in the EU but it is registered in New Zealand for killing rabbits and possums (NRA 2002: 11).
| | |
| --- | --- |
| | A warning sign from NZ about the dangers of pindone to people and pets. They apparently take the risk more seriously in NZ than NSW (see below) |
In some Australian states pindone may not be used where significant wildlife populations occur (NRA 2002: 38). What is more the legally binding label for pindone states: "DO NOT lay bait trails in the vicinity of kangaroo, bandicoot and native rodent refuge areas". This has not, however, stopped this practice.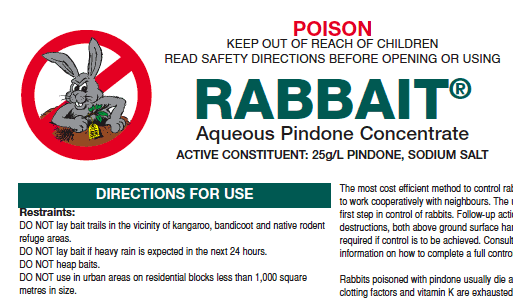 NSW
The Standard Operating Procedure for pindone of the NSW Department of Primary Industries (DPI) says that "Before commencing a baiting program, an assessment of likely non-target exposure should be performed, preferably by authorized personnel with knowledge of local native fauna" and if there is significant risk of poisoning non-target animals not only should enclosed bait-stations be fenced to exclude kangaroos and wallabies, but they should not be placed "near areas of native vegetation that are likely to harbor smaller non-target animals" (Sharp & Saunders 2004a).
In NSW, Australia, the regulatory agency concerned with the health of livestock, the Local Land Services (LLS), formerly the Livestock Health and Pest Authorities (LHPA), is "committed to safeguarding agricultural production from the biosecurity risks posed by disease and pests". However, its domain is not restricted to agricultural areas and it has been active in semi-urban and coastal areas throughout the state. The LLS promotes the use of pindone to control wild rabbits in these areas.
Eurobodalla Council Pindone Baiting at Narooma, NSW

| | |
| --- | --- |
| | |

Liability
In August 2010, the NSW Pesticide Control (Pindone Products) Order 2010 was gazetted by the NSW parliament requiring landholders to undertake a course of instruction before using pindone. The easiest course available is a 3 hour course on pindone and 1080 run by the LLS on behalf of the NSW Department of Environment, Climate Change and Water (DECCW). DECCW has responsibility for protecting threatened species.
Although it is now illegal to use pindone in NSW without training a curious anomaly remains whereby anyone can still purchase ready-mixed pindone baits over the counter without showing credentials. While this anomaly remains many people will unwittingly use pindone illegally.
There are severe penalties prescribed in NSW law for misusing pindone, particularly when the misuse results in poisoning non-target species. Pesticide Control (Pindone Products) Order 2010 (Pesticides Act 1999) provides fines for non-compliance of up to $120,000 for corporations and $60,000 for an individual. Infringements involving threatened species are criminal offences under the National Parks and Wildlife Act 1974 Part 8A with penalties of up to $220,000 and/or two years in prison. These penalties should deter anyone from taking part in a pindone baiting campaign without first personally assessing the benefits to themselves and the risks they are undertaking. No pindone rabbit-baiting program is risk-free.
The LLS is very mindful of the legal risks to its own employees and while they enthusiastically encourage landholders to take risks by participating in baiting programs, often playing down the risks to non-target species, they make sure to minimise their own liability. Before using LLS-supplied baits a landholder must sign a legally-binding indemnity form. The form states that the landholder indemnifies the LLS and all its employees against any actions, proceedings, claims, demands, costs and expenses that result from injury to any person, loss of any animal or any other loss.
Despite this attempt to shift all legal responsibility onto landholders, LLS authorised control officers (ACOs) are still culpable if they knowingly organise or coordinate pindone-baiting campaigns in areas where threatened species are likely to be at risk.
The pindone label, which is legally-binding, states "Where there is significant risk of exposure to non-target animals, measures should be taken to reduce that risk, or bait should not be laid". However the label does not spell out what measures are sufficient and how much the risk needs to be reduced before baiting can occur. Nor are the relevant authorities very helpful when specific enquiries are made about this. According to a Senior Technical Policy Officer at DECCW, if a landowner assesses that the risk to wildlife is low, and uses a mesh canopy, then they will be able to cite that in their defence if non-target animals are poisoned. But there is no guarantee that if, say, kangaroos are killed by pindone-baits, or a threatened species of owl suffers secondary poisoning, the landowner won't be prosecuted.
According to the DECCW policy officer, "the onus is on the user [of pindone] to do a risk assessment beforehand to determine ways of minimising the risks of non-target animals". This contradicts the National Registration Authority for Agricultural and Veterinary Chemicals (NRA – now the APVMA) recommendation that "the assessment of non-target exposure should preferably be undertaken by authorised personnel rather than landholders, who may have only limited knowledge of the species present on and around their property." (NRA 2002). It is obviously wise for the landholder who is actually taking the legal risks to not only make a thorough assessment of the risks themselves but to also seek the advice of an appropriate expert.