Coalition of Service Industries (CSI)
The Coalition of Service Industries (CSI), a group of large US-based multinational for-profit service corporations, was formed in 1982 with Harry Freeman, from American Express, as chair. Its purpose was to get services included in the GATT negotiations. It sought to make trade in services 'a central goal of future trade liberalization initiatives'. It claims to have 'played an aggressive role in writing' and ' shaping' the General Agreement on Trade in Services (GATS), included in the WTO at the end of the Uruguay Round. CSI hoped that large sectors of government services would be privatized and opened to foreign investment through the GATS agreement.
CSI Goals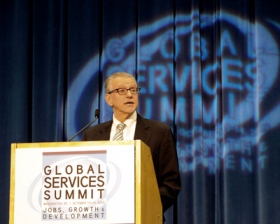 Today CSI's 'foremost goal is to open foreign markets to US business and allow them to compete abroad.' To do this it seeks to reduce barriers to trade in services in foreign markets through influencing international trade negotiations. It boasts of its 'excellent access to U.S. and foreign governments and international organizations.' According to Freeman: 'The U.S. private sector on trade in services is probably the most powerful trade lobby, not only in the United States but also in the world.'
Darren Puscas of the Canadian Polaris Institute notes that many members of CSI are involved in privatizing public services: 'the direct connection between the corporations involved in the push for privatisation of services (including many public services) and the push for trade agreements which will provide a legally binding lock-in for privatised services (through GATS and FTAA) is clear.'
CSI is open about being 'above all an advocacy organization, aggressively representing the interests of its members'. Those members have included General Electric, Halliburton, Citigroup, AT&T, J P Morgan Chase, American Express, United Parcel Service (UPS), AOL Time Warner, Microsoft and PriceWaterhouse Coopers (PwC); companies that provide services such as finance, telecommunications, energy, the professions, travel, entertainment, the media, transport and information technology. Enron was an active member as was its disgraced auditor, Arthur Andersen. Enron's input was further facilitated by having former employee, Robert B. Zoellick, as Bush's Trade Representative in the negotiations.
Three Pronged PR Campaign
At a World Trade in Services Conference in 1995, Joan Spero described how CSI achieved its success during the Uruguay Round. Spero, AmEx treasurer and special vice president for international corporate affairs, chaired the CSI's Financial Services Group. In 1993 Spero became US Undersecretary of State for Economic, Agricultural and Business Affairs.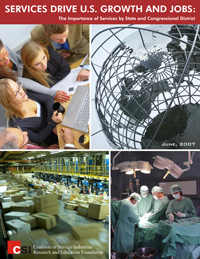 Spero explained how CSI took a three pronged approach: targeting public opinion, the US Congress, and the US Executive. A public campaign to promote the importance of the service sector was aimed at changing public perceptions and therefore indirectly influencing Congress and the Executive. The message conveyed was that services were important to the economy; provided many good quality jobs; promoted technological and productivity advances; and that these services were part of US trade and should be covered by GATT negotiations.
In aid of reinforcing this message CSI persuaded Fortune magazine to publish a Services Industry 500 just as it did the Fortune 500 list of manufacturing companies. It also put together and publicized data and statistics to prove what a large proportion of exports, GDP and jobs could be attributed to service industries. CSI also lobbied for legislation requiring the Commerce Department to collect data on the services industry as a category. It lobbied for legislation that included trade in services as part of the Trade Act so that countries with trade barriers against US service exports would be subject to sanctions in the same way as other exports.
Government Alliances
Making alliances with the government executive was easier than with Congress because the Office of the US Trade Representative (USTR) and the Department of Commerce not only saw the advancement of US business interests as part of their roles but also embraced the idea of a multilateral trade agreement more readily than some members of Congress. US Deputy Secretary of Commerce, Samuel Bodman, told a conference in 2002 that 'The Secretary and I see our role and the mission of the Commerce Department as being the advocate for the American business community.'
The government administration therefore readily worked with business to persuade Congress. Dean O'Hare, chair of CSI and CEO of Chubb Corporation, claims that CSI has been a partner with 'succeeding U.S. Administrations, going back to the mid-seventies' in pushing for trade liberalization. 'It is really an extraordinary example of government/industry cooperation that should serve as a benchmark for the rest of the world.'
According to Spero, the service industries, as part of their lobbying strategy, identified 'champions' in Congress to promote their aims. CSI put together an influential block of members of congress who had significant service industries as part of their constituencies. These included the members 'from New York (finance), California and Tennessee (audio-visual), Hawaii and Florida (tourism), Washington and Louisiana (maritime shipping), and New Jersey (telecommunications).' It then encouraged these members to write letters strongly supporting liberalization of trade in services to the USTR.
And while key members of Congress influenced the Executive at the behest of the CSI, the Executive in turn influenced the Congress at Congressional hearings 'where industry experts and administration officials "testified" side by side on the importance of the global liberalisation of services trade to the US economy. In this way, according to James P. Zumwalt, who later became Economic Counselor, United States Embassy, Beijing, 'the services industry and the U.S. trade negotiators entered into a 'symbiotic relationship'' that involved formal briefing sessions and 'informal consultations and 'strategy sessions'… Both sides understood that services industry political support meant that services industry priorities would remain among the foremost US negotiating objectives.'
The Uruguay Round was to last till 1994 and it was towards the end of the negotiations that services got included in the agreement. Freeman states: 'At the close of the Uruguay Round, we lobbied and lobbied. We had about 400 people from the U.S. private sector.' Similarly, O'Hare, chair of CSI, stated 'It took Herculean efforts to get services into the Uruguay Round and there was tremendous opposition ... Yet, in the final analysis, we succeeded in getting the GATS agreement...'