Public Opposition to Privatisation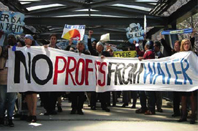 The business promotion of privatisation is despite widespread public opposition to it around the world. That opposition has grown as communities around the world have experienced the costs of privatisation. From 2003 water privatisation was especially unpopular because of the price increases that inevitably accompanied it and the inability of private companies to make the expected improvements and investments.
The job losses and rising prices following or threatened by privatisation have resulted in popular uprisings and mass protests in Argentina, Guatemala, India, Indonesia, Ghana, Peru, Ecuador, Paraguay and the Dominican Republic. Anti-privatisation movements are growing in many Latin-American countries. An Inter-American Development Bank survey of 17 of these countries found that 63 percent of people thought that privatisation was not beneficial.
In the early 21st century they began voting for left-wing candidates willing to protect the national interest against the World Bank and IMF pro-market formulas.


In Brazil, where incomes declined by 3 percent despite (or because of) adherence to IMF policy prescriptions, Luiz Inacio Lula Da Silva (pictured), a candidate from the Workers Party who had not even got 25% of the vote in three previous elections, was elected as president in 2002.

In Venzuela, a leftist government led by Hugo Chavez, was elected, which intends to scale back market reforms.

In Bolivia, which had been among the earliest privatisers in Latin America in the 1980s, indigenous leader, Evo Morales (pictured), came in with the second highest vote for election as president, after promising to nationalise industries.

In Equador the sale of 17 electricity distributors was cancelled because of strong opposition.

In Peru there has been "a rising tide of citizen opposition to government efforts to sell assets to the private sector", with 70 percent of those surveyed expressing opposition to privatisation. The sale of two electric utilities to a Brussels-based firm were shelved after six days of protests in Arequipa and six other cities left two dead and protestors had to be dispersed by army troops with tear gas. The mayor of Arequipa, who led the protests, now has a national profile as one of Peru's most popular politicians.The people of Peru, as elsewhere in the developing world, were promised prosperity and modernisation as a result of privatisation, but after 15 years of asset sales all they could see was massive job losses, higher rates, and poverty.
In the Philippines, a grassroots organisation has formed called Stop Privatization. It claims that state monopolies have been replaced by a few private companies who now dominate basic public services. The public has not benefited, especially the poor and services such as water and electricity "have been put even further out of reach by privatization".
In Guatemala, price increases following the sell-off of national electricity assets to Enron, caused rioting. The president tried to dissolve Congress and declare martial law as a result.
When thousands of people protested against the planned privatisations and a number of students were killed and injured in Papua New Guinea, Australian foreign minister at the time, Alexander Downer, expressed concern that PNG might give in to the protests and abandon the program of "economic reform" and indicated that Australia might withdraw aid if the Morauta government were toppled.
In the UK, where the water privatisation experiement is 17 years old, 56% of people want to go back to public ownership. It should be noted that the majority of the public was opposed to water privatisation even before it was introduced. In the Netherlands and Uruguay water privatisation is so unpopular that it has been made illegal.

Examples of Opposition to Water Privatisation, 1994-2002
| Year | Country | City | Event |
| --- | --- | --- | --- |
| 1994 | Poland | Lodz | Privatisation proposals rejected |
| 1995 | Hungary | Debrecen | Privatisation proposals rejected |
| 1995 | Sweden | Malmo | Privatisation proposals rejected |
| 1996 | Argentina | Tucuman | Termination of privatisation |
| 1996 | USA | Washington DC | Privatisation proposals rejected |
| 1998 | Germany | Munich | Privatisation proposals rejected |
| 1999 | Brazil | Rio | Privatisation proposals rejected |
| 1999 | Canada | Montreal | Privatisation proposals rejected |
| 1999 | Panama | national | Privatisation proposals rejected |
| 1999 | Trinidad | national | Termination of privatisation |
| 2000 | Bolivia | Cochabamba | Termination of privatisation |
| 2000 | Germany | Potsdam | Termination of privatisation |
| 2000 | Mauritius | national | Privatisation proposals rejected |
| 2000 | USA | Birmingham | Termination of privatisation |
| 2000 | Malaysia | | Renationalisation of sewerage |
| 2001 | Argentina | BA Province | Termination of privatisation |
| 2001 | France | Grenoble | Termination of privatisation |
| 2001 | Central African Republic | Bangui | SAUR contract terminated |
| 2002 | Brazil | National | Continuing campaign |
| 2002 | Ghana | Accra | Continuing campaign |
| 2002 | Indonesia | Jakarta | Continuing campaign |
| 2002 | Paraguay | All | Privatisation proposals rejected |
| 2002 | Poland | Poznan | Privatisation proposals rejected |
| 2002 | S Africa | national | Continuing campaign |
| 2002 | Argentina | Buenos Aires | Enron's concession remunicipalised |
| 2004 | Colombia | Bogota | Suez wastewater contract terminated |
| 2005 | Mali | Bamako | SAUR's contract terminated |
| 2005 | Tanzania | Dar-es-Salaam | Biwater contract terminated |
| 2005 | Belize | | Termination of privatisation |
| 2006 | Uruguay | Urugua | Termination of contract |
| 2006 | Argentina | Buenos Aires | Suez's concession renationalised |
| 2006 | Chile | Calama | Biwater contract terminated |
| 2007 | Bolivia | La Paz/El Alto | Termination of privatization |
| 2008 | France | Paris | Remunicipalisation announced |
| 2009 | Hungary | Pecs | Attempted termination from Suez |
| 2009 | Malaysia | all states | Water assets to be renationalised |
Source: David Hall and Emmanuele Lobina, '
Water Privatisation
', London, Public Services International Research Unit (PSIRU), April 2008, p. 9 and David Hall, Emmanuele Lobina, and Violeta Corral, '
Replacing failed private water contracts
', London, Public Services International Research Unit (PSIRU), January 2010, pp. 5-7. (doc)