ExxonMobil and Global Warming
ExxonMobil (trading as Esso in some countries) is the largest publicly traded company in the world with revenues of hundreds of billions of dollars, more than the gross national product of most nations. Its greenhouse gas emissions, including those from the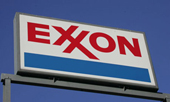 use of its products, also exceeded that of most nations of the world. Its profits in 2005 were $36 billion.
In 2010 it was the 2nd worst top toxic air polluter in the US and had emitted the second highest amount of greenhouse gases historically of any organisation in the world.
ExxonMobil publicly disputed human-induced global warming long after other major oil firms had publicly recognised it. In 2006 the Royal Society, a prestigious society of scientists in the UK, criticised ExxonMobil for the following statement:
While assessments such as those of the IPCC have expressed growing confidence that recent warming can be attributed to increases in greenhouse gases, these conclusions rely on expert judgment rather than objective, reproducible statistical methods. Taken together, gaps in the scientific basis for theoretical climate models and the interplay of significant natural variability make it very difficult to determine objectively the extent to which recent climate changes might be the result of human actions.

The Royal Society pointed out:
The "expert judgment" of the Intergovernmental Panel on Climate Change was actually based on objective and quantitative analyses and methods, including advanced statistical appraisals, which carefully accounted for the interplay of natural variability, and which have been independently reproduced. Furthermore, these statements in your documents are not consistent with the scientific literature that has been published on this issue.
ExxonMobil responded to The Royal Society by pointing to public documents in which it accepts that global warming is real. It also pointed to its funding of efforts to find technologies to reduce greenhouse gas emissions. ExxonMobil, however, continues to oppose regulatory measures to deal with greenhouse gas emissions.
In 2014 ExxonMobil issued a report stating that it "takes the risk of climate change seriously" and address that risk by "improving energy efficie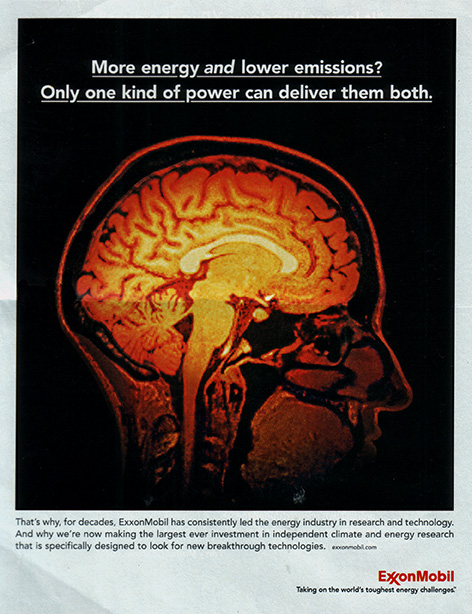 ncy and reducing emissions at our operations" and including lower CO2 emitting products in its sales portfolio, such as natural gas. But ExxonMobil does not envision a low carbon future:
we are confident that none of our hydrocarbon reserves are now or will become "stranded." We believe producing these assets is essential to meeting growing energy demand worldwide, and in preventing consumers – especially those in the least developed and most vulnerable economies – from themselves becoming stranded in the global pursuit of higher living standards and greater economic opportunity.
Exxon Funding of Global Warming Deniers
The Royal Society noted in its letter that in 2005 ExxonMobil "provided more than $2.9 million to organisations in the United States which misinformed the public about climate change through their websites.
In 2007 the Union of Concerned Scientists (UCS) reported that Exxon Mobil had given around $16 million to some 43 advocacy organisations between 1998 and 2005 "to deceive the public about the reality of global warming" and cast doubt on the idea.
Exxon's funding between 1998 and 2005 covered think tanks including:
the American Enterprise Institute (AEI) - $1,625,000 (Exxon's former CEO is vice chairman of AEI's board of trustees
the Cato Institute - $105,000
the Competitive Enterprise Institute (CEI) - $2,005,000 (more than any other group)
the Fraser Institute (Canada) - $120,000
Frontiers of Freedom Institute - $1,002,000
George C. Marshall Institute - $630,000 (covering 21% of its total expenses in 2004)
Heartland Institute - $561,500
the Heritage Foundation - $460,000
Pacific Research Institute for Public Policy - $355,000
Front groups funded by Exxon between 1998 and 2005 included:
Annapolis Center for Science-Based Public Policy - $763,500
Atlas Economic Research Foundation - $680,000
Center for the Defense of Free Enterprise - $230,000
Committee for a Constructive Tomorrow - $472,000
Consumer Alert - $70,000
Between 2005 and 2008 ExxonMobil spent a further $8.9 million on funding such groups. The Guardian newspaper reported in July 2009 that Exxon was still funding groups promoting global warming denial even though it had said it would stop after exposure by The Royal Society and UCS. It spent hundreds of thousands of dollars on this in 2008. For example, $75,000 went to the National Center for Policy Analysis (NCPA) in Dallas, Texas, whose "scholars believe that while the causes and consequences of the earth's current warming trend is [sic] still unknown, the cost of actions to substantially reduce CO2 emissions would be quite high and result in economic decline, accelerated environmental destruction, and do little or nothing to prevent global warming regardless of its cause".
The UCS points out that by funding so many groups with shared staff and advisors (see diagram), Exxon is able to "provide the appearance of a broad platform for a tight-knit group of vocal climate science contrarians. The seeming diversity of organizations creates an "echo chamber" that amplifies and sustains scientific disinformation".
Political Lobbying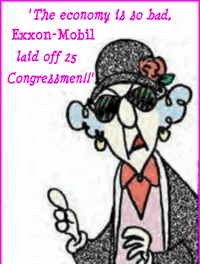 Exxon Mobil's political action committee and individuals associated with ExxonMobil had made over $4 million in political contributions between 2000 and 2006.
ExxonMobil spent $61 million on lobbying between 1998 and 2005 and $131 million between 2002 and 2010.
Lobbying expenditures increased particularly between 2007 and 2009 when climate change bills were being debated in Congress.
According to the UCS, Exxon not only gained membership of vice president Dick Cheney's Energy Taskforce but:
"successfully urged the Bush administration to renege on the commitments to the Kyoto Protocol made by previous administrations"
"successfully lobbied the Bush administration to try and oust the chair of the IPCC"
was able to have its recommended candidate appointed as chief climate negotiator for the US.
Advertising
The following ExxonMobil advertisement was banned by the UK Advertising Standards Authority (ASA) because of its misleading claim that Liquified Natural Gas (LNG) is "one of the world's cleanest fuels".
Links