Academy Performance
Despite their superior resourcing academies have often not produced the superior results intended. The public too has been dubious about the merits of the £5 billion academies program and have opposed several planned academies.
A Commons select committee stated in 2005: "We fail to understand why the DfES is putting such substantial resources into academies when it has not produced the evidence on which to base the expansion of the programme."
Evidence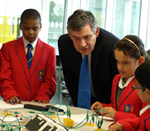 The evidence supporting the belief that academies are successful at improving academic results is mixed, notwithstanding government claims of their success. In 2006, only 15.6 percent of students in city academies received good English and mathematics grades at the end of Key Stage 4 compared with 44.9 percent at all schools. Also academies made up about half the schools at the bottom of the performance tables. This suggests that private sponsorship is not necessarily the magic solution that it is promoted to be.
A 2006 study by Terry Wrigley at the Edinbugh University found that the number of students getting five good General Certificate of Secondary Education (GCSE) grades (A-C) had only improved by 0.2% since attending academies. Academies were encouraging less able children to take vocational subjects rather than GCSE subjects, so as to boost the average GCSE scores. 52 percent of students were taking vocational qualification compared with 13 percent in the schools the academies took over from.
In 2008 PricewaterhouseCoopers found that there was "insufficient evidence to make a definitive judgement about the academies as a model for school improvement".
Of the 120 academies which received GCSE results in 2009 only 22 achieved the national average of 50.7 per cent; 42 didn't manage the 30 per cent minimum.
Excluding Poor Performers
Wrigley also found that academies were diverting poorly performing students from their schools so as to do better in the school league tables. Government figures confirm that academies are expelling students at four times the rate of neighbouring schools, which teachers claim, helps them "massage" their exam results and send troublesome students to nearby public schools that have to accept all students.
Also, although academies were set up to cater to poor students, there is some evidence that they are increasingly catering to more middle-class students and "cherry-picking" high performing students from more affluent families. The percentage of students eligible for free school meals has dropped in the 14 academies that the Guardian newspaper examined. Steve Sinnott, general secretary of the National Union of Teachers, noted "Instead of changing the school they are changing the children."
In 2011, a new academy, Bolingbroke Academy in Battersea, South London, sponsored by Ark Schools ("founded by the colourful London-based financier, Arpad Busson"), was forced to review its enrolment policies after it was revealed publicly that it would be accepting pupils from wealthy primary schools but not from a nearby working class primary school. Backers of the academy "include 25 local bankers working for top City firms including JP Morgan, Morgan Stanley, Citigroup, Barclays and RBS".
The site of the school is costing the local council £13m.
Central government will pay for subsequent renovation costs, and running fees are under discussion... Labour councillor Leonie Cooper has described this as "the school equivalent of a gated community", as only the richest residents can afford to live close to the academy.
Case Study - Unity City

The first academy school to be set up was Unity City with business support services company Amey as sponsor. According to the Guardian it "has been dogged by problems since it opened, in September 2002", both financial and educational. It built up a large deficit and had a high staff turnover and staff absences. One in three teachers were graduate trainees or newly qualified.
The UK Treasury bailed the academy out of its debt of £1.5m just before the 2005 election to prevent the school from having to close, which was very embarrassing for a government that was promoting academies as the solution to failing schools in low-income areas.
In 2005 Unity City failed inspections by Ofsted because of poor quality teaching, poor leadership, poor pupil progress, low attendance rates and high exclusion rates. Ofsted found that the situation had not improved much one year later with 11 and 14 year olds getting some of the lowest English and science results in the country.
The academy cost £43.6m to run, more than twice the government's original estimate of £20m.
Unity City is not the only academy to fail Ofsted inspections. Some "have received highly critical Ofsted reports and remain at the bottom of league tables with low exam results". Others, like the Academy at Peckham, sponsored by carpet millionaire Lord Harris of Peckham, have been given overall satisfactory marks but have "significant weaknesses". Ofsted found that its sixth form was ineffective and the standards reached by students throughout the school were very low.
Case Study - Business Academy Bexley

Similarly Ofsted found that the sixth form of the Business Academy Bexley was inadequate. It also found that "teaching and learning are inadequate overall" and the "amount of unsatisfactory teaching in the secondary section is too high".
Two years earlier Blair had cited this school as "a beacon of hope and aspiration to the whole community" and suggested that "those who fear radical change" consider the performance of the Bexley Business academy".
The academy cost £53m to run, well over the government's original estimate of £20m.
Case Study - United Learning Trust (ULT)
Three of 17 United Learning Trust (ULT) Schools received the worst GCSE scores in 2009, one was placed on special measures by Ofsted and another tol its "teaching and learning were inadequate. It is unable to establish more schools until its existing schools improve.
If you have any examples or updates you would like to contribute please email them to me and I will add them here. Please give references for where you sourced the information.