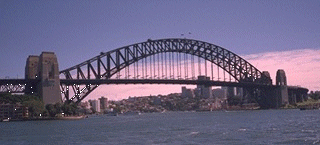 The Sydney Harbour Tunnel was completed in 1992. It cost $738 million. The aim of the Harbour Tunnel was to improve access between the northern and southern parts of Sydney which was mainly provided by the Harbour Bridge. It was argued that the Tunnel would reduce congestion on the Harbour Bridge and its approaches; reduce travel distance and travel times on the Harbour crossing; and improve the reliability of the crossing.
The Tunnel is located in an area of great scenic, historical and cultural value. The northern side of the Harbour is characterised by the North Sydney Commercial office areas to the west and the medium to high density residential suburbs of Neutral Bay and Kirribilli to the east. The southern foreshore is characterised by the Opera House and the Botanical Gardens to the east and the Central Business District of Sydney to the west.
The tunnel is a four lane road with two lanes in each direction. It takes the form of immersed-tube prefabricated units located in a trench on the Harbour floor. (See map)
The construction and the first 30 years of operation of the Tunnel is to be financed by revenue from tolls paid by vehicles travelling south in the Tunnel and on the Harbour Bridge. The tolls started at $1.00 in 1987 (on the Bridge) and are indexed to increases in inflation. In 2000 the toll was up to $4.00.
---
Additional Material
Martin Kolos, Sydney Harbour's Second Crossing, student paper.
Cameron McNamara, Sydney Harbour Tunnel: Environmental Impact Statement, Transfield-Kumagai Joint Venture, November 1986.
Department of Environment and Planning, Proposed Sydney Harbour Tunnel: Environmental Impact Assessment, DEP, 1987.
Department of Environment and Planning, Manual for Environmental Impact Assessment, Sydney 1985, reprinted 1990.
Department of Main Roads, Sydney Harbour Tunnel: Report on Environmental Impact Assessment, DMR, 1987.
Enersol Consulting Engineers, Sydney Harbour Tunnel Inquiry, Vols I & II, North Sydney Municipal Council, February 1989.
Gutteridge Haskins and Davey, Key Traffic Issues, Summary Report, October 1986.